Academy Award-winning director Steven Soderbergh's new film, the spy thriller Haywire, excites with lots of great action sequences that overwhelm an often confusing storyline. Mixed martial arts fighter and American Gladiators participant Gina Carano is featured in her first starring role as Mallory Kane, a highly-skilled covert ops specialist who discovers that she is being double-crossed by those she has trusted with her life.
Carano holds her own in the lead role, which takes advantage of her attractiveness, intense athleticism and superior fighting skill. It also helps that she is surrounded by an impressive supporting cast, which includes current heartthrobs Channing Tatum (The Eagle) and Michael Fassbender (Shame), and more established actors Michael Douglas, Ewan McGregor, Antonio Banderas and Bill Paxton (who plays Mallory's ex-Marine dad).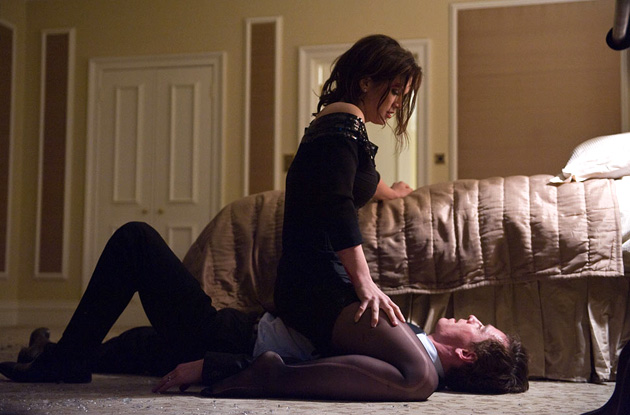 Gina Carano and Michael Fassbender in Haywire; photo courtesy of Relativity Media
As the film begins, Mallory's meeting in a suburban diner with fellow spy, Aaron (Tatum), leads to the first of many well-shot, excellently choreographed fighting scenes. When a bystander (Michael Angarano) helps her to escape the scene, she starts to explain her back-story, which unwinds in mysterious flashbacks with international settings.
In the film's best scenes, she goes to Dublin to assist a new colleague, Paul (Fassbender), with a mission, only to discover that her superiors don't expect her to see the light of the next day. During an intense and exciting fight sequence, the two completely trash their fancy Irish hotel suite, with Mallory using every trick in her arsenal -- her potent kicks and powerful thighs among them -- to make sure that she is the one to walk out of the suite alive.
Soderbergh is obviously a fan of the James Bond film franchise; Haywire is his attempt to update the formula, adding the edge of a female hero. His choice to cast Carano works here, as her knowledge and mastery of multiple fighting styles (Muay Thai, Karate, Jui Jitsu, Judo, kickboxing, etc.) adds important layers to her character. But the film has a way to go in striking the perfect balance of action, mystery, government wrongdoing and international conspiracy in the way the brilliant Bourne films have achieved.
The international locations -- Washington, D.C., Barcelona, Dublin, New Mexico -- add to the intrigue, but don't help in explaining the plot (why exactly is Mallory being double-crossed?). Composer David Holmes' music adds a funky, sexy hipness to the film that was a pleasant surprise. But the real power of Haywire lies in its action scenes. Carano, the daughter of a former Dallas Cowboys quarterback, has real potential as a rising star in this genre.
Haywire is rated R and is playing in theatres nationwide.