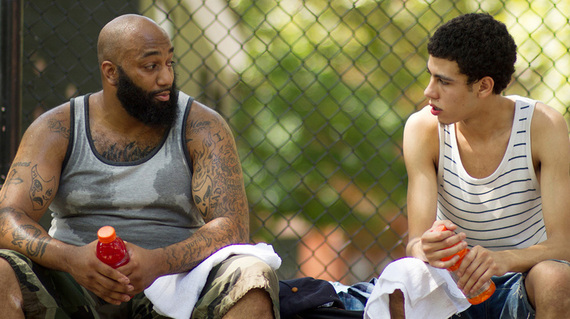 The Tribeca Film Festival, now in its 13th edition, has always been one of those betwixt/between events for me.
Coming in April, it trails the two big festivals of the year's beginning: Sundance and Berlin. It also comes a month or so before Cannes, for which much of the season's prestige product is being held. Not to label it a leftover festival, but there is the sense that the movies in Tribeca have either already had their debut elsewhere (Sundance, Toronto) or, more to the point, didn't have a debut elsewhere because they didn't make the cut.
Still, I always enjoy the opportunity that Tribeca affords me as a critic and curator, to sample a large swath of film in the way that only an amply stocked festival can. For me, the best sort of festival day is one in which I can hop from press screening to press screening, starting early in the morning and staying through the afternoon, without having to leave the same multiplex. You can take in three or four films without effort, and there are enough films at staggered intervals that, should a movie prove lacking, you can walk out on it -- and into the start of another one.
Plus Tribeca offers me the chance to engage in that kind of festival behavior and still sleep in my own bed each night. Big plus.
So, at this halfway point in the festival, here's what I've seen that I've liked -- and haven't liked.
There are almost a half-dozen films at Tribeca that I saw elsewhere that I'd easily recommend, including Charlie McDowell's The One I Love, which stars Elisabeth Moss and Mark Duplass as a couple on a Twilight Zone-y weekend of marital therapy (Sundance). There's also the touching and thoughtful Love Is Strange, with John Lithgow and Alfred Molina as a long-time couple whose marriage triggers an implosion in their lives (also Sundance). Sean Gullette's propulsively tense Traitors (which I saw in Dubai) has a strong female lead in a story set in Morocco. And a pair I enjoyed at Toronto -- Paul Haggis' Third Person and John Butler's The Bachelor Weekend -- provide different sorts of pleasures. Haggis' film is a Moebius strip of story-telling that forces mental engagement to untangle its intertwined stories, while Butler's movie is a wickedly broad Irish take on the bachelor party, with surprises and laughs.
At Tribeca, I caught up with Roman Polanski's Venus in Fur, which debuted last year at Cannes and which stars his wife, Emmanuelle Seigner, and Mathieu Amalric in a film of David Ives' two-hander Broadway hit. I've never been a particular fan of Seigner, but she finds the mysterious duality of this character, an actress auditioning for the writer of a play based on the work of Leopold von Sacher-Masoch.
This commentary continues on my website.