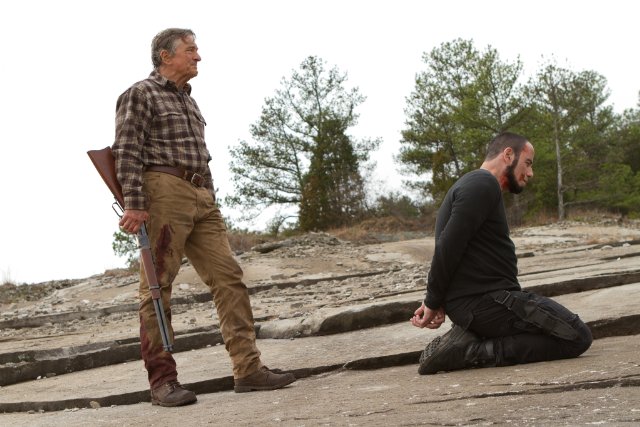 For years, I've read about the so-called "Black List" of screenplays: allegedly great scripts which, for some reason, Hollywood ignores because it would rather make dumb crap like The Lone Ranger.
Then I see a movie like Killing Season, written by Evan Daugherty, a script billed as one of those "Black List" escapees. And I think, "Hmmm, just another hype."
Because, well, two things:
1) Killing Season is laughably bad.
2) Daugherty, it turns out, also wrote Snow White and the Huntsman, one of the year's many unnecessary fairy-tale riffs. His other credits include the upcoming Michael Bay version of Teenage Mutant Ninja Turtles (eagerly awaited by no one) and Divergent, which looks like another attempt at bottling that Hunger Games lightning.
But I won't tar Daugherty with his previous work -- just as it's unfair to judge Killing Season on the previous films of its director, Mark Steven Johnson. Every film should be judged on its own merits.
Still, past is prologue, right? And Johnson's prologue includes writing the overrated sentimental comedy Grumpy Old Men, as well as directing such disposable trash as Daredevil, Ghost Rider and a couple of others.
So, again, screw the Black List.
As for Killing Season? Well, this is a sadistically violent and over-the-top tale, which I saw at the Karlovy Vary International Film Festival last week. If I hadn't, you wouldn't be reading this review, because the only press screening in the U.S. is Wednesday (7/10/13) night and reviews are embargoed online until 6 p.m. Thursday.
The film takes the logo for Jagermeister -- the antlered deer-head with a cross hovering over it (Bambi died for our sins?) -- as its own. Which indicates either that you should imbibe a lot of before seeing this film -- or that stars Robert De Niro and John Travolta were downing shots between set-ups to get through the shooting days.
This review continues on my website.