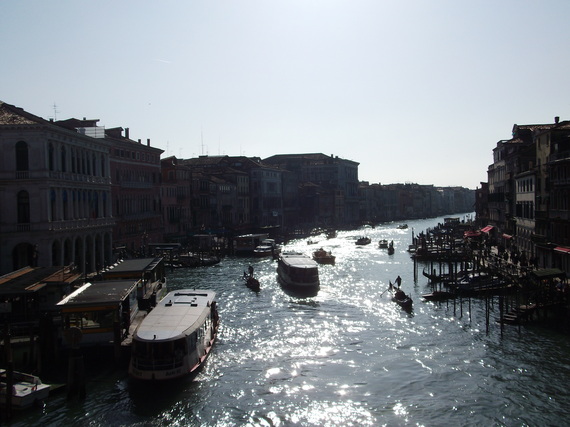 I started planning for my wife's birthday almost a year ago. Her next one was a major milestone and I knew I had to step up, to do something really special.
My first impulse -- my only one, really -- was to whisk her away for a long but extravagant weekend. My first thought was Paris, which I saw as a grand (if cliched) romantic gesture.
Then, last fall, I saw a screening of a film that will come out late this summer, One Chance, about the Britain's Got Talent winner, Paul Potts. It's a funny, touching little movie, with a terrific central performance by James Corden. But, most important to my story, it featured a lengthy sequence in which he is accepted to study opera in Venice.
And once I saw the scenes in Venice -- in Piazza San Marco and elsewhere -- I had the answer to my birthday conundrum: Venice. That was the move.
This, however, isn't about my birthday gift to my wife. It's about Venice itself, as surprising, magical and romantic a locale as you can visit. I picked it because, while each of us had been to Italy at different points in the past, neither of us had been to Venice. I was struck by how mysterious and timeless it looked in One Chance, which called to mind memories of other films I remembered being set in Venice, including Paul Schrader's The Comfort of Strangers, Paul Mazursky's Blume in Love and the spooky Don't Look Now.
As it turned out, Venice outstripped any expectations I might have brought to the experience. It was far more cinematic than any movie could do justice to.
Ordinarily, my wife is an inveterate researcher in advance of trips. But she didn't know where we were going until we reached the airport the day of our flight. Our son had given her a gift-wrapped guidebook, which she wasn't allowed to open until the airport -- the big reveal. Before we left, I glanced at a couple of maps to ascertain the location of our hotel as it related to the rest of the city, but that was the extent of my research, beyond booking the trip itself.
Nothing we read in the guidebooks during the flight over, however, could have prepared us for the sense of time travel that we experienced once we began to walk Venice's timeless streets. Yes, there were motorized boats, people with cell phones, the modern conveniences at the hotel -- but you could also turn a corner at any moment and step back into the 15th century.
Because Venice is a city built on a series of islands, connected and separated by lagoons and canals, there are no cars. No trucks or buses. No bicycles or motorscooters. The narrow streets twist and turn. You often find yourself climbing steps of a bridge over an alley-like canal -- or at a dead-end whose next step will put you into the water.
This commentary continues on my website.