Imagine for a second that as you watch your son or daughter go about their day, you notice something is a bit off. You tell yourself you will keep an eye on it, but as days go by, things don't improve. You visit your family doctor and then the local children's hospital for tests.
Nervousness and anxiety build as you hope it is something fleeting or minor, and that they return to themselves in a few days. Ultimately, you end up in a room with a doctor whose title you can't pronounce and the doctor explains to you that your child has cancer -- and a long road of treatment ahead of them.
Unfortunately, the scenario happens more often than most people realize. It's unnerving, it's hard, and it's incredibly scary. How do I know? It happened to my family in 2011 when my oldest daughter, Audrey, was diagnosed with a baseball-sized tumor in her lung.
Upon her diagnosis we found ourselves desperate for answers and wanting someone to come alongside of us and take the steps necessary to restore her health. We found the answers and care we needed when we were referred to St. Jude Children's Research Hospital, in Memphis, Tenn.
For more than 50 years, St. Jude Children's Research Hospital has been leading the way the world understands, treats and defeats childhood cancer and other deadly diseases. It was this leadership and level of expertise that was so valuable to us as a family as we entrusted our daughter's life and health to others.
At St. Jude, we were assigned a team of world-renowned doctors who consulted on our case and carefully planned our daughter's treatment. More importantly, we were assigned an incredible doctor who looked us in the eye and explained that she would care for our daughter like she was one of her own.
In the few years that have passed since we became a St. Jude patient family, our daughter's health has been restored. Her tumor has been significantly diminished and she has been able to lead a fairly normal life, enjoying her childhood like any child should. We are grateful for all that St. Jude has done for us.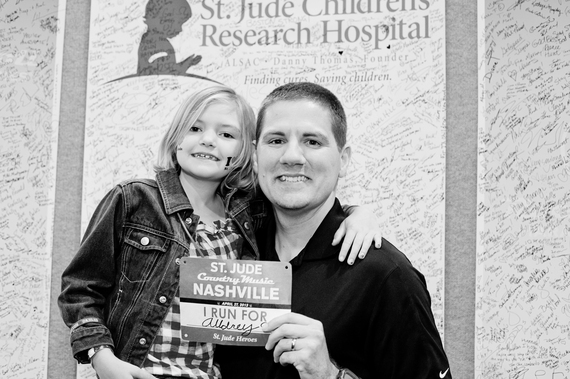 For that reason, I will be one of the 30,000 people running in the St. Jude Country Music Marathon and a half marathon in Nashville, Tenn., on April 26. I will be joined by dozens of friends and family as we cross the finish line as St. Jude Heroes to celebrate Audrey's health and support the hospital that has meant so much to my family and to other families all over the world.
Our fundraising for St. Jude is critical, because families like mine never receive a bill from St. Jude for anything. That means we don't have to worry about the costs of treatment, transportation, housing or food, and my family could really focus on helping Audrey get better.
The support of St. Jude Heroes who run for a reason is also critical because St. Jude freely shares its breakthroughs so that every child saved at St. Jude means doctors and scientists worldwide can use that knowledge to save thousands more children. Ultimately, our support, and the support of donors like you make a huge difference in helping St. Jude accomplish its mission of finding cures and saving children.
It is not too late to sign up to be a St. Jude Hero or to support those who already registered. We welcome you to join us or to learn more about my family's St. Jude experience by watching this video.