Everyone knows there is a movement afoot to landmark the impressive IRT Powerhouse on West End Ave. in Manhattan and to convert the building into a cultural center. According to sources close to the project, the Mayor has now embraced the proposal and wants to get it done before he leaves office.
The gorgeous Powerhouse, designed in 1904 by McKim, Meade and White (arguably America's most prominent early 20th century architectural firm), is currently occupied by Con Edison. But the energy giant uses only about 1/8th of the space in the block-long building. Con Ed CEO Kevin Burke is forming a working group to see if it's possible to keep the existing operation in the building should it become a cultural center. If not, he would hope to find a civic-minded landlord and move to a nearby site.
One way or another, there is hope that Con Ed can convert its operation into a greener, more efficient cogeneration facility. That would involve working through a complex regulatory process of switching from dirty #6 oil to clean gas. When oil is burned to produce heat, literally half of the energy goes up the stack. With co-generation, the waste heat of the original process goes through a second turbine, producing both usable heat and electricity.
Some visionaries would even like to see the building's remaining smokestack (inactive for the last 16 years) converted into a sort of cylindrical windmill.
So what could be better than landmarking a beautiful, world-class building while getting a cultural center and greener energy production at the same time? Not much. Hats off to the Mayor and the persistent defenders of the IRT Powerhouse.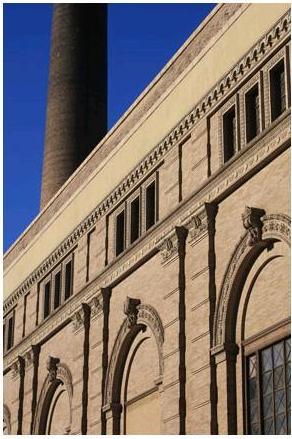 You can join them by taking a few seconds to sign the Hudson River Powerhouse's petition.