The one day of the year when we honor dads -- Father's Day -- is coming up. And it's no surprise that being a dad gets more complicated every year. It's especially challenging for those who have daughters, because, well, dads grew up as boys. Help is out there though -- from guys like Joe Kelly.
Kelly is a father, best-selling author, blogger, speaker and primary media source on fathering. In the 1990s, he co-founded the national non-profit organization Dads & Daughters®, and out of that came the best-selling Dads and Daughters®: How to Inspire, Understand and Support Your Daughter. Kelly and his wife, Nancy Gruver, also founded the groundbreaking New Moon Girls magazine, an international periodical edited by girls 8 to 12 years old, for which they won Parenting magazine's Parenting Achievement Award.
Kelly has appeared on the Today show, Talk of the Nation, Fox News and many other programs. Print coverage of his work includes Time magazine, People, the New York Times, USA Today, and the Wall Street Journal. I recently interviewed him for my radio show, Equal Time With Martha Burk.
MB: What were the situations with your girls that got you into this work?
JK: Numerous opportunities where I got to be an at-home dad. I worked odd schedules so I could be a primary parent, and just over and over again encountering that issue that I grew up a boy. I don't know what it's like to grow up a girl -- and I was continually running up against that mystery and trying to understand it and respond to it in a way that was appropriate.
MB: Dads and Daughters no longer exists in it's original form, but you still work to counter negative messages from corporations, particularly advertisers, who send messages to girls.
JK: The original idea was to provide dads with resources to strengthen their relationships with their daughters, and also to engage men to speak up on issues that were affecting girls.
MB: You've mobilized a lot of men to take what was essentially a political action for the first time in their lives.
JK: We have. And our work opens up a lot of communication between dads and their daughters. If a man starts to see the world through his daughter's eyes, he can see the toxicity and the injustice and be frankly angry about it. The most likely group of men that we can mobilize to get involved in women's issues are men who have daughters.
MB: How can parents cope with the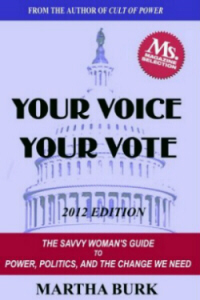 increasing number of sexualized ads aimed at young girls? TV, social media, print ads -- it's everywhere.
JK: One place it doesn't have to be is at home. We can make our homes a safe haven by dramatically dialing back the amount of media we make available in the home. Taking the advice of the American Academy of Pediatrics and not allowing children to have computers and televisions in their bedrooms; iPads and the like have to be used in a common space.
MB: What about messages to boys?
JK: Messages that are dangerous to girls are dangerous to boys, too. If girls are taught that looks are the most important thing, then boys grow up believing the size of a woman's cleavage is more important than the size of her brain.
MB: Society still views dads as primarily breadwinners, and mothers as the "social directors" of the family.
JK: Part of my work is to get dads to seize the opportunity to counter those cultural norms and messages by the way they treat the women in their lives as well as talking to the kids.
MB: What are some of the ways dads can facilitate communication?
JK: Believe it or not, one is carpooling. I used to take my daughters to ballet lessons. After a couple of minutes in the car this magical thing would happen -- the kids in backseat would forget you were there. If I was listening closely enough, I could gather valuable intelligence.
MB: I know mentoring is a big part of the work you do. What can dads in particular do to be better mentors to their daughters?
JK: To accept and honor the idea that their daughters have power, that they have agency and that actually power and agency are good things for their daughters to have. To encourage and trust our daughters to use their power and influence in the world. That's what is going to keep them safe, and realize their potential as adults.
Click here to listen to Joe Kelly's full interview.