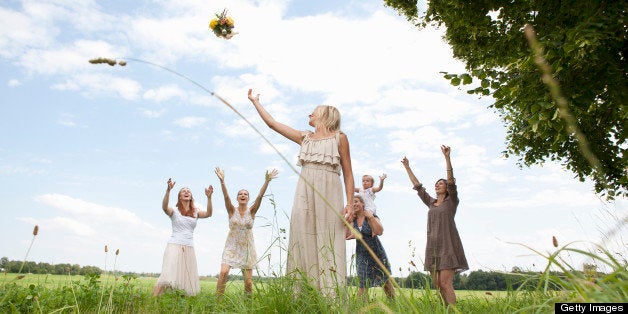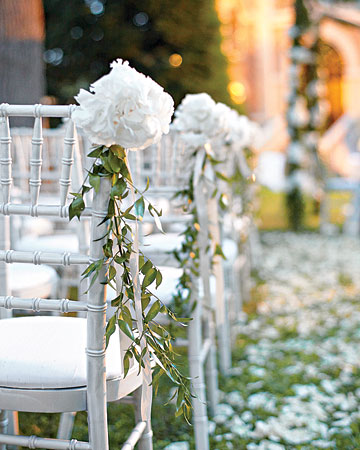 When it comes to incorporating wedding rituals into your big day, it's important to keep things personal. We've rounded up fresh takes on timeless traditions for you to adapt as you please.
Cutting the Cake
The Tradition: Dessert is a high point of any party, but at a wedding, it literally takes the cake. This is the most iconic moment in the reception, and a guest favorite. The couple and the cake often take center stage after the dinner plates are cleared. The bride places her hand on the knife, and the groom places his hand over hers. They cut a slice and feed each other -- a gesture symbolic of their promise to always provide for one another -- with plenty of encouragement from guests.
The Update: These days, many couples offer a dessert buffet instead of cake, with an array of pastries and bite-size sweets; or they may create a cake-like arrangement of frosted cupcakes on tiers. It can be hard to cut such small confections gracefully, so just offer your partner a bite of a whole one.
Tossing the Bouquet
The Tradition: It's a suspenseful moment when the single women gather behind the bride for the bouquet toss, to see who will be the next to get married. To get the blossoms to the wallflowers, she stands on a balcony, the top of a staircase, or a chair, her back to the crowd.
The Update: Save your bridal bouquet and throw a special "fortune bouquet" composed of a dozen or so small clusters of flowers bound together with a ribbon that you untie before you throw. Each mini bouquet is bundled with a different romantic fortune, allowing all of your female guests to get involved in the activity.
Throwing Rice
The Tradition: Tossing rice is an ancient custom that has long been popular in the United States. Everyone can happily participate in the post-ceremony practice that symbolizes the showering of abundance and fertility on the bride and groom. If you don't want to use rice, you can borrow other ideas from around the world. In France people throw wheat, and Italians rain candy and sugared nuts over couples.
The Update: For a less conventional display, consider giving loved ones flower petals or mini paper airplanes. Or, choose biodegradable confetti, which is eco-friendly and easy to clean up. If you prefer that guests not toss anything, use decorative paper to make banners attached to long, thin dowels, for waving in the breeze. Guests can also blow bubbles, or serenade you with little bells or other noisemakers.
Wearing a Wedding Veil
The Tradition: Once a symbol of purity, veils are now popular simply because they're beautiful, and because nothing else says "bride" nearly as powerfully. Queen Victoria, who was married in 1840, is credited with being the first bride not to cover her face with a blusher. But many modern women still wear them out of love for romantic tradition. Blushers can be worn alone or as part of a two or three-layer veil ensemble. The longest piece is usually worn for the ceremony only, and it is detached before the reception.
The Update: Some women now choose to marry without a veil, opting instead for a millinery cap or sparkling tiara. You might also wear fresh flowers, arranged in a wreath or artfully worked into your hairstyle.
Decorating the Car
The Tradition: It's great fun when the wedding party surprises the newlyweds by adorning the getaway vehicle with items that declare "just married" as loudly and proudly as possible. Tin cans make a nice clamor and a happy sight on the street when they're combined with a handmade sign and paper streamers.
The Update: Turn the tables on your guests: Have valets decorate their cars during the reception. For example, you might surprise them with a memento tied to the rearview mirror, such as a card thanking them for coming, or a sachet of potpourri. Or, skip the car idea all together, and make your great escape in an alternative getaway vehicle. Don't shy away from the unconventional. Today couple's choose everything from his-and-hers bikes and boats to vintage taxis and carriages drawn by miniature horses.
Something Old, New, Borrowed, Blue
The Tradition: Tokens for good luck from a charming old rhyme, these items a woman carries on her wedding day are typically small personal treasures. They are unique to each bride and rarely obvious to anyone but those closest to her. They can be as modest as a scrap of her future mother-in-law's wedding dress, sewn to the inside of her gown with blue thread, or her own mother's wedding ring, borrowed for the day, on her right hand.
The Update: The groom can get involved, too, by wearing his father's cuff links or carrying a blue handkerchief that the bride has embroidered with his initials. For the guests, you might offer blue fondant petits fours and favors wrapped in blue paper and bound with vintage ribbon.