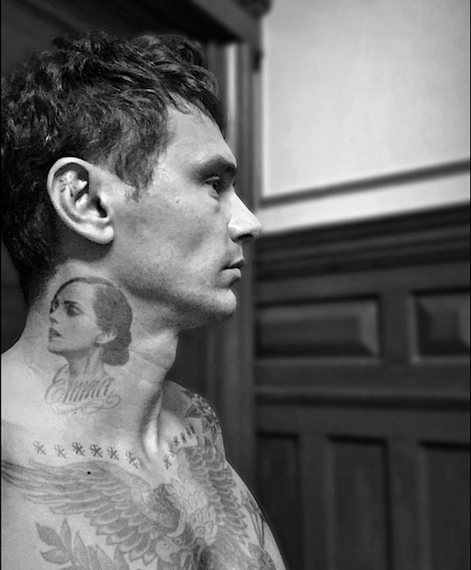 Earlier this week, James Franco duped fans -- and publications from Elle Magazine to TV Guide -- into thinking he got a tattoo of Emma Watson on his neck. A black and white Instagram photo of Franco clearly showed a carefully placed, highly-visible tattoo of Watson with the caption "I <3 Hermione," and the internet freaked. But those who are extra attentive would have seen the red flag from the start: the caption was followed by "Ink by @indiangiver." Artist Cheyenne Randall, whose Instagram handle is @IndianGiver, reimagines what famous movie and music icons would look like in an alternate reality -- that is, if they were covered in tattoos. So Franco's love for Watson is, at least in ink form, only temporary.
Earlier this year, I had the opportunity to interview Randall about his work. The Shopped Tattoo project began after he suffered an injury at the end of 2013 that landed him bedridden for a month. "One can actually thank a slippery diving board for the extensive body of work I've produced in the past year," he explained. "I had limited mobility, so I was watching a lot of movies. That, paired with the Vicodin I was prescribed... I started to imagine these actors and characters if their films been made now, or in a parallel universe."
Both clever and creative, the Photoshopped images tell the story of times changed: Audrey Hepburn, with her signature clean-cut style and a tattooed diamond on her collarbone; a presidential portrait of the Kennedys, featuring a tattoo sleeve on the impeccable Jackie O.; and Julia Roberts's Pretty Woman character, Vivian Ward, with a likeness of Mister Rogers on her shoulder. An interesting cast of characters, to say the least.
Randall's follower base has grown substantially, garnering both positive and negative feedback. For one, Franco is clearly a fan of the artist's work. He took notice of Randall's art and, earlier this year, asked him to 'tattoo' his new author photo. According to Vanity Fair, he more recently asked the artist for a "hypothetical girlfriend tattoo" somewhere on his body. As Randall had just watched This is the End, a movie that stars both Franco and Watson, he randomly chose Watson for the photo.
Still, not all who are exposed to the artist's work have been fans: "Quite honestly, in the beginning there was no real purpose to the work... but as I started to share it online, I would catch some pretty nasty opinions," he explained. "Comments like 'Audrey [Hepburn] would never!,' and 'Blasphemy!.' I started to see a side of people that I wanted to explore."
Fascinated by peoples' obsession with celebrity, Randall pushed the project even further: "I have a tendency to stoke fires, so I started tattooing peoples faces. The social commentary is a part of the project now. I defend tattooing all day long."
While pushing the boundaries of his art, as well as people's expectations and acceptance of it, Cheyenne Randall just wants fuel peoples' imaginations: "To me, it's simple: I'm using imagination and creativity. It's a no brainer: it's art, fun, not real. I guess what I want people to take away from my work is: 'It's only pixels or pencil, people. Embrace your imagination. Support imagination. We can't afford to shun art in todays world.'"
So, next time you see a crazy new celebrity tattoo, check for Cheyenne Randall's name. The tattoo may not be real, but it will definitely be an imagination at play.
View more of Cheyenne Randall's work here.