September 8, 2014 from Rolla to Joplin, Missouri
One of the coolest things about going on a vacation/adventure is the anticipation of the unknown. You can read about it, you can have your hopes and dreams about how it will be, you can plan and plan and plan all the big and little details - but in the end - you know deep down inside there's a whole world waiting to unfold when you embark. You know that that "unknown territory" will be something you could never have imagined!
I think we may be getting into that territory now on Day Three of this great adventure! Jen and I each knew who we were going into this and both had different reasons for wanting to do this trip. But we had NO idea who the folks were that we'd be traveling with. And that's what's beginning to happen now. We're all getting to know each other. Last night I went out to our car to get something I'd forgotten, and a bunch of the riders were hanging around their bikes talking and one of them said to me, "So in the morning, you're going to have to come out and SOCIALIZE! " Wow - he said it nicely, but I got it. We've been having a good time with these folks, but probably staying to ourselves a bit, because, hey - we've got work to do! How could we share all of this with all of you if we were out there hanging with them 'til all hours of the night?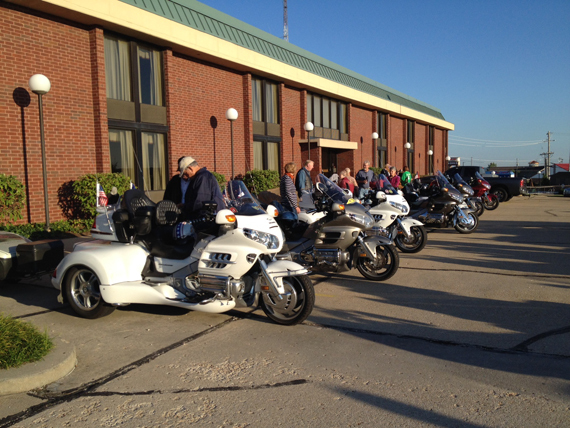 So this morning we woke up bright and early to another super blue sky day with temps in the low 70's. Just about as perfect as you could get for driving the ol' Mother Road through the hills of the "show me" state. Coffee in hand, I went out to say hello and be a part of the group. Everyone was buttoning up their bikes and getting ready for a glorious day and I felt it - we're becoming friends. And big surprise, one of the thoughtful riders named Gary had an extra CB radio that he loaned us so we could tune into their conversations, both directional and sometimes irreverent! Getting in the loop, a good feeling when you're in uncharted waters.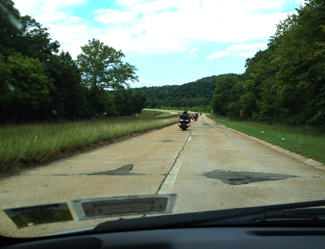 Rodger presided over the meeting to tell us about the excitement today - we were going to be escorted by the police through the streets of downtown Springfield, so we could all stay together in one big line and really make a show of it! Wow, we are now being considered something like a four-wheeled "bike" by them - they are accepting us! And yes, it was true - instead of being the last car behind them, we actually were about two-thirds of the way down their line. It was such a special feeling to be nestled in with bikes and riders on all sides. We're "blending" at last! And the rolling hills and lush greenery of the state of Missouri left me breathless. It was truly amazing to be "riding" with the pack through this beautiful landscape!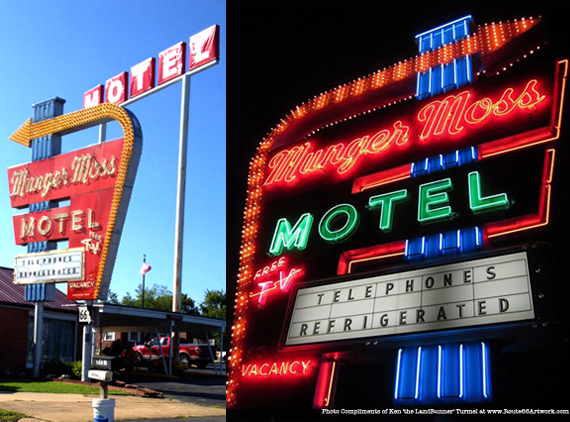 About half way between Rolla and Springfield I spied a sign that I knew had historic significance (like so many Route 66 enthusiasts, especially if you're on pinterest.com, I had seen many pictures of this sign). Sadly, we were caught in a stream of traffic and on the wrong side of the road to stop, but I snapped this photo from the window of the car. Also fortunately, when you're a Route 66 enthusiast - many others have taken excellent shots of these signs too! This one at night by Ken "the Landrunner" Turmel. I discovered on wikipedia that in 2010 the sign was restored using a $10,300 National Park Service matching grant as part of a larger Route 66 historic corridor preservation effort. I've been very inspired by the people who realize the value of these classic signs and institutions and want to keep them alive for all to enjoy moving forward.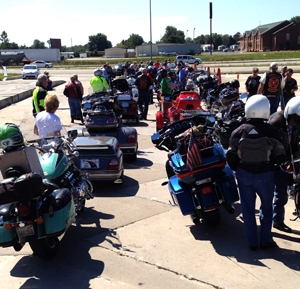 Here we all are waiting for the police escort. And I have to share these pics of one of our lovely new friends Vikki, who's been a life saver so far on this trip sharing directions with us.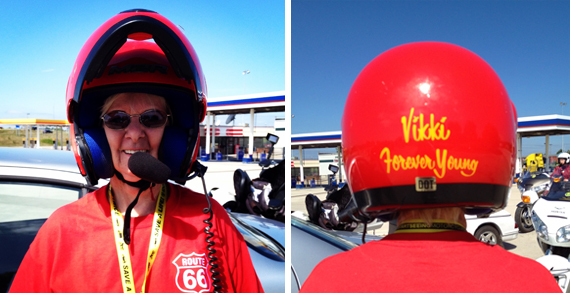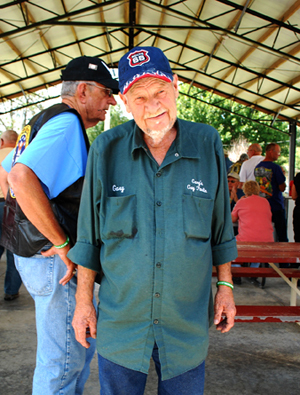 After the fun of the police escort, we all headed down to Gay Parita's Sinclair Gas Station - a great old replica of a classic Sinclair gas station about 25 miles south of Springfield, for a picnic lunch hosted by Gary Turner, the man who put this wonderful Route 66 tourist destination together decades ago. He has a fun collection of vintage cars and trucks strewn around the property which are perfect subject matter for photographers like me. So enjoy a few of my photos!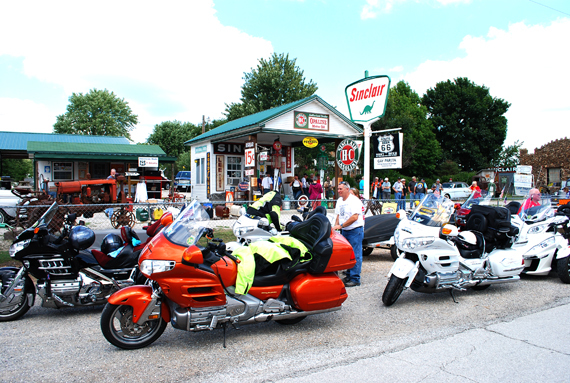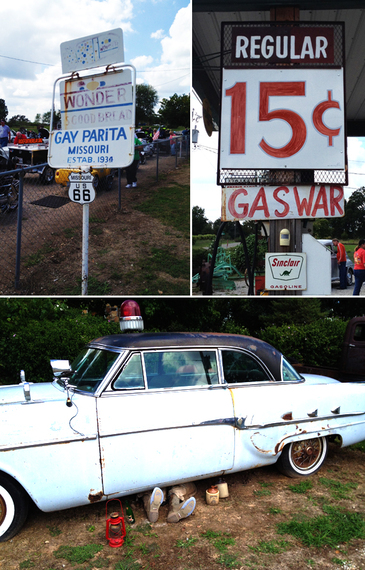 Before our final push to Joplin we sought out the historic Boots Court Motel in Carthage, Missouri. A few years ago, I read a touching story in the journal of The Society for Commercial Archeology about how the original 1939 motel in "streamline moderne" and deco architecture had fallen into decline and was scheduled for demolition in 2003. Various attempts to rescue the property failed until two heroic sisters Deborah Harvey and Priscilla Biedsaw purchased the place in 2011 and began restoration. The most heartwarming part of the story was that Bob Boots, the 82 year old son of the original owners was the first guest to spend the night when they first opened again for business.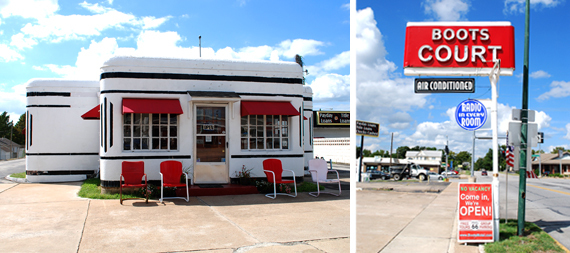 Tonight we're in Joplin, Missouri and tomorrow we're headed for Oklahoma City! Good night y' all! See you tomorrow on Day Four.