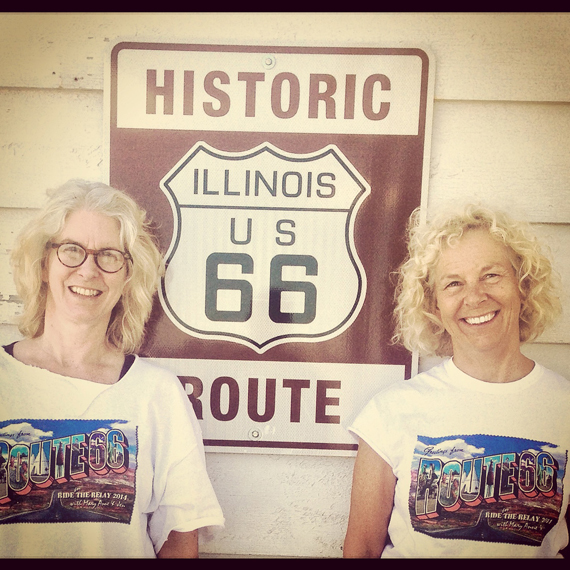 Saturday September 6, 2014: What a great first day Jen and I had on lush, beautiful historical Illinois Route 66! We started out bright and early at 7:00 am with the whole cadre of high tech motorcycles and tricycles, pulling trailers of all shapes and sizes. These folks are not to be messed with! They are serious professionals (when it comes to riding) and many of them have already done this route 5+ times. Their commitment to the great Mother Road, as well as their profound love and respect for those who have suffered at the hand of cancer is really touching.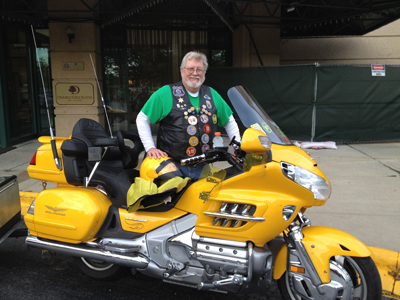 Rodger Fox is the man responsible for creating this amazing rally to find a cure for cancer. He started nine years ago out of his own personal challenges and triumphs with the disease. He and his wife Sue are both survivors and speak with real passion about their commitment to help finding a cure. Over the years, he has continued to enroll others in raising money and also coming along for the sheer joy of the open road - and the excitement of traveling the length of this great, historic highway.
We caravanned from our suburban hotel into the heart of downtown Chicago to the originating spot of Route 66 on the shores of Lake Michigan. This was no small feat, as we were only one of two cars (out of 65 motorcycles) and we were at the back of the pack. Last evening at the opening meeting, the organizer of logistics gave those in attendance a firm lecture about the rules of the road regarding traveling in a group on freeways: always let cars pass through to change lanes, etc. These are conversations I've never been a part of before! However after being at the back of the pack and watching (rather surviving) the intense roller derby of five lanes of solid Chicago traffic - and attempting to stay behind the last rider in front of me - I began to have a deep appreciation of this concept. I could see cars weaving in and out of the pack and it gave me pause, as we were traveling at 65-70 mph! At times I was severely challenged to keep up in our trusty 2001 Toyota Echo (not your sexy image of a Route 66 babe magnet for sure!)
We made it into the heart of this beautiful city (bright early sunshine striking gorgeous soft pink tones on all the buildings that sparkled in the morning light) - and wended our way to the Navy Pier for the opening benediction, blessing on the bikes and the road, dedications to those who have passed and those who are suffering from cancer, and then joyfully a group photo with the skyline in the background. A glorious start to a fun-filled day.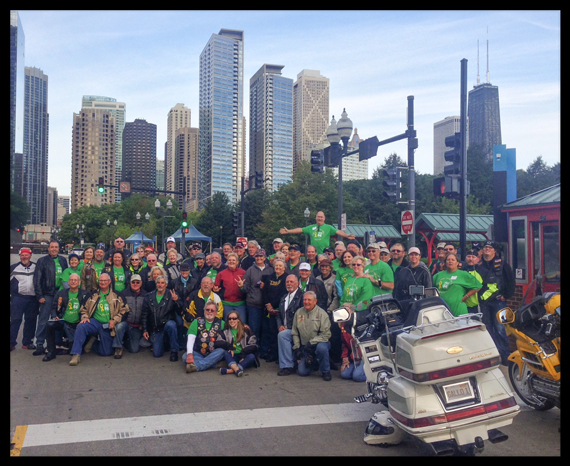 From there, we headed out through the maze of traffic, south into Cicero - the first exciting moment for me was approaching Henry's Hot Dogs - the subject matter for a painting I did several years ago. It was closed (only 9:00 am after all) but I loved seeing it again in the sunlight - it was raining the last time I was here.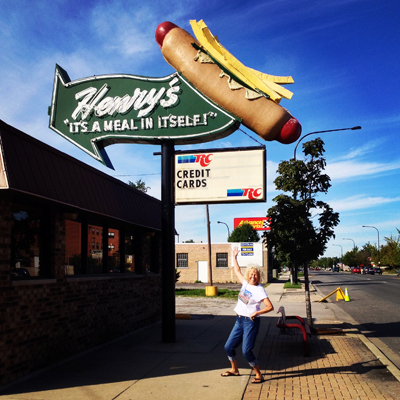 Once you make it through the maze of detours, highway 55 which has replaced 66, and a bunch of ugly factory buildings, you begin to see what you thought you were going to find on Route 66 - kitsch and camp! That started the minute we saw the giant rooster and pulled to a screeching halt! YAY! We're on our way now!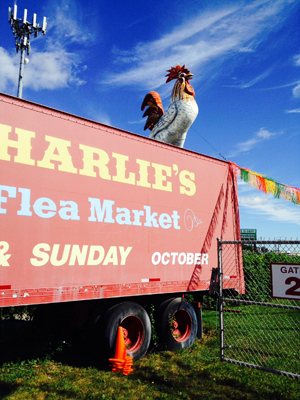 The Joliet Museum was our next stop, which has a great store chock full of cool Route 66 merchandise and books. I was thrilled to find Michael Wallis' book on Route 66 and the indispensable EZ66 Guide for Travelers by Jerry McClanahan. Just the first of many great gift shops to discover.
As we progressed southward we came to the ever-fascinating Gemini Giant at the former Launching Pad Drive-in in Wilmington, Illinois. This harkens back to the days when we were fascinated with space exploration - and of course fans of the giant "muffler men" will recognize this wonderful adaptation, helmet and all.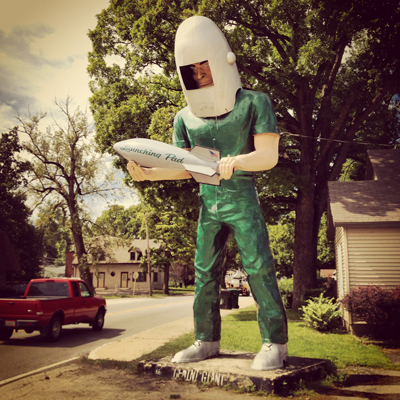 We were wearing down in the afternoon after a fitful night of sleep - we were both tired. We rolled into the sleepy town of Atlanta where I knew a real gem awaited us - another gentle giant but this one packs a real punch! What could be better than a muffler man holding a giant hot dog?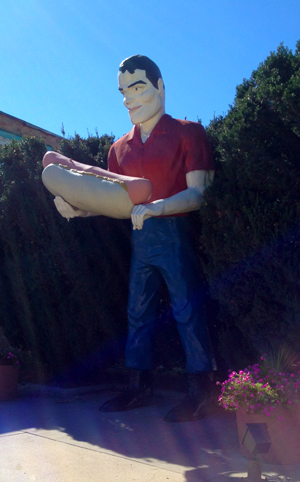 This was pretty much it for our day on the road. We checked in at our hotel in Lincoln, Illinois and met lots of the jovial bikers hanging around the parking lot with their rides, a few selling t-shirts in the lobby. The mayor of the town kindly hosted a special Italian dinner for the whole crew - and it was darn good: baked ziti and pasta carbonara with chicken, garlic bread and sodas.
So at this moment, the sun is setting, and Jen and I are in our room on our computers listening to the bikers out in the parking lot playing some version of horseshoes, hanging in circles with their folding chairs - waves of laughter and shouting wafting up through the open window - as we type away, logging in our first day. Stay tuned for Day Two!