September 15, 2014 - from Kingman, Arizona to Barstow, California
I woke up in Kingman with a very heavy heart and had the feeling that everything about this trip had changed. Jen had put an ad on Craig's List and someone had answered from Las Vegas with a link to a page "with pictures" asking if this was my stuff. Suddenly, our hearts were racing! They said if we could identify what was missing they would return it to us.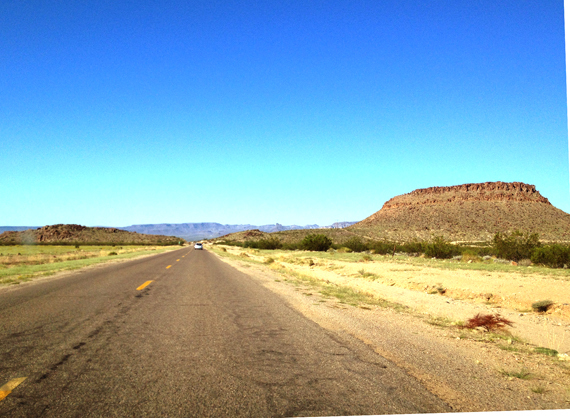 The group was getting ready to leave for the last leg of Arizona Route 66, the treacherous climb to Sitgreaves Pass and down into Oatman. Rodger had warned the group to be especially careful as this was the most dangerous stretch of the great old highway. We were all packed up and decided I should drive so Jen could try to open the photos and get back to this person with a description. We started following the group through the Sacramento Valley heading west with those alluring mountains straight ahead of us.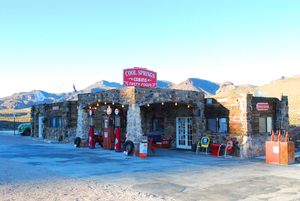 We stopped at Cool Springs at the base of Gold Hill where you will find the most wonderful restored gas station, where in days gone by folks would fuel up before the steep ascent to the pass. We were having trouble opening the photos so we put them up on Facebook hoping someone could open them on a PC. We found out within the next half hour that the photos were actually malware and the whole thing was a scam. What a disappointment: an insult to an already sad situation!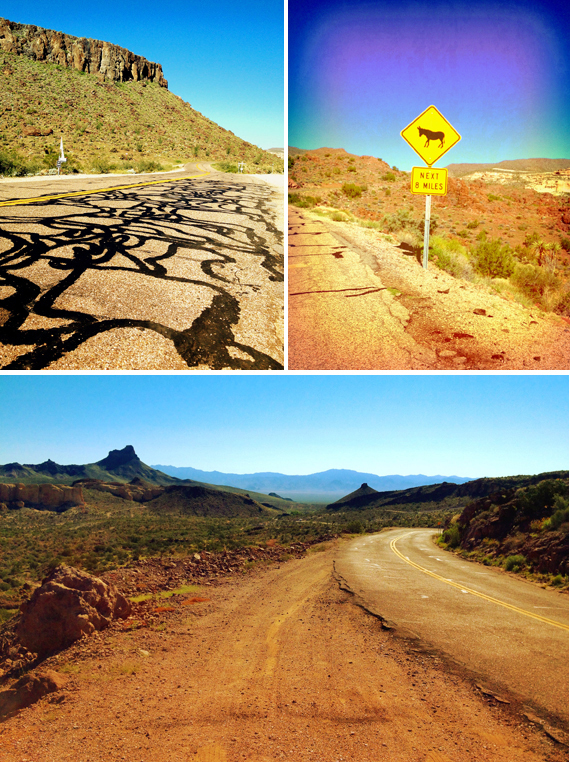 But we had to press on and catch up with the group, so we prepared ourselves for this amazing drive (that Richard and I had experienced several years ago). You snake around multiple hairpin turns with few guard rails and can see why people feared this stretch. And then when you get to the top - voila - the view opens up to the west and you can see all the way to California. I was feeling a mixture of joy and sadness; a readiness to be done with the road and get back home, as well as the poignancy of a journey rich in so many ways.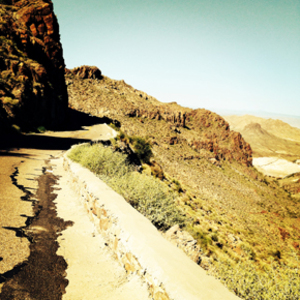 The awesome moments of standing and looking out west and then back east had to come to an end: we needed to keep moving. Then the heart-stopping drive down the other side to the quaint old mining town of Oatman. The historic plaque at the entrance to the one -horse town says it all: "Oatman was founded about 1906. By 1931, the area's mines had produced over 1.8 million ounces of gold. By the mid 1930's the boom was over and in 1942 the last remaining mines were closed as nonessential to the war effort." Thank goodness they saw the value in leaving the town intact for all to enjoy this small piece of what once was the wild west.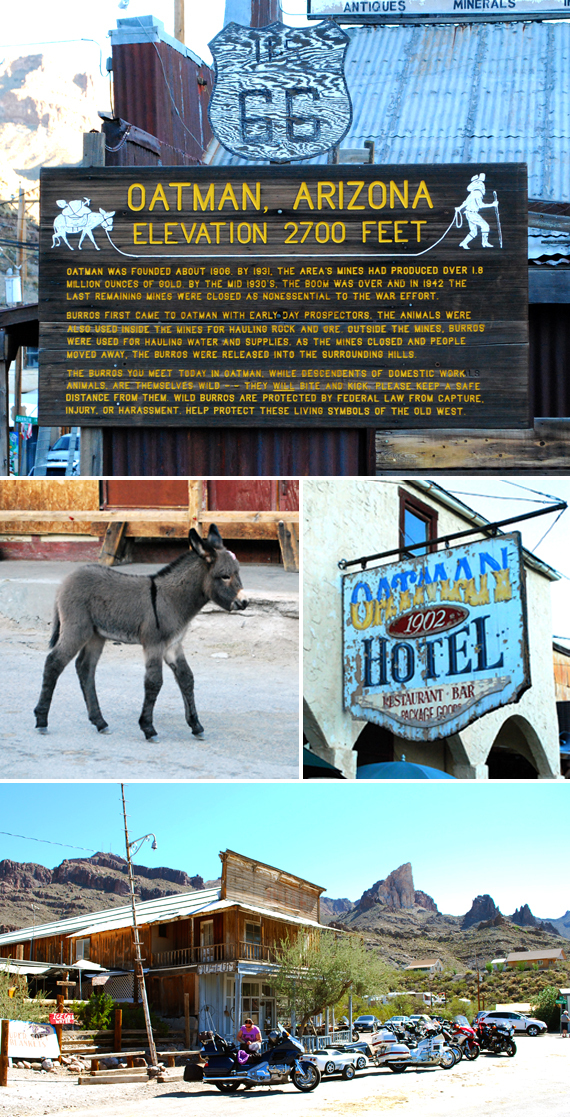 The wild burros that populate the town are totally delightful. It's so much fun to have a hand full of burros following you down the street as you feed them the "approved" biscuits sold in the stores. The sign says "they are living symbols of the old west" and I would have to agree.
The group had been talking about their favorite place to eat in Oatman for some time, so sure enough, we found them all camped out at Olive Oatman's Restaurant and Ice Cream Saloon. The sign says "1837-1903"! Many of them were savoring the signature dish of fry bread covered with 6 scoops of ice cream and peaches AND smothered with whipped cream! Mind you it was about 10:30 in the morning! Wow! Since we were a bit late arriving, we settled for an ice cream cone which tasted pretty good considering it was pushing 100 degrees today.
We lingered a bit longer and then all set out to finish Arizona #66 in style - as one big group of riders with the few four-wheeled rigs at the back of the pack! Once you cross the border into California the highway merges again with I-40 and we officially entered the Mohave Desert. When Richard and I traveled this way in 2012, it was pitch black and we had no idea where we were (heading for Palm Springs at the time). It turned out that the section of Route 66 our group had wanted to take was sadly closed due to flash floods earlier in the week - so we all took the same road south: Exit 78 Kelbaker Road) to find a short section of the highway that was open.
This was perfect for me, as I had brought a large stack of postcards of my painting called "Oasis in the Desert". In 2012, when we traversed this same road we were out of gas, it was the middle of the night, and we were in the middle of the desert - and we were panicked! We made the right hand turn following the signs to Palm Springs and saw the lights of a gas station. We were saved! And lo and behold, it was the old Cafe at Roy's - the famous photo op: abandoned motel that was once a thriving business in the middle of the Mohave Desert on Route 66! I painted this 60x36" oil on canvas as a tribute to the miracle and because the image was so compelling to me. I was now bringing these postcards of the painting to give them as a gift.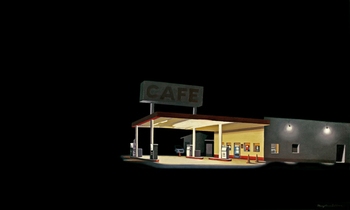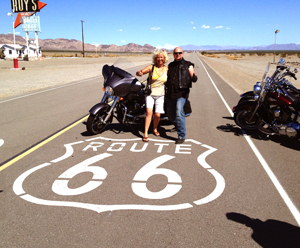 We got out of the car and the heat hit us in the face like a blast furnace. It had climbed to nearly 120 degrees by now, a record heat wave for this time of year. We strolled around briefly and then I brought my offering inside. The counter person seemed mildly interested and took my postcards and that was that. Much more interesting was the huge gaggle of Harley's parking outside with black leather-clad men and a few women. The funniest thing was they were lying in the middle of the road, posing with the Route 66 emblem painted on the pavement. We weren't sure but guessed they were from Holland or Germany from their chatter. I just couldn't help myself and went over and asked if I could jump into one of their photos - who wouldn't want a picture with a macho leather clad guy posing on a #66 shield? This proves it - I've BEEN HERE!
We had lost touch with our group because they had turned left (not right) at the intersection with #66 and were painting their names with colored rocks in the sand. A big tradition on that stretch of the road, and for our group, many of them left the names of those whose lives have been taken by cancer. So this was a powerful (and very hot) experience for them. A number of people were overtaken by the heat that day, we discovered later.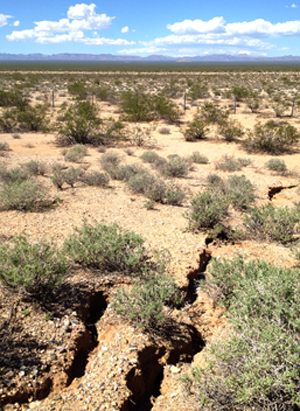 I was really looking forward to the stretch of road that came next on Route 66 which goes through Bagdad (yes from Bagdad Cafe), Ludlow, and Newberry Springs. Sadly it too was closed due to the same flooding and erosion. So we headed back up to I-40 and decided this day was too hot to do any more exploring and we prayed our hotel had an outdoor pool. Gratefully it did, and a bar that made great marguaritas - so we were able to truly relax after a day well spent on the road of my dreams.
Just one more night on this magical highway my friends! Tomorrow will be our last full day on the road as we drive to San Bernadino and then the final short leg to the Santa Monica Pier. You have been such great companions on this trip! Thank you for all your support.