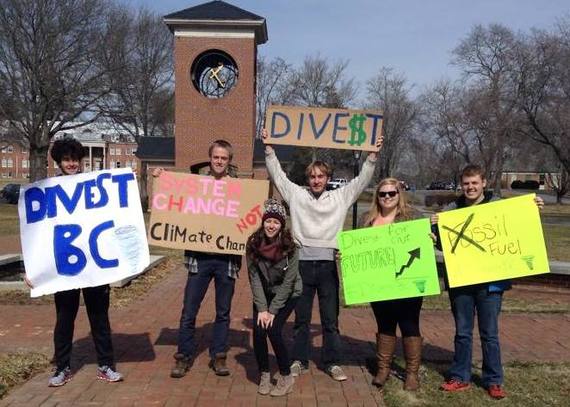 College students, faculty, and administrators at North Carolina's Brevard College are cheering at Friday's news that the school will divest from fossil fuels by 2018 -- making it the first university in North Carolina and the entire Southeast U.S. to divest!
The school has a robust group of student organizers (Divest Brevard and the Brevard College Greens) who've been rallying, speaking, and working hard toward this goal since 2013.
"Divestment is important to our students because Brevard College is a place that, to quote from the mission statement, '(i)nspires social action,'" says Brevard student and Co-President of Brevard College Greens Emily Crowley. "As students we feel it is important to embrace the inspiration Brevard has given us to ignite a movement that is important to all facets of the world."
The students worked closely with Jim Reynolds of the Sierra Club North Carolina's Pisgah Group -- who is also a professor at Brevard. Together they got more than 400 students and faculty to sign on in support of divestment. The students also organized a sit-in, which prompted Brevard College President David Joyce to invite students to present to the board of trustees.
"Part of our mission is to teach students to connect knowledge to action," said Joyce in a statement after Friday's vote. "The process and outcome of this issue demonstrates our commitment to encouraging personal growth and inspiring social action."
Once again, I am so inspired and impressed by the leadership of young people in the move away from fossil fuels and toward clean energy in the U.S. These Brevard College students are to be commended -- and I hope more colleges and universities in the state and across the Southeast follow the school's lead.
"Divestment for us means that our school is taking climate change issues seriously, that our administration cares about the desires of its students, and that our administration is committed to doing all that we can to contribute to solving issues that directly affect social, economic, and personal values and lives," said Crowley.
Congratulations to Emily, Jim, and the many, many others who helped make this happen.