Comfortably curled by the window soaking up the warm sunshine, watching the birds fly and the squirrels scamper, it's hard to believe that just a few months ago young Logan was homeless, injured, and scrounging for food on the streets of NYC.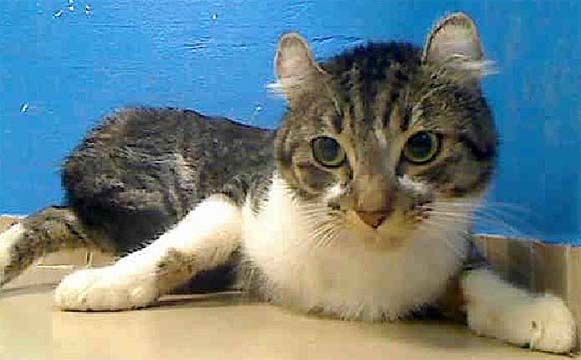 Logan at Animal Care and Control
When our organization, Tavi & Friends, heard about him we knew we had to pull him from Animal Care & Control of NYC (AC&C) and take him into our American Curl rescue program. Logan's unique ears point to his AmCurl background, a special breed of cat whose ears curl backward! Typically, this breed is social, loving, and people-oriented -- and Logan fits the bill! How could you not love him?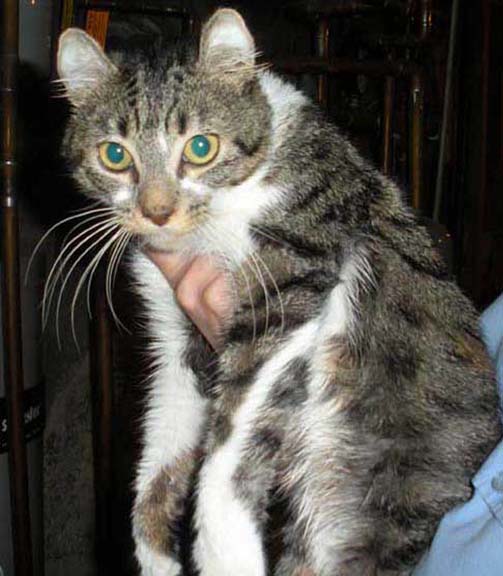 Despite the trauma he's experienced during his life on the street, Logan remains a lovable guy, quirky, adventurous, charming -- and very active! And while, at first, our Logan may not have stacked up against Hugh Jackman's good looks (although we always thought our Logan is just gorgeous!), his personality beats the "Wolverine's" any time!
It's inconceivable to think that anyone would dump a young cat on the street but, unfortunately, it happens too often. So, what could have happened to Logan? Did someone no longer want him? Was he abused or injured in an accident? We'll never know.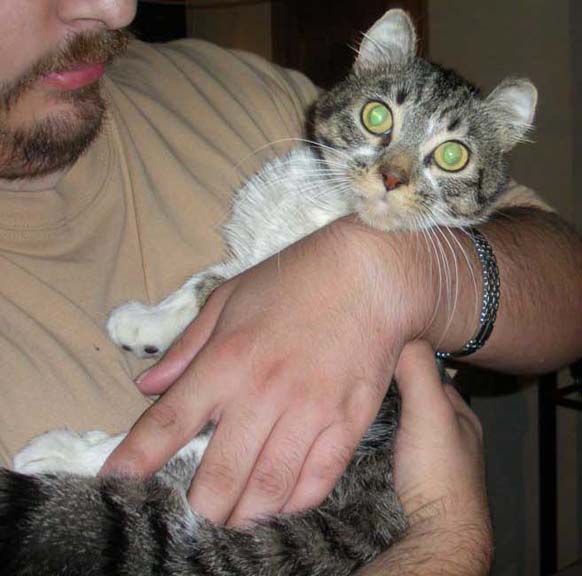 What we know is that Logan was abandoned, emaciated, flea-infested, and had a severe URI setting in. He had a possible enlarged heart, multiple pelvic fractures, breast bone fracture, and spinal injuries; he surely experienced pain from these injuries at some point. How terrifying for him. We wanted to help him heal and feel safe.
Logan's "adventures" with Tavi & Friends started when we picked him up at the Brooklyn AC&C shelter. We immediately took him to veterinary specialists for medical check-ups, tests, x-rays, scans, de-fleaing, de-worming, long rounds of antibiotics -- and then more vet visits. One piece of good news: his heart was healthy!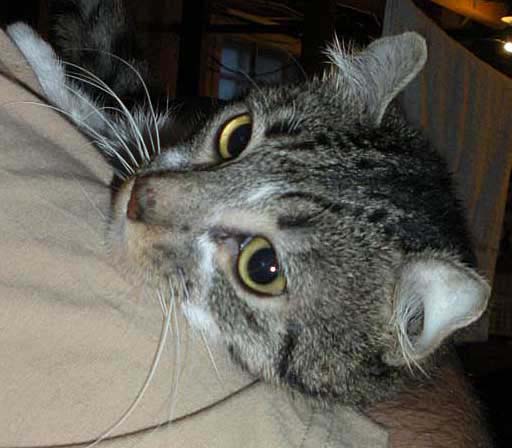 Logan was initially put on cage-rest and we had a wonderful, dedicated foster-mom who pampered and cared for him while he recovered, built up his health, strength, and weight (he's filled out beautifully), until he was healthy enough for the next round of treatments -- starting with neutering! Tavi & Friends strongly believes in neutering and keeping all cats indoors for their health and safety!
Logan's fractures were older and had already healed improperly. Also, he did not put pressure on one rear foot, instead dragging it behind him; a compressed spinal nerve injury was thought to be the culprit. So, Logan underwent twice-weekly laser therapy treatments (sort of TTouch-on-speed), for tissue healing, reducing inflammation, and improving microcirculation to revitalize the spinal nerve. It wasn't his favorite thing, but Logan is a real trouper about it all. These treatments are having very positive effects on his ability to use his foot and it's thrilling to see him balancing on all four paws now! The next phase may be surgery to see about adjusting his pelvic area to help him even more.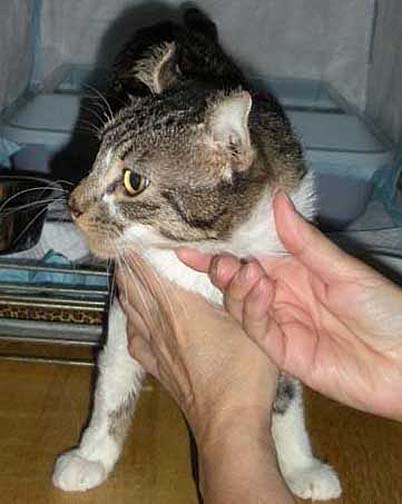 Not that much keeps this little guy down. His love of life, people, and cat-pals is abundant. Logan's passions are running around with his foster cat-buddy, Hank, and chasing laser beams and balls. And can Logan run! Our 'X-man' Logan also has a soft, sensitive side: he loves nothing more than, after a long day of play, to cuddle up beside you in bed for a good night's sleep.
Oh, and did we say, Logan is also a pole dancer! Yes, once he was off cage rest, he'd run, grab a pole, and fly around it with all paws clasped! We told you he was a quirky character!
Yet, what do you think Logan's biggest wish is? Not about his leg, he thinks he is doing just fine with that. No, it's someday getting his very own forever family, home and more cat-pals (he easily makes friends), where he never has to worry about being abandoned, homeless, or injured ever again! And that's what we want for Logan. He may have special needs, but he will fill every need you could ever wish for in a companion animal!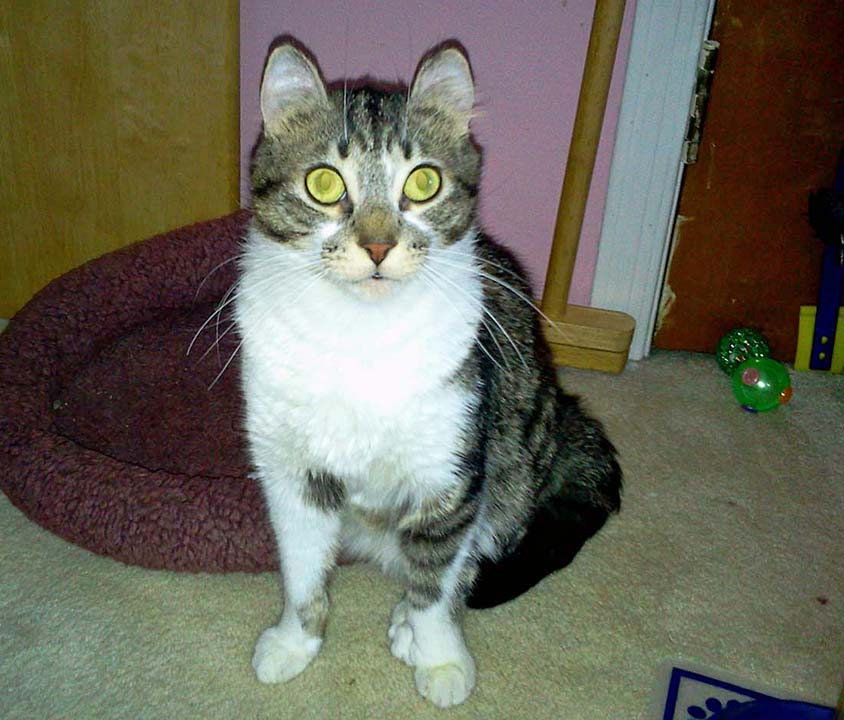 Logan today
Until then, Logan could use your help. You can learn more about how to help Logan at our website.
You can help an animal in need by adopting, fostering, volunteering, or donating. Find out how at AnimalAllianceNYC.org.