More than a hundred friends and family gathered on a bright, sunny day in Le Rayol's city hall to say farewell to Jean-Jacques Pauvert, the iconic French publisher, who died on September 27, 2014. He was 88 years old.
In the late 1940's, he purchased fifteen acres of land in this small French village, overlooking the Levant Islands. As his publishing company grew, so did his home. From here he oversaw the controversial publication of the works of the Marquis de Sade and Dominique Aury's, The Story of O.
When the censors and authorities pursued him and his books, he sought refuge here. This was where he replenished his energy and determination to support his authors and bring their books to readers and libraries around the world.
Two hundred years ago in 1814, the Marquis de Sade died. Although Pauvert published Sade, it's important to remember that he was also known for works other than the erotic genre. Pauvert published Jean-Paul Sartre, André Breton, Georges Bataille, Dali, Albertine Sarrazin, Genet and others. Pauvert also published in 1968, the first French edition of Civil Disobedience by Henry David Thoreau. He often designed the beautiful texts and took great pride in the detailed production of his books.
Prior to the service, family and a few friends met at his home and shared stories, memories and even laughs about the wild pigs that were always trampling his gardens. Near his study, stood the blue electric saw he used to cut firewood. A sturdy, whimsical insect Pauvert had made from a pile of scrap metal, stood on a rock surveying his domain. Creating objects from scrap metal was Pauvert's favorite artistic pastime.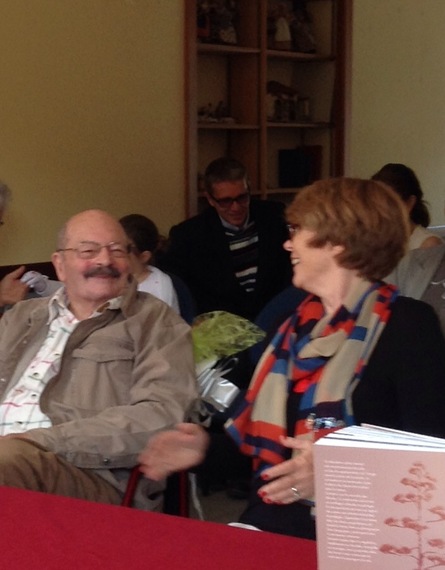 Jean-Jacques Pauvert and Brigitte Lozerec'h on their wedding day.
At the city hall, photos of Pauvert lined the room. Mayor Jean Plenet told how Pauvert was an integral part of Le Rayol, which was clearly evident by the number of local merchants and residents who filled the room.
Annie Le Brun, the Sade biographer and curator of the new Sade exhibit, "Attacking the Sun", at the Museum d'Orsay, read Pauvert's favorite poem, "Now I Grow Up" by Jacques Prevert. Le Brun said, "The poem which starts with the line, 'When I was a child, I had a funny life,' perfectly described Jean-Jacques."
Brigitte, his wife whom he married earlier this year in the same city hall, read a letter he sent accepting her novel, L'Interimaire, for publication. In 1982, it was on the bestseller list for fourteen weeks. They first met in 1975.
Zeline Guena, who is a book scout for publishers, sent a letter explaining that Pauvert had a special ability for spotting talented writers.
His wife Christiane, who worked with him in their publishing company for several decades, died in 2008. Pauvert had four children. His daughters Corinne and Dominique attended with their children and several shared their memories about their grandfather.
Although Pauvert's offices and family apartment were in Paris, his heart was in Le Rayol. Following his memorial service, Brigitte said, "He was almost a recluse. He loved the trees, the view, his solitude, the birds and the wild life that lived in the forest."
We will miss Jean-Jacques Pauvert's hearty laugh. But we still have his books that line our bookshelves and remind us of his genius, friendship and his life-long fight to bring innovative
and important literature to our lives.
Jean-Jacques Pauvert's memoir, La Traversée du livre (An Odyssey in Books) (Viviane-Hamy), will be published in English in late 2015 by the Paris Writers Press.