Two recent reports provide an upbeat assessment of private companies, the drivers of 65 percent of new job creation and nearly 50 percent of private nonfarm GDP.
Sageworks, a financial information company, reported that private companies are growing sales at an annual rate of 8 percent, based on financial statements ended in the past year. They have also continued to improve their net profit margins, which on average are nearly 8 percent, according to Sageworks' data. "A financial statement analysis of major sectors reveals similar trends of stability and strength for the retail, wholesale, construction and manufacturing industries," Sageworks said in its quarterly Private Company Report.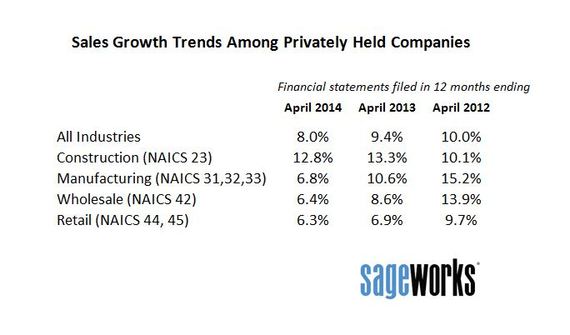 Meanwhile, PwC LLP's latest survey of hundreds of top executives at private companies found that optimism about the U.S. economy is fueling plans by nearly two-thirds of businesses to add workers over the next 12 months - the highest percentage PwC has recorded in three years. These executives also forecast stronger revenue growth today than they did a year ago.
"Though we are still clearly in a recovery period, corporate leaders have told us that they feel more hopeful about their prospects than they have in years," Rich Stovsky and Ken Esch of PwC's Private Company Services practice said in the report. "While the fundamentals continue to improve, our panel of private-company CEOs see even better weather ahead. Faster growth. Expansion abroad. New spending initiatives. Hiring across the board. Gross-margin strength. These are all good signs for this stage of an economic expansion."
Given private companies' role in the U.S. economy, their financial performance is an essential gauge of the overall U.S. economy. Of the more than 27 million businesses in the U.S., publicly traded firms account for less than 1 percent.

Among four major sectors analyzed by Sageworks, construction (NAICS code 23) has been growing the fastest, which made the list in a recent ranking of the fastest-growing industries, where 12 of the top 20 are tied to housing or construction. Manufacturing companies and wholesalers are seeing, on average, 6 to 7 percent sales increases - healthy growth despite being a couple of percentage points slower than growth was a year earlier, indicated Libby Bierman, an analyst with Sageworks. And retailers have been increasing sales at about the same rate as a year earlier, nearly 6 percent.
"Sales growth rates may not be as high as last year or even 2012 for some sectors, but the sustained growth we are seeing in the data is positive for private-company owners," Bierman said.
All four sectors have been posting net profit margins in the 4 to 6 percent range, according to Sageworks' report, an increase over past years' profitability.
"When you consider the combined sales growth and increased net profit margins, private companies within these sectors have made encouraging, financial strides," Bierman said. "They're going to be in a very good place to invest back into their companies--to amp up their businesses so they can grow."
Through its cooperative data model, Sageworks collects financial statements for private companies from accounting firms, banks and credit unions, and aggregates the data at an approximate rate of 1,000 statements a day. Net profit margin has been adjusted to exclude taxes and include owner compensation in excess of their market-rate salaries. These adjustments are commonly made to private company financials in order to provide a more accurate picture of the companies' operational performance.
Among PwC's other findings:
• Private-company leaders are "nearly unanimous in their view that the U.S. economy is either expanding or holding its own."
• Private companies expect to grow revenue an average 8.5 percent over the next 12 months. That compares with a forecast a year ago of 6 percent growth.
• One-third of respondents said they plan to make major new capital investments in the next 12 months, but the reported size of investments has fallen, to 6.6 percent of sales, on average, from 7.5 percent of sales a year earlier.