Today, the Earth got a little hotter, and a little more crowded.
Daily Climate Change: Global Map of Unusual Temperatures, Apr 24 2014
How unusual has the weather been? No one event is "caused" by climate change, but global warming, which is predicted to increase unusual, extreme weather, is having a daily effect on weather, worldwide.
Looking above at recent temperature anomalies, the jetstream once again looks like it's bringing cold into the US, while the North Pole and surroundings (that big orange spot) are experiencing much warmer than normal temperatures - not good news for our Arctic thermal shield of ice.
California continues to dry, blocked from showers by that west Pacific warm hi pressure spot, and hotter than usual temperatures continue to dominate human habitats.
(Add 0.3-0.4 C to have these anomaly values calibrate with those of NASA.) Daily updates of can be seen here for both the temperature anomalies map, and the jetstream map. For real time animated US surface wind patterns, click here, and here, for the planet. (Clicking on "earth" there reveals data and map options.)
SOLAR SURGING
A worldwide solar surge is credited with a 10% rise in clean energy investments, led by residential solar installations in the US, and Japan. Dramatic drops in the price of solar power as fossil fuel extraction costs rise, combined with a massive global market for cheap energy, could likely trigger a deflation in the price of energy, says a new investment bank analysis.
Solar price is plummeting below Brent crude oil and Liquified Natural Gas (LNG): for developing economies, solar is just cheap, clean , convenient , reliable energy says a recent analysis by investment bank Sanford Bernstein; Henry Hub is a natural gas distributor.
In our global solar roundup, the European Union's weakened demand for solar power has led to a cut in imports of Chinese modules and a drop in power price. Meanwhile, Germany and the UK pursue different policies as they transition from a solar subsidized market. In China, the distributed solar market is heating up. In Turkey, after a number of false starts, the solar panel market is finally getting started.

In the US, the Department of Defense undertakes its largest solar project yet while President Obama challenges private companies to boost solar power use. In California, regulators encouraged the spread of small scale solar power with storage systems by preventing utilities from charging excessive fees.
The inventor Asfafaw Tesfay in the process of baking injeras, Ethiopian traditional bread, on his solar powered oven.- wait, you've never had Ethiopian food? Go try it today - it's fabulous!!! Photo: Dag Håkon Haneberg
Improvements in solar technology include a method for determining the optimum schedule needed to clean solar panels; a process that can release stored solar heat on demand; and a solar bread oven for the developing world.
NEW Large Pacific Ozone Hole Lets Pollutants Rise High Up reports Andrea Thompson at Climate Central. Researchers have found another large ozone hole, this time over the west tropical Pacific. No ztmospheric ozone (O3) there also means no companion gaseous hydroxyl radicals (OH).
Maps showing the ozone hole, the associated OH hole, and the updraft area that now is pushing pollutants high up into the stratosphere. Credit: Markus Rex, Alfred Wegener Institute via Climate Central.
These gas radicals "scrub" manmade pollutants, such as ozone-destroying compounds, out of the air by binding to them. This beneficial "OH shield" exists over most of the planet with the ozone shield, which keeps harmful UV radiation from hitting Earth's surface.

In tropical West Pacific thunderstorms, air masses and their pollutants are quickly hurled up. On the way, hydroxyl (OH) molecules normally "scrub" pollutants from the air before it reaches the stratosphere, where they can spread around the globe and last far longer than down below. But now, a new ozone hole is allowing those pollutants to spread high up. Credit: Markus Rex, Alfred Wegener Institute, via Climate Central.
The hole sits over an updraft area, so pollutants are pushed with the warm air above our atmospheric envelope of weather and breathable air into the stratosphere, where they can exist for years and get distributed around the planet.
What does this new break in the ozone shield mean, and what is the effect of having these pollutants, including more greenhouse gases, spreading out way above our planet? Stay tuned, folks - we just don't know yet...

The Outlook For Clean Renewable Energy In 2014 Is Good , with global investment rising as prices for wind and solar power continue to drop; renewables still hold a small share of total energy mixes, but clean-energy growth is picking up momentum.
It will be helped in the US by $4billion in loan guarantees from the Department of Energy "for innovative renewable energy and energy efficiency projects located in the U.S. that avoid, reduce, or sequester greenhouse gases." Once again, President Obama does an end-pass around our do-nothing Congress.
WHITHER WEATHER
OO March Was Coldest in U.S. Since 2002 ...
OO But Was 4th Warmest on Record Globally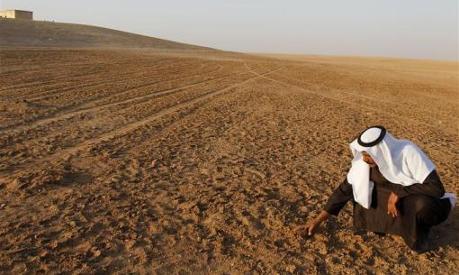 Drought in Syria. Courtesy of Worldpreservationfoundation.org
Severe Drought continues in Syria and in Brazil, which might see a mass migration of farmers to more temperate zones as global warming worsens, say experts.
OO US Drought Raising Food Prices Pinching Consumers - Beef, pork, poultry, eggs and milk have had the most dramatic price increases as drought, a virus outbreak and rising exports have thinned U.S. supplies.
OO New Wheat Fungus, Helped by Drought, Threatens Entire World Crop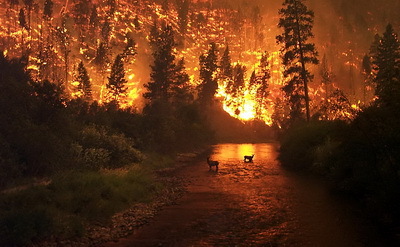 OO Wildfires Really Are On The Rise In West says new study. Credit John McColgan at wikimedia.

OO Wildfire Ravages Valparaiso, Chile

Eight Factors Driving Global Industrial Efficiency, reports Jigar V. Shah at GreenTechMedia, include government policies and programs, energy management systems within companies, transparent disclosure of the real carbon costs of doing business.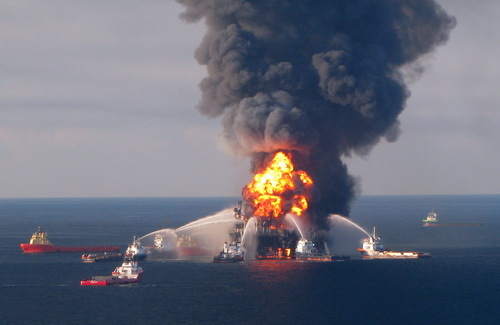 Exxon, Shell, BP, Total, Google, Walt Disney and leading US utilities are all internally pricing the cost of carbon emissions, and is now a "core element" of most large corporations' long term planning. I wonder if BP understood the real price of its carbon emissions, even before the Deepwater Horizon disaster? Wikipedia.

Other factors include using inhouse estimates of carbon's price, comparing how competitors save energy, carbon pricing their supply chains, and finally, technological and financing innovations.
SEEKING THE SCIENCE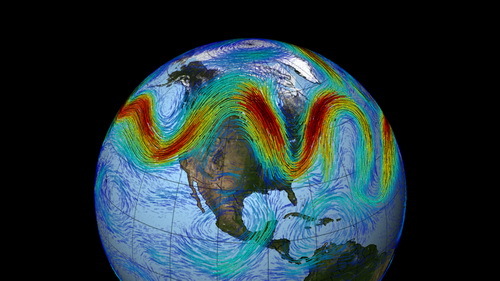 OO Global Warming Can Intensify Meandering Jet streams, Creating More Extreme Winters says a new study.

OO Greenhouse Gases Highest in 800,000 Yrs, Are Manmade - ancient ice cores now indicate.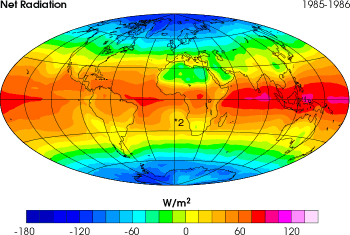 Net radiation for Earth ( here for yrs 1985-1986 in Watts per square meter) is the most direct measure of how much heat the Earth is absorbing. Source: NASA.
Three Different Measures Needed to Accurately Assess Global Heating reports Kate Ravilious at the UK Guardian. Surface temperature alone isn't enough; ocean heat content (via buoys) is another important measure.
Finally, the net radiation absorbed by Earth (via satellites) is the most direct measure, notes the author of a recent published study, which shows that despite the fits and starts of surface temperature, both net radiation and ocean heat content are rising.



Permafrost forms lakes on the tundra as it melts, and undermines trees, making them tilt and fall. Credit G. Hugelius, left; via Climate Central, right.
Drunken trees: Dramatic Arctic Signs Of Climate Change Are Occurring reports Brian Howard at National Geographic. The land of permafrost and forests is giving way to thermokarsts, collapsed areas of melted permafrost and tilting or fallen trees as roots lose their hold in these new swamps. Lakes are forming around hillocks, comprised of the meltwater from the permafrost. The change in landscape is stark and dramatic, emphasizing the dramatic change in climate underlying it.

OO Greenland Ice Melt 'Accelerating' Say Scientists

OO Climate Change Reshaping Urban Tree Populations

Ocean Acidification Threatens Marine Food Chain says new research reports Oliver Milman at the UK Guardian. Other studies have already shown how rising CO2 sea levels makes it difficult for animals to grow skeletons or shells.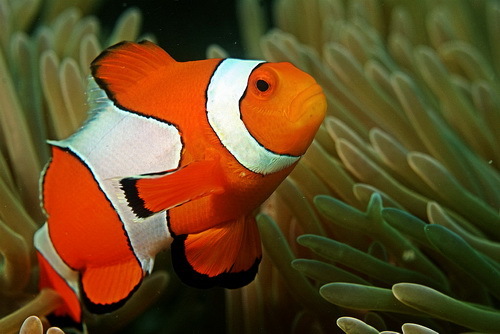 Not Nemo, too!! Clown fish and others are more likely to succumb to predators they can't smell in more acidic seas under continued global warming. Credit Ritiks via Wikimedia Commons.
Now, US and Australian researchers have found that when fish are exposed to levels of CO2 expected under continued global warming, they are unable to distinguish the smell of predators and lose their fear of them, making them more likely to be eaten. This could cause major disruptions of marine food chains.

SEAS ARISING
OO Rising Tides Threaten Coastal Communities In The US And Globally - global warming has already ensured future coastal flooding, and an interactive map shows how 30,000 US communities already have heightened risks of extreme flooding.


OO Saving Caribbean Tourism From The Sea

WE CAN DO THIS
IPCC: We CAN Cut Carbon Greatly, Fast - If We Accept the Need to Do So says their report, writes Gerard Wynn at Responding To Climate Change. From individuals to societies, people tend to think more about the certainty of surviving today (can I pay the rent?), rather than the uncertainties of longterm survival, making it difficult to focus action on climate change. People have to understand that investing in carbon emission cuts means big savings in the future if we don't delay.

Related headlines:
OO UN Panel Looks to Renewables As the Key to Stabilizing Climate

OO Cutting CO2 Emissions Saves Money, Says UN Climate Panel

☼☼☼
OO US Carbon Emissions Down 10% Since 2005, Says EPA

OO UN Touts Ambitious (But Cheap) Investment In Renewable Energy
*
*
CALIFORNIA DRYIN'


Many California reservoirs now look dramatically different, as does Folsom Lake, above. Credit Google Earth, CA Deprt of Water Resources.
After a record dry winter, California is preparing for a harsh wildfire season. Water wars over the little available state water have already erupted among various user groups this year. Young salmon are being shipped downriver to the Pacific because the shallow rivers are too weak to guide them.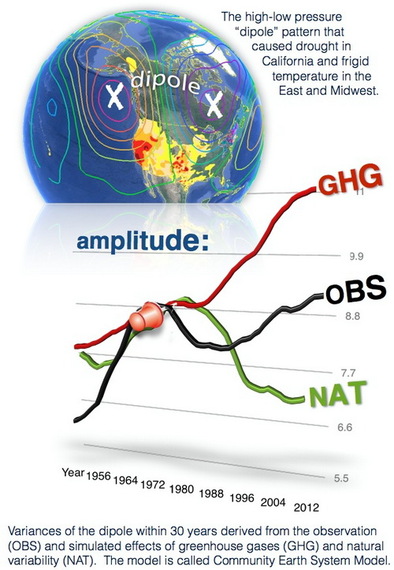 New NASA funded research links both this epic drought and the frigidity experienced in the east and Midwestern US to a dipole, two coupled poles of opposite pressure: a high pressure area off the west US coast and a low pressure area northeast of the US. Via Climate Progress.
The high pressure area is blocking westerly storms from California. Evidence indicates the unusual intensity of this dipole is linked to global warming. Don't want more droughts like this? Then think seriously about voting for leaders who will cut carbon emissions dramatically and fast.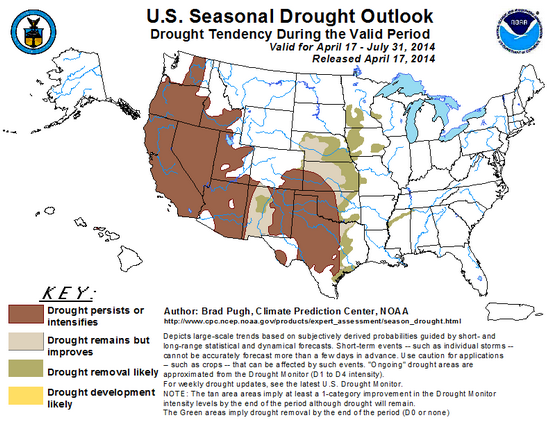 As it is, drought conditions remain severe, and unusual warm conditions caused an alarming loss of mountain snowpack, a crucial water source; NOAA's Climate Prediction Center predicts the drought in California and much of the southwest to persist or worsen til at least June.
WHAT WORKS
OO New: A Tin-Selenium Compound To Convert Waste Heat To Electricity

OO China To Elevate Environment Over Development In New Law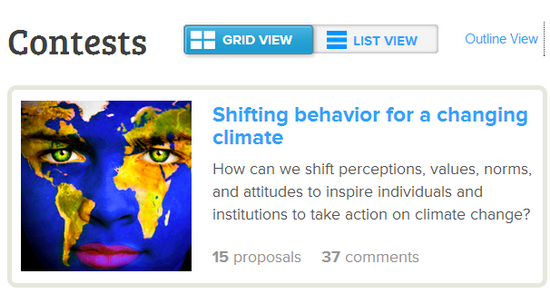 One of the contests offered at MIT's Climate Colab website. Screencapture.
Crowdsource Climate Change Solutions Via Contests reports Sarah Semkus at the UK Guardian.Massachusetts Institute of Technology's Climate CoLab is a collaborative online community centered around a series of annual contests that seek out promising ideas for fighting climate change. Right now, 15 contests are active on the site, with more to come.

Putting Things in Perspective:
OO Wind Farms More Popular Than Fracking, says a UK poll. This might be true for the US, too: turbines can be sited away from homes, but local fracking pollution is inescapable, spreads, and is long lasting.

OO How To Solve Global Warming: Change The Energy Supply
OO State Department To Delay Keystone XL Pipeline Decision Until After November

SPEAK OUT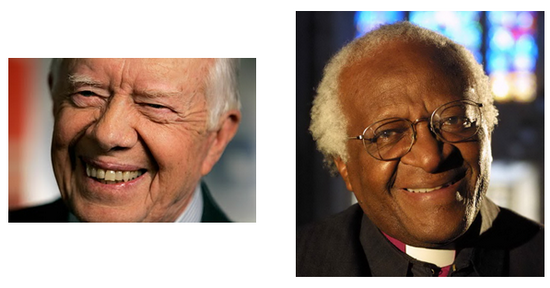 Jimmy Carter and Desmond Tutu signed a letter urging Obama to reject the Keystone Pipeline. Wikipedia.
OO Jimmy Carter, 9 Other Nobel Laureates, Urge Obama To Reject Keystone Pipeline

OO University Sit-In Shakes the Pillars of Big Coal

OO Canadians Protest Northern Gateway Tar Sands Pipeline


The imatter.org group of teenagers challenging the US government not to wreck their future. From left to right: Alec Loorz, the founder of Kids vs Global Warming; Zoe Johnson; Garrett and Grant Serrels; Madeleine Wallace.
YOU CAN ACT
Teenagers Sue US Govt To Protect Atmosphere "For Our Generation's Future"
The groundbreaking case, Alec L, et al., vs. McCarthy, et al. will be heard at the Court of Appeals, 333 Constitution Ave, NW, May 2 in Washington DC. You can be part of this historic event: If you are in the DC area, help fill the court at 8:30 am. If not, please donate here to cover expenses for the youth plaintiffs who filed this lawsuit. Help these kids fight for action.
Longer Lives, Bigger Impacts On Climate Change and Extinctions says a new study, reports Dominic Rowland at Mongabay.com. The number of people simultaneously using resources on this planet is due both to the increasing numbers being born, but also to the longer lives - people are not dying as fast as they are being born. This means a bigger carbon footprint, and greater pressure on the survival of other species.

OO Will Increased Food Production Devour Tropical Forest Lands? It sure looks like it, and growing populations are driving it.

WHAT DOESN'T WORK
DOING NOTHING
OO Climate Costs 'May Prove Much Higher'

OO Fossil Fuel Mining Clashes With Water Scarcity:
Will Utah Oil Sands Project and Water, If There is Any, Mix?

OO Corn Biofuels Worse Than Gasoline On Global Warming In Short Term - Study

OO Huge Methane Leaks Add Doubt On Gas As 'Bridge' Fuel
OO Up To 1,000 Times More Methane Released At Gas Wells Than EPA Estimates, Study Finds

<><><><>
OO The Closer to Fracking You Are, the More of a Health Hazard It Is

OO The Tax Breaks That Are Killing The Planet - why do they still exist?

Radioactive oil sock waste bags found in an abandoned building, North Dakota. Credit: AP photo/North Dakota Health Department
OO Radioactive Waste Booms With Fracking in North Dakota - and the state is unprepared to cope.

An oil train explosion wiped out much of Lac Megantic in Quebec Canada. Credit Paul Chiasson/the Canadian Press/AP
OO Communities Find That Oil Trains Are A Disaster Waiting To Happen

OO Tar Sands Energy Is Now Canada's Biggest Greenhouse Gas Source

OO Fracking- Earthquake Link Becomes Clearer: Ohio Requires Monitoring

THE CHINA CONNECTION
Smog over the Forbidden City in Beijing, China. Credit Brian Jeffrey Beggerly via wikimedia commons.
OO Smog In India, China Changing Weather Patterns In US, finds study.

OO China's Air Pollution Leading To More Erratic Climate For US, say scientists

<><><><>
OO China's Coal Boom Is Slowing -- A Huge Deal For Climate Change

OO Is China's Coal Boom Ending?

<><><><>
A global view of an El Nino: the red area in the eastern Pacific is the heated mass of water that develops into an El Nino.
El Nino Could Cause 'Dramatic Rise' In Temperatures says the UN's World Meteorological Organization, reports Ed King at Responding to Climate Change. El Nino is a cyclic weather event, rooted in a buildup of warm water in the eastern Pacific, that has an overall warming effect around the world, besides more localized effects.
The WMO Secretary General said, "The combination of natural warming from any El Niño event and human-induced warming from greenhouse gases has the potential to cause dramatic rise in global mean temperature." Global warming affects El Nino, a new study indicates.
*
*

Archbishop of Wales Dr Barry Morgan, left; Pope Francis, right. Sources: anglicancommunion.org, and Wikipedia.
RELIGION GETS IT
OO Pope Francis Urged To Back Fossil Fuel Divestment Campaign by various faith groups.

OO Archbishop of Wales: Fundamental Action Needed To Combat Climate Change - a good Easter sermon sends the message home.
<><><><>
A forest stores carbon -- lots of it.Wikipedia.
KEEPING CARBON STORED: FOREST UPDATE
OO Rainforests On Fire: Climate Change Pushing The Amazon Over The Edge

OO Is Aru Safe? Indonesia Suspends Plan To Clear Half The Islands' Forests

OO For Forest Conservation: Maps For The Masses


"Please make them stop destroying my forest!" this forlorn orangutan orphan seems to be saying. Credit Rhett Butler at www.mongabay.com
OO Legal Logging Drive Illegal Logging In Peru, Threatening Forests, People

OO Congo Deforestation Could Cause Region To Warm 3C By 2050

OO Ants Plant Rainforests, One Seed At A Time

More reasons to save our carbon storing forests. Source: Cornell Ornithology Lab.
There is, of course, much more news on the consequences and solutions to climate change. To get it, check out this annotated resource list I've compiled, "Climate Change News Resources," at Wordpress.com here. For more information on the science of climate change, its consequences and solutions you can view my annotated list of online information resources here.
To help you understand just what science does and does NOT do, check this out!
Every day is Earth Day, folks, as I was reminded by these strawberries I photographed one spring. Making the U.S. a global clean energy leader will ensure a heck of a lot more jobs, and a clean, safe future. If you'd like to join the increasing numbers of people who want to TELL Congress that they will vote for clean energy candidates you can do so here. It's our way of letting Congress know there's a strong clean energy voting bloc out there. For more detailed summaries of the above and other climate change items, audio podcasts and texts are freely available.