 Today, the Earth got a little hotter, and a little more crowded.
Daily Climate Change: Global Map of Unusual Temperatures, June 19 2014
How unusual has the weather been? No one event is "caused" by climate change, but global warming, which is predicted to increase unusual, extreme weather, is having a daily effect on weather, worldwide.
Looking above at recent temperature anomalies, much of the US is experiencing cooler than average temperatures; the east Pacific warm spot still prevents much rain from reaching California, continuing the long term drought.
Much of the Arctic Sea surrounding the North Pole is cooler than normal, but full summer days are continuing to melt the diminished ice cap - not good news for our Arctic thermal shield of ice. Hotter than usual temperatures continue to dominate human habitats.
(Add 0.3-0.4 C to have these anomaly values calibrate with those of NASA.) Daily updates of can be seen here for both the temperature anomalies map, and the jetstream map. For real time animated US surface wind patterns, click here, and here, for the planet. (Clicking on "earth" there reveals data and map options.)

A radar crossection image, 3000 meters deep by 150 kilometers long, of the finely layered structures beneath the surface of a Greenland glacier. Credit: Mike Wolovick, Columbia University.
Frozen Underworld Discovered Beneath Greenland Ice Sheet - where melting and refreezing has created gigantic finely layered structures, reports Suzanne Goldenberg at the UK Guardian. Understanding how that complex structure affects the speed of melt is the next challenge.

SOLAR KEEPS SMILING
The US solar industry continues to draw venture capital, with another $350 million recently added to the pot. China is now investing substantially in the US cleantech industry and worldwide, with hundreds of commitments to solar and wind in dozens of countries, totaling more than $40 billion.
Nationwide, the deployment of microgrids increases as companies set up strategic partnerships; microgrids allow whole communities to be powered by solar energy.
Solar home. Credit Dennis Schroeder/NREL
In Massachusetts, solar policy advanced in a new deal between utilities, regulators and industry. Meanwhile, a push in Utah to impose extra fees on rooftop solar customers is sparking outrage.
OO Developing Nations Led Renewables Growth in 2013


OO Brazil: Introducing The First-Ever World Cup Stadium Powered By Solar

Check it out here, right now!
RISING RISKS OF CLIMATE CHANGE
Economic Damage From Future Climate Change Is Grossly Underestimated by most economic models says a new study by the reputable British climate change economist Lord Nicholas Stern, reports Jeff Spross at Climate Progress. Current models pay too little attention to climate sensitivity and certain extreme risks. Time to get real on how climate change will effect economies!

OO Past 'Pause' In Global Warming Based On Bad Data - GW Continued Unabated - yup, there has been no pause... much as we all might wish there had been one....

Climate Change Threatens US Corn Industry: Heatwaves and water shortages could devastate US farmlands devoted to corn, a new report warns, writes Suzanne Goldenberg at the UK Guardian. The report reinforces earlier similar warnings from UN climate scientists and the National Climate assessment.
Trillions of dollars are potentially at stake, since corn touches on almost every aspect of the US economy. Popcorn, anyone?

An Indian farmer awaits monsoon rains for his drought stricken rice field. Credit Manoj Deka'Corbis

2014 El Nino Likely to Cause:
Hunger in India,
Further Australian Droughts,
South American Pacific Fisheries Collapse
report Damian Carrington et al the UK Guardian. Continued global warming is predicted to worsen the El Nino weather cycles. Observations indicate the 2014 El Nino will be equal to or stronger than the 1997-98 one, which devastated coral reefs worldwide.
Some countries are already hoarding water and food supplies. The expected weakening of the Indian monsoons, crucial for crops, has already begun.
The US west is expected to gain some much needed precipitation, and indeed, rain has fallen in the Gunnison area of the western Colorado Rockies during June, which tends to be a dry month there. Rain has also occurred in Santa Fe in June, which is also to be expected under an El Nino influence.
OO Indian Heat Wave Claims Hundreds Of Lives

OO Record-Breaking Heat Grips India, Causing Blackouts And Riots

In the US: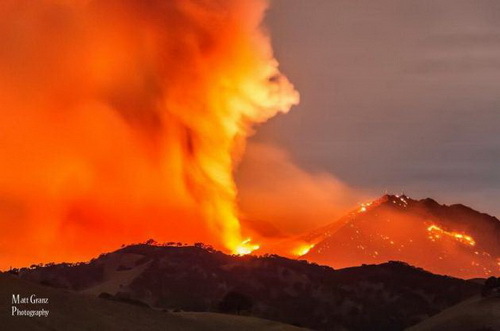 Credit Matt Granzcourt via twitter Sacramento National Weather Service
OO Wildfire Near California's Sequoia National Forest Forces 500 Evacuations

OO Drought Threatens Golfing Greens, Says USGA

For more in-depth coverage of the issues, click here.
*
*
OO Sea Rise Will Bring Severe Floods to Silicon Valley

OO Oakland Sewer System At Risk From Sea Rise

OO Daddy, Could We Have Our Planet Back Now? a father's day essay, by a father.

Around the World:
OO Canada: Tar Sands Development Is Killing Birds, New Study Finds - as vital boreal nurseries are destroyed.


Chinstrap penguins. Wikipedia.
OO Antarctica: Penguins Being Harmed by Climate Change

OO Flooding from Heavy Rains in Brazil, Argentina, Uraguay:

Roaring Video Shows Record Flood at Brazil's Iguazu Falls

OO Flooding In Nepal: Will The Economy Survive The Deluge? Devastating flooding is becoming more frequent as climate change creates more erratic rainfall.

YOU CAN ACT
Help Midwest Farmers Tell Senate Kingpins: No on the Keystone Pipeline!
This is a gut-wrenching video at times, listening to farmers explain how they want to keep their farms and water supply, the Ogallala aquifer, safe from the contamination of a planned giant leaky pipeline that the US doesn't need.
Check it out, then please tweet the video here directly to the Senators who are deciding the fate of the pipeline this week.
***
Climate Hawks Vote : Their goal is to elect leaders who prioritize and speak on the climate crisis. Climate change is the greatest threat facing the next few generations of humanity, not just another issue, but too many politicians are afraid to talk about it.
So, they're scoring members of Congress, nominating candidates to support, and fundraising for selected candidates. You can check them out, and help.
WHAT DOESN'T WORK
OO Australian PM Tony Abbott Travels World To Stop Climate Action

OO Climate Unity Dealt Blow: Australia, Canada Put Business Ahead Of Climate - mistakenly believing that their economies will thrive by selling fossil fuels. How depressingly shortsighted.

OO House Republican Budget Would Cut Renewable Energy Greatly


The current plant to limit power plant emissions doesn't apply to plants on native American reservations, such as the Navajo plant in Arizona. Credit Troy Snow/flickr
OO US Clean Power Plan Exempts Some Major CO2 Emitters

OO Air Conditioner Use in Cities Trigger Vicious Cycle as heat waves drives people to turn them on, and the conditioners end up spewing substantial amounts of heat -- right back into the atmosphere.

GOOD NEWS
New US Energy Maps Show Cool Things About Renewables reports Bobby Magill at Climate Central:


US Wind Farms Are Sprouting Even in Not So Windy Places. Brown to dark blue signifies low to high wind potential; wind turbines signify wind turbine farms. Credit US Energy Information Administration (EIA)

The Cloudier Northeast Has Its Share Of Solar Power. Light to dark brown signifies increasing solar potential; yellow dots show most of the US solar power generating facilities. Credit: EIA

The U.S. Has Great Geothermal Potential, Mostly Untapped. Light to Dark Brown signifies increasing geothermal potential; dots show current geothermal plants. Credit: EIA
OO New Bloomberg Poll: Voters Willing To Pay To Blunt Climate Change - even if it means higher energy bills.

OO Two Years Early, Wisconsin Hits Goal To Get 10% Of Its Electricity From Renewables

OO Finland Sets New, Ambitious Goal For Cutting Greenhouse Gas Emissions - becoming the latest European nation, after Denmark, to do so, adding its momentum to efforts in the E.U. parliament, China, and the US.


Reacting to pressure from a public campaign by the World Wildlife Fund, an oil company gave up looking for oil in Virunga National Park, home to one of the last populations of gorillas on earth. Credit Fiver Locker, at Wikipedia.
OO Oil Company Stops Looking in Africa's Oldest Park - For Now

OO Oil-Rich United Arab Emirates Aims To Be A Sustainable Energy Pioneer - embracing sustainable technologies, and making a surprise bid to become a clean energy leader.

KEEPING CARBON STORED: FORESTS UPDATE
Nilcilena Miguel de Lima, mother of 4, finally went into hiding after they beat her, burned her home down, killed her dog, frightened away her armed guards, and killed her activist friends. She hides, while the criminals roam free. Credit Jonathan Watts
Hundreds Have Died, Trying to Save Their Amazonian Rainforest reports Jonathan Watts et al at the UK Guardian, as Brazil fails to protect activists from powerful, illegal forest exploiters. On average, an activist dies every week.

OO Deforestation Has Harmful Global Impact, Reduces Food Security - Research indicates that areas with more forest cover tend to have superior food resilience compared to areas with less, while deforestation has both negative local and global impacts.

OO Oil Drilling Causes Widespread Contamination In The Amazon Rainforest - Decades of oil extraction in the Western Amazon has caused widespread pollution, finds a new study, raising questions about the impact of a new oil boom there.


Forests are the cheapest way to store carbon, and beautiful biodiversity, such as these Birds of Paradise. Credit Cornell Laboratory of Ornithology
OO Montane Tropical Forests Store 40% More Carbon Than Expected

OO Despite Green Pledge, Companies Continue To Destroy Forest For Palm Oil

OO Tropical Nations Make Progress In Slowing Deforestation

CLIMATE CHANGE COMEDY CORNER
Hug a Climate Scientist Day! Climate scientists carry the biggest burden of all: they know our planet is going to turn into a reheated chicken nugget, says First Dog on the Moon, at the UK Guardian. So, why not have a day dedicated to hugging them? It's now officially June 12th. Check out the entire hilarious cartoon here... and, go ahead, hug a climate scientist - any day!
Weathergirl Goes Rogue II - if you haven't seen the original Weathergirl Goes Rogue, google it now, then sit back and laugh at the sequel, here.
GOOD IDEAS
Protecting Rainforests Could Sequester About A Third Of Global Emissions Annually says a new study, reports Rhett Butler at Mongabay.com. Eliminating deforestation, peatlands and forest degradation, and forest fires in the tropics could reduce global carbon emissions by two billion tons a year, or nearly a fifth, argues the study.
The research analyzed various emissions sources and sinks across the tropics. They found that carbon emissions from activities that damage and destroy forests are nearly counterbalanced by forest regrowth, reforestation, and afforestation.
OO US Cap-And-Trade Could Be Cheaper Than Power Plant And Car Regulations, Study Finds

OO How To Save Time, Money, Energy, And Carbon Emissions While Drying Your Clothes - US homes are wasting up to $4 billion worth of electricity annually - and emitting roughly 16 million tons of carbon dioxide - just because residents are drying their clothes inefficiently.

OO California Could Close Its Water Gap With Room To Spare - by using a combination of water conservation and efficiency strategies.

OO Saving Marsh Protects Neighborhood from Sea Rise

OO Renewables as Tourist Attractions? Only in Germany
Pricing US carbon emissions could ultimately result in the creation of nearly 3 million US green jobs over the next few decades. Credit: REMI, Inc.
Pricing US Carbon Pollution Creates Jobs, Grows The Economy says a new study, reports Dana Nuccitelli at the UK Guardian. The REMI study finds that a revenue neutral carbon tax could create 2.8 million jobs, and increase GDP by $1.3 trillion.

OO The Current Economic Model: A Destructive Social Construct? We need to acknowledge that the economic system is a belief which can be restructured to benefit the planet.

There is, of course, much more news on the consequences and solutions to climate change. To get it, check out this annotated resource list I've compiled, "Climate Change News Resources," at Wordpress.com here. For more information on the science of climate change, its consequences and solutions you can view my annotated list of online information resources here.
To help you understand just what science does and does NOT do, check this out!
Every day is Earth Day, folks, as I was reminded by this skipper butterfly I photographed recently. Making the U.S. a global clean energy leader will ensure a heck of a lot more jobs, and a clean, safe future. If you'd like to join the increasing numbers of people who want to TELL Congress that they will vote for clean energy candidates you can do so here. It's our way of letting Congress know there's a strong clean energy voting bloc out there. For more detailed summaries of the above and other climate change items, audio podcasts and texts are freely available.