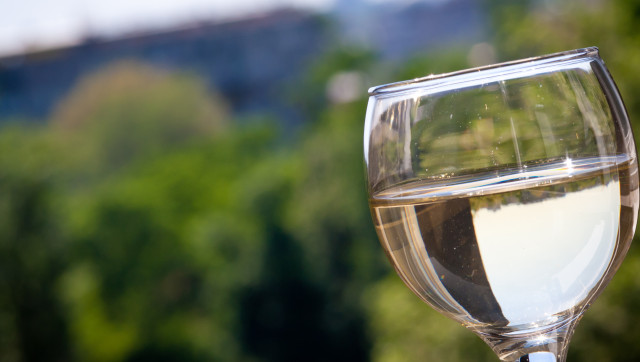 Dutton Ranch.  Durrell. Hudson. Hyde. Chenoweth Ranch. Pisoni.  What do all these names have in common?  Yes, they are all vineyards, and some are wine brands too.  But they all provide grapes for the single vineyard Chardonnay and Pinot Noir wines of Patz & Hall.
The Sonoma-based winery isn't the first to put single vineyard designations on their wines but they also champion the grower.  "The longest grower relationship we have is with Larry Hyde.  We started to buy Hyde Vineyard Chardonnay in 1990," says winemaker James Hall.
Patz & Hall began as a partnership between James, Anne Moses and Donald and Heather Patz in 1988.  The first wine released was a single vineyard Chardonnay, although it wasn't labeled as such.  That began in 1994 with the Carr Vineyard in Mt. Veeder, a Chardonnay,  They released their first single vineyard Pinot in 1996, a Hyde Vineyard bottling.
"For us, a single vineyard wine is a way to seek out vineyards with a great voice," says James.  "At first, we were just looking for great sites to work with. Places with the ideal locations, soils, clones, and of course great growers. After establishing relationships with a few fantastic growers, we started focusing more on diversity." Now they work with 14 to 16 vineyards for the single designate wines. There are only two vineyards that they source both Chardonnay and Pinot Noir from, the Alder Springs Vineyard in Mendocino and the Hyde Vineyard in Carneros.
"These are partnership," says Anne. "You can't make great wine unless you have incredible fruit and we knew there were people out there doing great things in the vineyard.  James says "it's about all the extra handwork and all the extra details that can be very expensive and so the growers really appreciate that their hard work is going into a bottle of wine and of course we really appreciate the heart and soul that the grower brings."
You could say Patz & Hall leads the way in recognizing their growers as rock stars.
Visit their tasting room in Napa and you'll see large black and white portraits of the individual growers.  Says James, "They are master viticulturists. Some of our growers have quite literally helped to shape modern California viticulture. The grower gallery is our way of honoring their work. We also think it helps people connect to our wines in a different way."  On the Patz & Hall website you'll not only see the photographs, but also a brief description of the vineyard and bio of the grower
As their 25th harvest gets underway, the 2010 wines are just now coming out.  With this vintage, Patz & Hall redesigned their bottles, making them lighter to reduce the carbon footprint.  James was involved every step of the way.  He says the process started with general ideas that were mapped out in a computer program.  He also learned that changing the glass bottle also requires a change in the cork and the capsule.
Who knew so much was involved in the wine bottle?
"So with the 2010 vintage James was able to do all the fermentations with indigenous yeast," says Anne Moses.  Five years ago, they moved their winery operations into a new facility, near downtown Sonoma.  "There wasn't anybody else's years there and so i was able to effectively inoculate the building with our yeast," says James.  He prefers native yeasts for "complexity, richness, texture and length to the finish of our wines."
The 2010 vintage was challenging.  James says it was basically a cooler year until the big heat spikes in August and September.  "The acidities were high, the crop levels were low. They're really fresh and vibrant. With the long growing season the extraction levels are quite high on the reds. The pinots are very dense  and very rich but the wines have a lot of nerve and youthful quality which I think kind of speaks to a cold vintage."  He says he believes the 2010s are "across the board some of the best wines I've made."
Patz & Hall also bottles a Sonoma Coast Chardonnay and Pinot Noir which are blends of several vineyards within the Sonoma Coast appellation.  James says it gives him the opportunity to blend.  "It's of one of the winemaker arts that I don't get to play around with much so it's really fun to be able to make these blends because they there's a real vibrancy, a fun quality to the wines that I try to bring out."  They work with up to 14 different vineyard sites and growers.  "They're small family growers and small plots farmed to the nines. The winemaking is the same, all the wines get the same use of barrels and the same full attention."
As they look toward the next 25 years, James and Anne say there are projects in the works.  James is always seeking out new vineyards to work with.  "Any new single vineyard wine has to earn a place in our portfolio. It has to have personality, and offer something special and distinctive."