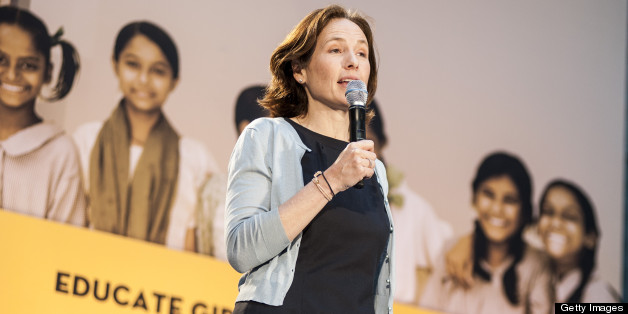 Film explores idea that by empowering women through education, you can change the world
There are few things in life that are true, yet when common sense and data align to become fact, the truth emerges. That educating girls can change the world is one such truth.

I have the opportunity to work with exceptional women leaders in business, politics, education and film who are committed to advancing a conversation about the power of educating girls and advancing women both here and in developing countries.

At the very heart of what is becoming a social action campaign is an extraordinary new film called Girl Rising. It is a film you will never forget and one you will want to talk about and share with others. Not because it is intelligent and beautiful -- which it is -- but because it demonstrates the strength of the human spirit. Girl Rising gives us hope that we can (and must) impact the world in positive ways.

Directed by Academy Award nominee Richard Robbins, Girl Rising tells the stories of nine courageous girls from nine countries. Each story is written by a country native and individually narrated by nine well-known actors including Meryl Streep, Alicia Keys and Selena Gomez. To quote one of the visionaries behind this film, Kayce Freed Jennings, senior producer of 10X10 and executive vice-president of The Documentary Group, "It's simple, if you educate girls you can change the world... which is not to say it is simply done."

The barriers are many and complicated -- cultural traditions, early and forced marriages, slavery, human trafficking, HIV and poverty. However, statistics show if we educate girls, incredible things happen -- girls marry later, have fewer and healthier children, get jobs, provide for their families and move beyond poverty. According to the Council on Foreign Relations, when 10 percent more girls go to school, a country's GDP increases an average of three percent. (This is only one of the extraordinary facts around this issue. You can learn more at www.girlrising.com.) The fact is, when girls are educated it dramatically improves the well-being of families, communities, and countries -- multiplying the impact on our global society in positive ways.

We all have stories about being in school. The friendships, the field trips, the report cards and at least one teacher who challenged us, made us think and left us with lasting impressions of our capabilities. These experiences gave us a sense of community and empowerment, helping shape our values and the rest of our lives.

When I was growing up, going to school was a priority in our house. Neither of my parents had an education beyond 10th grade, yet it was made clear to my siblings and me that an education would enable us to create successful lives. They also knew that experiences outside of a classroom, such as travel and exposure to different cultures, would enrich our sense of connection to something much broader than our comfortable lives.

Girl Rising makes it possible for us to imagine a world where education is a birthright for all and where being part of a learning community is accessible to every child. Actor Liam Neeson says it best, "Girl Rising reminds us that educating the girls of today is an investment in everyone's tomorrow."
I recently produced one of the largest women's leadership conferences in the Midwest of America for professional women. We set the agenda around the idea of "legacy," asking the 2,100 women attending to consider what dream they could ignite in their lives that would change the world for the better. The conversation was elevated when Tererai Trent, PhD, shared her life story of how education took her from rural Africa to a life mission of building schools for girls in her homeland of Zimbabwe. Trent's work and motivation is fuelled by her own good fortune of becoming educated and the idea that your dreams are achievable. It's this message that Girl Rising beautifully portrays through each of the girls' stories.

On May 1, a group of 100 American and Canadian female leaders from a wide variety of industries will gather in Vancouver to consider the complex issues we face and the solutions required to overcome them. Thanks to our education and the opportunities provided in the Western world, we are powerful and influential. I am convinced we will agree on this one simple truth -- educating girls and advancing women can change the world. When we remember who we are, where we came from and how having an education allowed us a path to create full, productive lives -- educating girls becomes a compelling legacy for us to rally around. I encourage you to see Girl Rising and join a movement full of possibility and promise.
This post originally appeared in The Vancouver Sun.

Mary Prefontaine, President and CEO of ICAN (The Institute for Career Advancement Needs), a non-profit leadership institute based in the U.S., will be speaking at the Corporate State Summit for Women in Vancouver on May 1. www.icanglobal.net; www.girlrising.com.