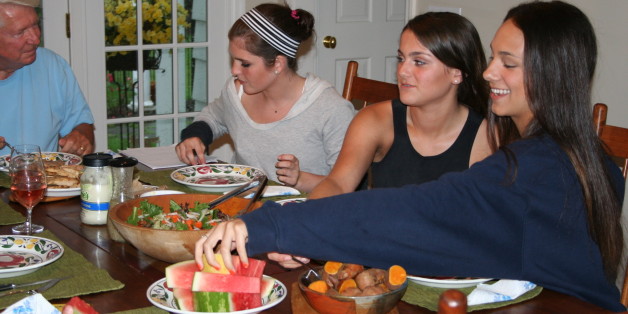 Written with Jill Castle, MS, RD, pediatric nutrition expert and co-author of Fearless Feeding: How to Raise Healthy Eaters from High Chair to High School.
Dear Parents,
It's likely that you are making health goals this time of year. Maybe you want to exercise more, lose weight or just do a better job of feeding your family. As family and pediatric nutrition experts, there's a goal (or resolution) surrounding your family's health we want you to take seriously.
But first, just a few statistics to help you understand why we're taking the time to write this:
Moms and dads, dieting, restricting and hoping that weight loss will bring body satisfaction doesn't work. In fact, research indicates it's the other way around. Body satisfaction and avoiding dieting helps adults and children eat better, achieve good health and maintain healthier weights.
Take a study with over 1,000 normal weight adolescent girls. Those who perceived themselves as overweight gained more weight over eleven years than those who saw themselves as 'just about right.'
Children of all shapes and sizes can experience body image issues, potentially changing the trajectory of their life. Will it be one spent losing and gaining weight and feeling bad about themselves? Or one of lifelong healthy habits where they feel good about themselves?
Who can blame children for worrying about the shape of their bodies? Everywhere they turn, there's encouragement to live the thin ideal -- often times in the home. Media images have a strong influence as do you, the parents. But let's be honest, this same "thin ideal" affects you (the adult) too.
The jury is in: Diets and body shaming don't work. Think of all the energy and heartache that goes into losing and gaining those same 10 to 15 pounds. Can't we spare our children this fate?
Parents, the change is possible, but it has to start with you. And why not right now, in 2014?
This is one of the reasons we came together to write Fearless Feeding -- to help parents pass down a healthy relationship with food (and their bodies) to children. While we provide more details and stories in the book, here are some things you can do:
1. Don't diet or restrict what you eat. Instead, make small changes to have balanced food in your home. Make eating a regular routine in your home and listen to internal cues of hunger and fullness. Forget about demonizing certain foods--all foods can fit if you find the right balance with eating.
2. If you have hated your body for a long time, start with an appreciation for what it has done for you, such as having children. Try looking at your body in a whole new way. Watch that negative self talk and take good care of your body (i.e., sleep, quality food and compassion).
3. Focus on health, moving your body, feeling good, and being strong rather than the number on the scale (especially when talking to your child about eating and exercise). If your weight negatively affects your health, see a registered dietitian for guidance and support.
4. Teach your children to take care and respect their bodies. Let them know that 50 percent of their body weight and shape is determined before birth and people come in all shapes and sizes. No matter the size or shape, all bodies can be healthy and strong!
5. Talk to your children about media images and how they portray an unrealistic thinness. Look for signs of dieting and help guide children to a healthier way of being, especially by being a positive role model.
Parents, consider making 2014 the year of the anti-diet -- choosing health over weight. Let's raise children who will one day think it's foreign to make a New Year's resolution to lose weight.
Some resources that can help:

Fearless Feeding: How to Raise Healthy Eaters from High Chair to High School

Any books by Ellyn Satter

I'm, Like, So Fat! Helping Your Teen Make Healthy Choices About Eating and Exercise in a Weight Obsessed World

Intuitive Eating: A Revolutionary Program that Works

Eat What You Love, Love What You Eat