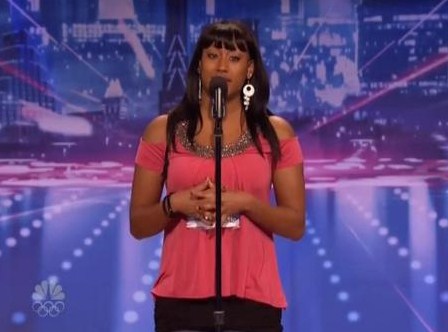 It's almost time to head off to Las Vegas for, you know, the actual competition part of America's Got Talent, but first, more auditions, and with the exception of closing act Mary Joyner, there was very little to write home about.
The Montage of Horror
Smoochie the Pig got things started with a painfully boring routine that Sharon Osbourne overwhelmingly loved for reasons that remain entirely unclear to me. Smooch just didn't seem to be all that excited about honking the horns. She sure loved Nick Cannon's popcorn though.
Let's seen, during the segment of unnamed horrors, there was a terrible dance troupe, an awkward ballerina, Nick Cannon in a tutu, and a female rapper who claimed to rap about "female empowerment" but basically just encouraged attractive women to become prostitutes. I briefly entertained the thought that maybe the unnamed MC's song about using your body to get all the money was just too high concept for the rest of us to understand, but quickly rejected it once she tried to explain herself to Howie Mandel and failed miserably. Also, leopard print pants are so Spice World, which, last time I checked, was pretty bad at the whole female empowerment thing too.
Next!
Mark Ofuji gave his impersonations his best effort, but that simply wasn't enough. I'm still not entirely sure who he was supposed to be.
My favorite little failboat, however, was certainly Trish Paytas, the fast-talking computer programmer who really only auditioned so that she could meet Howard Stern. I can respect that. I mean, can you imagine how long the line to get on stage must have been? The woman has some serious dedication. Or mental problems. But for now, I'll go with dedication. She was happy with her consolation hug from Howard, though honestly, I thought her speed talking was pretty cool. And she was just so gosh-darned cute! "People ask if I'm a stripper or a porn star and I'm like, nope, I love Jesus! I'm not like that!"
The Winner's Circle
Due to the crowded nature of these final auditions, I felt like we lost a lot more talent in the shuffle tonight. The rock band with the Adele cover seemed pretty awesome, but I couldn't tell you what they were called. Same deal with the geriatric tap dancers. Seriously, AGT, I understand that we can't get a mini-biography about everyone, but I like to think that if a contestant earned the approval of the judges, I should at least know the act's name. Congrats you nameless awesome people. See you in Vegas.
Of those whose names I learned, we had Lillianna, a 6-year-old tap dancer who went by the stage name "Lil' Starr" and who, as soon as she took the stage, prompted me to start my new official mantra for whenever adorable children are paraded the audition stage, "Don't suck. Don't suck. Don't suck." Watching Mir Money cry all those weeks ago really put a downer on my America's Got Talent viewing. I'm only mildly heartless, not completely. One kid reduced to tears on this show was enough, thanks.
Lillianna didn't suck, but I sided with Stern and his assessment that her performance just wasn't a million dollar act. She was better than most other 6-year-olds, but my mind wasn't blown or anything. Still, majority rules and I'm looking forward to seeing what she whips up during eliminations.
While we're on dancing, I have to admit I didn't see what was so gush-worthy about the 787 Crew either. Maybe I'm just burnt-out on dancers.
I never get sick of a comedian though. Seriously, it's sad. Eddie Izzard's Dressed to Kill? That's like, what, almost fifteen years old? Still makes me laugh until it hurts. I love a good comedian. I'm not sure that nerd-tastic comedian Jacob Williams will be as enduring as Eddie (probably not) but his wry delivery of lines made me giggle and since a lot of the aspiring funny-guys on this show make me scratch my head in confusion, I call it a win.
But of course, the highlight of the night, the gem who had been the star of AGT promos for the past week, was Mary Joyner. The daughter of gold medal Olympians Florence "Flo-Jo" Griffith-Joyner and Al Joyner, Mary claimed to "start her own path" when asked why she didn't pursue an athletic career, like her parents. She performed Sara Bareilles' "Gravity" and she was awesome. Gold star... er... medal.
Anybody else ready for the Las Vegas rounds? I've been ready for weeks.
Follow TV.com on Twitter: www.twitter.com/tvdotcom