Review: "Van Gogh, Gauguin, Cézanne, and Beyond: Post-Impressionist Masterpieces from the Musée d'Orsay," through January 18, 2011 at the de Young Museum, San Francisco.
I guess I should have been a good tourist and gone to Fisherman's Wharf, or I could have been a good art nerd and headed out to see the Fisher Collection at SFMOMA. Instead I was stupidly overcome with hope. Hope that I would have a transformative art experience viewing the most reliable touchstone in all of art: Late 19th century French post-impressionism. It would have been a good day to sell me a bridge.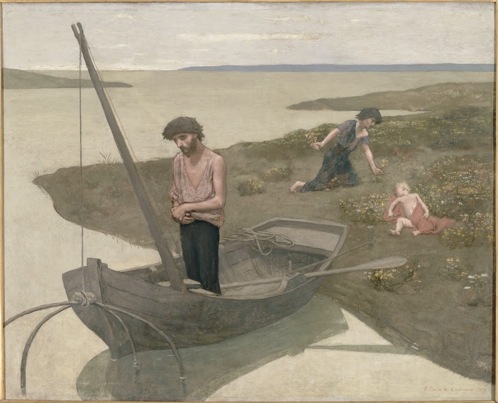 Pierre Puvis de Chavannes, The Poor Fisherman, 1881. Oil on canvas. 61 ¼ x 75 ¾ inches. © RMN (Musée d'Orsay) ... We should have just gone to Fisherman's Wharf.

Calling the de Young museum ahead of time, we discovered that walkup tickets to the blockbuster "Van Gogh, Gauguin, Cézanne, and Beyond: Post-Impressionist Masterpieces from the Musée d'Orsay" were still available. At $25 apiece, it seemed reasonable considering not only the trove of immortal masterpieces on display, but also the hefty discount on plane fare to Paris to see these works when their permanent residence, the Musée d'Orsay, finishes the remodel that made this two part travelling show possible (Part 1, featuring early impressionism, closed on September 6).
We arrived at 2:15 and were able to purchase tickets for the 3:00 PM cattle herding. The Disneyland-like ropes had a maze set up under a giant Gerhard Richter painting in the lobby (if it wasn't meant as a jab at Germany on behalf of France, it still is funny as one). It was a slow day at Museum Inc., with an unseasonably sunny afternoon keeping droves of tourists outdoors. At the appointed time, we skipped cattle herding maze #1, proceeded downstairs to find check-in point #2 equally empty, and waltzed past the audio tour rental booth, nestled along what ordinarily would have been a half-hour roped-off wait. The cute intern sweetly announced "$8 audio tour, $6 for members, are you members?" ready to pounce on the purse or wallet of anyone inquiring about how to become a museum member.
At check-in point #3 we waited a grand total of 30 seconds with two other couples before being beckoned into the crowd by underworked admission guards. What had been designed to restrain our movement toward the show for up to 90 minutes took less than 90 seconds.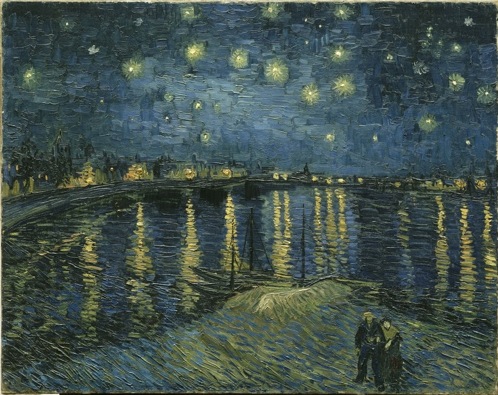 Starry Night Over the Rhone. 1888. Vincent van Gogh (1853-1890). Oil on canvas, 28 ½ x 36 ¼ inches.  RMN (Musée d'Orsay)/Hervé Lewandowski
But that is the good part of the review. If I had had to wait 90 minutes for "Van Gogh, Gauguin, Cézanne, and Beyond: Post-Impressionist Masterpieces from the Musée d'Orsay," I would not have started this review off as a pleasant tourist. No matter how great these pictures are, they are crammed in a basement overfilled with way too many somnambulant European tourists. The air is literally sucked out of this exhibition space. The Axis and Allied powers stand at attention with drool droplets forming, hypnotized by the audio tour as they peer into each Van Gogh impasto for a sign of life in the long-dead quaintness of their continent. There was not a single artwork that afforded me thirty seconds of contemplation without someone invading my space. I'm not asking for a private tour (I was however, sent an invite to the press preview, but a scheduling conflict forced me here on the first Tuesday of the show, allowing the sardine-can truth to come out), but show me a theater or music act with the artistic or historical impact of Cezanne and I will show you someone who is charging way more than $25 per ticket for a rare stateside appearance.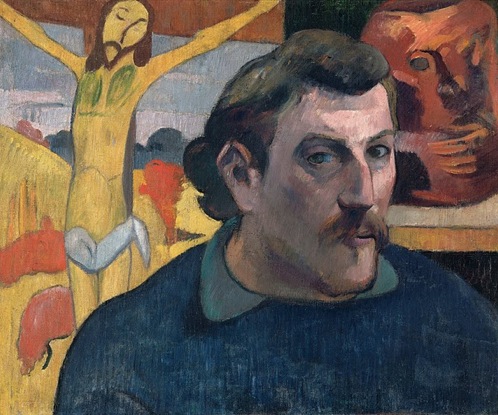 Self-Portrait with Yellow Christ. 1890-1891. Paul Gauguin (1848-1903). Oil on canvas, 15 x 18 1/8 inches.  RMN (Musée d'Orsay)/René-Gabriel Ojéda
Of course the curatorial solution to the crowds is to simply hang all of the work on a high centerline, ensuring that we will see the tops of the artworks from afar and that might be as close as we get to a good view. It might very well be worth $25 to see Gaugin's Self Portrait with Yellow Christ but it is not worth anything being one of 25 people crammed onto the optimum viewing real estate of six floor tiles centered in front of the picture. The whole second half of the show was devoted to the lightweight Nabis with the occasional Puvis De Chavannes garbage (say that last word with a French accent as you click that link). For all the rare Seraut studies the show scatters throughout its Pointillist digression, the point seems to be to remind us that Seraut's Sunday Afternoon masterpiece is in an airy first floor gallery at the Chicago Art Institute.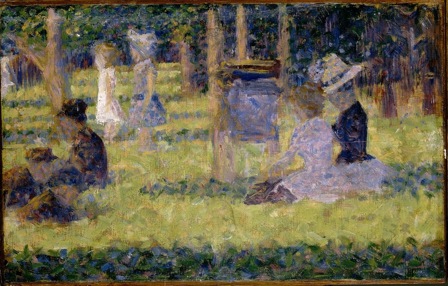 Georges Seurat, Study for A Sunday Afternoon on La Grande Jatte - 1884, 1884-1886. Oil on panel. 6 1/4 x 9 7/8 inches. © RMN (Musée d'Orsay)
Buy the book, the calendar, the posters (framed or unframed) and the mugs. But consider buying a tuberculosis test if you are ever in an enclosed space with this many dawdling droning bored fools ever again. The only thing French this show made me consider was philosopher Michel Foucault and his theories of power derived in systems of control, primarily prisons. In sympathy to the masterpieces who are sentenced to spend eternity on institutional walls, the institution now sends the art audience through mazes and checkpoints and stairwells down into the bowels of their buildings to share the claustrophobic time. But don't let the de Young dungeon scare you from visiting tourist-friendly San Francisco. Less than four hours after finishing up this mosh pit at the de Young, we were seated with 38,000 Giants fans at AT&T park for a baseball game and breathing room with what seemed like fewer people and much more excitement.