Will it be ok with you if I claim a compressed holiday schedule blended with a healthy dose of jet lag as to why I am only getting around to writing about my recent-but-quick trip to Australia? I came home after a four-day trip and jumped immediately into four photo shoots. FOUR. The dust has settled, I'm reviewing my images and expanding my notes and wanted to share with you what a stellar time I had.
With a sleep mask, a bag full of magazines and two sets of headphones, I boarded a V Australia flight from Los Angeles to Sydney (which was fabulous) to attend the Hamilton Island Great Barrier Feast, hosted by qualia resort in what must be one of the most beautiful parts of our planet.
Hamilton Island is a part of the Whitsundays, a collection of islands located off the central coast of Queensland, Australia. Rugged, verdant, with dark green peaks jetting out of teal blue water, it is a tropical paradise not far from the Great Barrier Reef. You might remember that this was the winner's location for the Best Job In The World contest a few years back. I see why. I was prepared for beauty; I wasn't prepared for extreme beauty.
With 60 individually designed pavillions, qualia sprawls out over several hilly acres, making its way to the edge of the island at Pebble Beach. With dozens of awards under its belt, including 2011's Australian Gourmet Traveller Award for Best Australia Resort as well as Best Spa, there's a relaxed elegance to this entire place that I find right up my alley. Fusing a very laid back and carefree attitude with service of astronomic levels provides the best of all worlds. And driving around your own little golf cart certainly helps.
I began my mornings very early -- I'm not one to miss a sunrise, especially when it rises over mountains that I can see from bed -- usually with a short walk around the property and along the beach before heading to one of the pavilions for breakfast. The view each morning allowed me to absorb one of Australia's most unique qualities: her light. Without getting too technical here (and boring you non-photographer, color-temperature measuring types), let me just say that the quality of light in Australia is beyond words. For this boy from The Golden State who has ample daylight most of the year, just seeing how the sun works down under was enough to cause me to snap photos, make notes and marvel in its glory.
But really, let's talk about those rooms.
I'm confident I've made enemies of friends and relatives after sharing via Instagram and Facebook my room. It's been brought to my attention that in order to maintain these life-long valuable relationships I'll need to bring them back to qualia, specifically this room. I'm a giver, consider it done. But you can easily see what I'm talking about when you see the room.
With apologies to housekeeping, a chair and power strip found their way into the massive tiled bathroom, where a sink counter became my temporary desk, the room doubling as a spontaneous office. It's not that there wasn't a proper desk on the other side of the suite, it's just, well, I've always told myself I could live in a well-appointed luxurious bathroom, and I was pretty sure I was out to prove it.
One thing: Bathing is not bathing with a view of the Whitsundays from a window like this. Don't kid yourself: Human necessities become acts of grandeur.
Not that the rest of the room wasn't worth it. Especially the bottle of Veuve Clicquot waiting for me.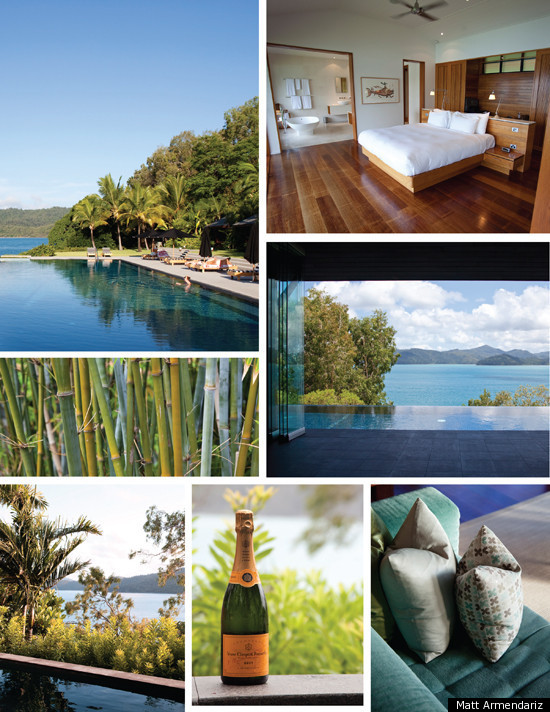 As much as I could have hid in my room all day and night (with its own pool, thankyouverymuch), I loved getting out and meeting the other media attendees for lunch as the kick off for the Great Barrier Feast. If you'll allow me to generalize here, here's the thing about Australians: I love them. The whole bunch. Their spirit, their humor, their attitude, it's all alright by me. So I enjoyed a delicious lunch, sat back and listened to the lively conversation from Simon Thomsen, food writer and critic and emcee of the event. Also in attendance were James Halliday, Australia's leading wine critic, Sally Webb, an editor from Murdoch, and many other journalists and editors, making for such a fantastic time. With all that food talk I was in heaven.
This year's Great Barrier Feast was a weekend of amazing dinners, two Electrolux Masterclasses with Australian award-winning chef Dan Hunter and plenty of delicious wines from Robert Oatley Vineyards selected by James Halliday. Not a stranger to the resort-and-food experience weekend, the Great Barrier Feast stands out above so many events in its ability to provide an experience that straddles education and excellent food with relaxation and pure chillness. Try beating that.
Like a good American blogger, I did my research on Chef Dan Hunter in lieu of making it to his restaurant Royal Mail in Dunkeld, Australia. (That'll be my next trip to Australia!) In a place seemingly near nothing -- it's three hours west of Melbourne -- Dan creates cutting-edge cuisine with a razor-sharp attention to ingredients and preparation. With impressive experience (spending time at Mugaritz in Spain as well as at some of the world's finest restaurants), life at rural Royal Mail allows him to farm and grow his own produce -- not to mention that it also affords him the opportunity to walk to work and do his own thing. But what impressed me most was Dan's singular vision and commitment to local ingredients. After enjoying Saturday night's dinner prepared by Chef Dan and his team, I was eager to ask him about his vegetable-driven, beautifully plated dishes.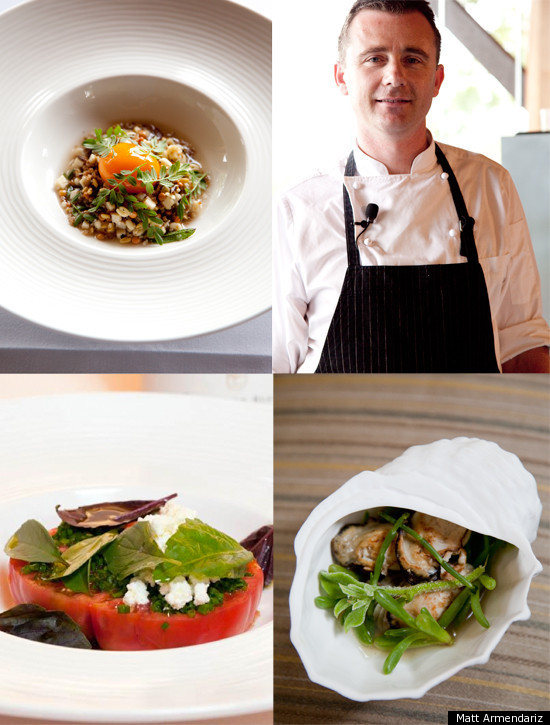 After explaining to him that my day job is as a food photographer, I asked him about aesthetics, something I'm pretty keen on.
"I think food needs to seem untouched," he replied. "I live in a very natural environment. I wake up in the morning, I open my bedroom curtains and I see trees and mountains, kangaroos, my dog. I have a shower, I have breakfast, I walk to work, I walk down a hill, across a creek, through a fruit orchard and I see clouds, trees, leaves, my vegetable garden. What I don't see is structure. I see irregular, naturally occurring things. So when I put food on a plate, I'm putting natural things down and it seems silly to me to try to construct it too much. I say this to my chefs all the time: we want it to look untouched, as if the hand of man hasn't been there. I mean, think of a forest with leaves on the ground, branches falling, it's still beautiful. Imperfection in what we do and see are sometimes the most beautiful things."
Speaking of nature, I may have gone off the food path with my request to tour the property with one of the lead gardeners. After walking around scratching my head with internal questions like "What on earth is this?" and "Oh wow look at that," I knew I had to spend some time with someone who could answer my questions about the trees, plants and flowers. I said this place was paradise, right?
I must admit it was hard to leave qualia, but I was looking forward to my night in Sydney and checking out the new Darling Hotel. If you're thinking of attending the next Great Barrier Feast held again at qualia then lucky you. It's a fantastic place. If you can break yourself away from that bathtub.