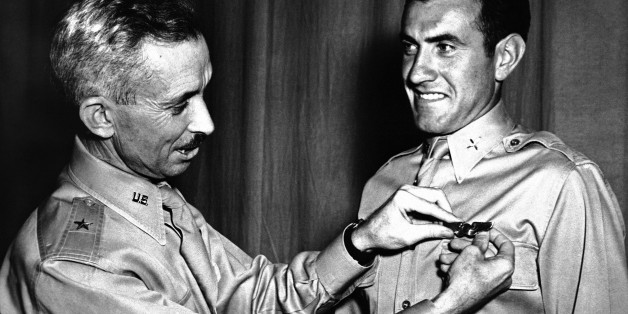 Malcolm Gladwell's book Outliers suggests the key to success in any field is practicing a specific task for ten thousand hours. For the past 17 years, my practicing and learning about Lou Zamperini is close to that targeted time frame.
Thankfully, the "specific task" -- to get a movie made on Lou's remarkable life -- is achieved with Unbroken.
The marathon began in 1998, upon seeing the 80-year-old Lou in a CBS Sports Winter Olympics documentary. Nicknamed the "Torrance Tornado," Lou, a former Olympic athlete, was running the Olympic Torch in Japan, his former "residence" as a POW in WW2. As a producer, watching Lou's story from childhood through his 80's, I thought, "How has this never been a movie" and "If it gets made, the film must end with the real Lou, holding that torch."
The next day, I met Lou and his son-in-law Mick Garris. We bonded in trust and shared passion. I was given the keys to drive the "Untitled Zamperini Project." Off we went to sell Lou's amazing journey to an interested Universal Studios. Uni had bought Lou's autobiography, "Devil at My Heels," in 1956, for Tony Curtis. No script was commissioned but Lou's story rights remained at Uni.
The 47-year age difference between Lou and I was made irrelevant by a shared sense of humor, and I enjoyed talking about Lou's story as much as he did.
Like a long married couple or stand up comedy team, when meeting with writers, executives or filmmakers, I knew exactly what anecdote Lou was going to tell, how he would deliver his punch line or how best to answer questions on his behalf.
Lou understood the creative challenges his story held in fitting it all into a two-hour movie. Therefore he had patience with the normal studio development process. "Matt, keep at it, my boy" was his refrain, in the same spirit his brother Pete said when Lou needed one more push, at practice on the track or to win a race.
Starting in 1999, we developed many drafts of a script, but Uni would only make the film with a major director, given its jumbo size scale and budget. While many A-list filmmakers flirted with the material, none would commit.
In 2002, a letter arrived that many years later would change Lou's life and mine.
"Dear Mr. Zamperini. My name is Laura Hillenbrand and I am the author of the new book, Seabiscuit. In my career as a historian and author, I have never come across a story touched by such hardship, perseverance and grace. If you would be interested in my writing your biography, I would be overjoyed." Lou asked my opinion, which was an obvious "why not?"
Having been satisfied with his 1956 autobiography, Lou's response to Laura was essentially, "Look lady, I already wrote my book but if you want to write yours, go ahead."
Laura suffers from severe Chronic Fatigue Syndrome -- so it took her eight years to write Unbroken. During that time, I showed the CBS documentary and "Zamperini" script to every financier. All of them passed, saying, "It's episodic, WW2 doesn't work," or "it's too expensive."

The promise of Laura's book one day arriving aided my not abandoning ship, or in this case, the raft. If Lou had the patience and strength to get through 47 days on the ocean and two years in a prison camp, being stuck in development hell was mild in comparison.
In 2010, I was able to bring Laura's masterpiece, Unbroken, to Universal and they bought it. The book has remained at the top of the New York Times best-seller list for four years. New drafts of the script were commissioned, attracting the attention of Angelina Jolie who became our director. Angie's passion, vision and commitment gave us a powerful jolt of momentum. After an excellent script written by Joel and Ethan Coen was delivered, on July 3rd of 2013, Unbroken was green-lit.
I called Torrance's favorite son: "Congratulations, Lou. Your story will finally, officially, become a movie." "Well, isn't that great news," Lou replied. "Congratulations to you too, pal."
Soon after, I came to Lou's house. The pilgrimage was always the same: look through the front window - if he was in the study waiting, come on in. As I reached his round table, I saw Mr. Z., the man who punched sharks... in shorts and a t-shirt.
I'd never seen Lou out of his tan pants, blue Olympic jacket, sneakers and USC hat.
Imagining what a 96 year old Bruce Wayne or Peter Parker looked like outside of their Superhero attire, I saw a razor thin man, whose skin clung to his frame with the texture of old silk pulled tightly.
We chatted for our usual hour, Lou repeating stories I'd heard many times, but as was the case with every visit, Lou mentioned a new piece of information, this one on his childhood, which his remarkable brain sparked to remember. This visit defined the friendship we'd achieved: Lou was comfortable just hanging out, in his skivvies, at ease with himself, his favorite hummingbird fluttering outside.
I saw Lou two days before he died, in the Barlow Respiratory hospital. As he needed aid to breathe, he could not speak. I was finally seeing him uncomfortable, my heart connecting to what he must have felt like in the prison camps.
All Lou could do was hold my hand. Squeeze it. Man to man. Looking at his eyes, I could see the magic he had inside, to keep him alive years beyond what his body should have allowed, was disappearing.
In Unbroken, Laura wrote: "Louie felt profound peace. When he thought of his history, what resonated with him now was not all that he had suffered but the divine love he had believed had intervened to save him."
Lou loved his family, friends, Torrance, the #1 combo at El Chollo, his USC Trojans, flirting, his mother's gnocchi, Stouffer's frozen dinners, his view overlooking L.A., and how his underdog story and courage helped others overcome their own obstacles.
I think of Lou every day, happy he was able to get what he wanted more than anything: for people to know his story was true. Laura's incredible research gave him salvation, his proof. The film will further spread Lou's message of inspiration -- and when my sons need an extra touch of support, I repeat what my Unbroken champion said: "Keep at it my boy. Keep at it."