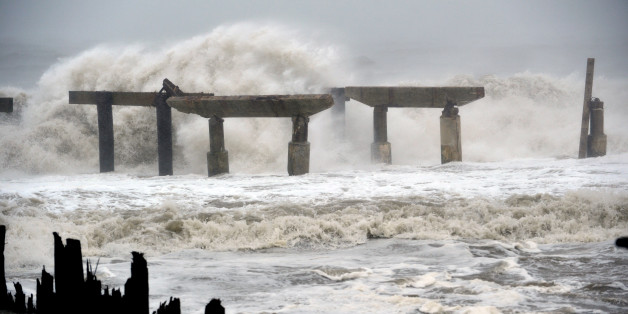 Two years ago this October, Hurricane Sandy blew through the Lehigh Valley, leaving power outages, flooding, downed trees, and closed roads in its wake. Though it was to varying degrees, nearly everyone in the Valley was somehow affected by Hurricane Sandy. Five deaths were attributed to the storm in the region; nearly 600 people were forced to seek shelters state-wide, and nearly 300,000 PPL and Met-Ed customers were without power in Lehigh and Northampton counties a day after the storm struck. While Pennsylvania avoided the worst of Sandy, the storm devastated other states such as New York and New Jersey and caused an estimated $50 billion in total damage.
Hurricane Sandy is just one example of an extreme weather event that has caused enormous damage in our recent past. In the last two years alone, there have been 20 extreme weather events in the U.S. that inflicted at least $1 billion in damage each, caused 409 total fatalities, and caused $130 billion in aggregate economic loss. The harm was spread across 44 states, which speaks to the reality that extreme weather hits nearly every area of the country. East and Gulf Coast states are at risk of hurricanes; prairie and other central and southern states are constantly threatened by tornados; and western states commonly face damaging droughts. Extreme weather does not discriminate by American geography.
And while a significant percentage of aftermath costs fall to individuals, it is increasingly insurance companies, states, and the federal government that end up with long-lasting, huge liabilities. Recognizing this reality, the Government Accountability Office (GAO) placed extreme weather on its 2013 High Risk List. This report details the most pressing federal fiscal exposures. Extreme weather threatens our energy and electric grid, federal buildings, transportation infrastructure, access to natural resources, public health, our relationships across the globe, and many other aspects of life. The bottom line is that weather events not only threaten private property and family budgets, but they also can decimate public resources and government coffers.
Despite these risks, the GAO report found that the federal government is unprepared to deal with the threats posed by extreme weather. The report detailed that the government does not adequately take severe weather events into account when assessing its insurance exposure, and that federal planners should better factor in such costs with respect to infrastructure investments. Further, the report found that, as of 2012, there was no coherent, strategic, government-wide approach to preparing for extreme weather and no systematic method to distribute information for doing so to state and local governments.
Based on these findings, it is clear the federal government needs to do a better job addressing resiliency, preparedness, and risk management issues. Though many federal agencies, state governments, and local organizations have their own preparedness plans, there is a lack of coordination amongst these entities that holds back our country's readiness and response. In my view, it is important that our national government exercise leadership to improve the resiliency of the entire nation in the face of continuing extreme weather.
To that end, I introduced the PREPARE (Preparedness and Risk management for Extreme weather Patterns Assuring Resilience) Act on Thursday. This bipartisan, zero-cost legislation proposes some common sense solutions that build off the GAO's recommendations to increase resiliency. To help eliminate redundancy and streamline preparedness efforts, my legislation creates an oversight structure to ensure that federal agencies are creating and coordinating plans and procedures. My bill also requires that the federal government work with local and state planners, bringing them together, to get them the best information and practices possible so they can adopt and enhance their own preparedness plans. This legislation will establish more regional coordination to ensure cost-effectiveness, complementarity, and optimal reach of resiliency planning efforts.
All of these improvements are accomplished in my bill without any additional spending. In fact, the changes I'm proposing will help the government save billions in the long run.
Congress should take action to better protect the nation against extreme weather events, and the PREPARE Act is an important first step towards a more resilient country. Preparedness and emergency planning is something we can do right now to ensure that we can recover rapidly and effectively after extreme weather strikes. Sitting back and do nothing -- when we already have experience with the high cost of inadequate action -- unwisely exposes us to further unnecessary loss of life and property. The next Hurricane Sandy may do even more damage to both shore and inland areas like the Lehigh Valley, and we owe it to ourselves to get as prepared as possible for that coming event.