In March 2003, in what is now referred to by many Cubans as the Black Spring, 75 human rights activists throughout the country were arrested, summarily tried, and sentenced to as many as 28 years in prison for peacefully demanding fundamental rights. Many of them were organizers for the Varela Project, a grassroots initiative to institute constitutional reforms and promote human rights on the island. Today 54 of those arrested remain in jail, many with severe illnesses caused by poor prison conditions.
As Varela Project organizer Oswaldo Paya recently noted,
None of those convicted in April 2003 was charged with using or having weapons, inciting violence or disorder, espionage, or any other crime. They were convicted for expressing their opinion, exercising free journalism, and promoting civic initiatives.
Every Sunday, the loved ones of these human rights defenders, known as the Damas de Blanco, or Ladies in White, march through the streets of Havana to demand the release of their family members and to promote human rights. Last month, to mark the sixth anniversary, they held six days of religious services, marches and commemoration events. Such events are routinely broken up by government-organized mobs in so-called "acts of repudiation." The women are frequently prevented from traveling to human rights events in and outside of Cuba.
See a photo below, sent to us by the Ladies in White, taken of their March 19th action -- and of the critics who tried to stop them. (Photo credit: Local journalist Carlos Serpa Maceira.)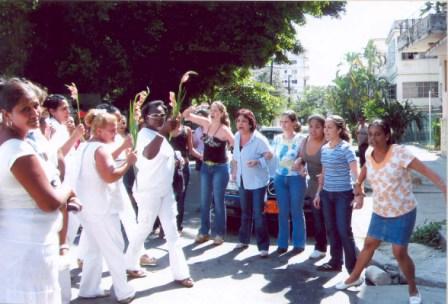 The Cuban government has recently claimed that all Cubans fully and universally enjoy all human rights, despite the continued imprisonment of human rights defenders and harassment of peaceful activists like the Ladies in White. On the anniversary of Cuba's Black Spring, Human Rights First joins these activists in demanding an end to human rights violations in Cuba and the release of human rights defenders jailed six years ago.
(You can find out more and take action at the Human Rights First website.)