What's the first idea that pops into your head when you think of
Mother's Day? If you said breakfast in bed, you're not alone. Though
the concept behind it is great (let Mom be waited on for once), the
execution can often be iffy. Sure, letting the kids "make" her a bowl
of cocoa puffs, moistened with orange juice was very cute. But it also
meant that she was out of bed about 5 minutes later, making herself a
real breakfast. So this year, why not try a fresh approach? Read on.
I'll show you how to create a luxurious, leisurely morning for mom,
where she can relax in bed for hours -- and come out feeling truly
pampered.
1) Think Bigger: A standard Mother's Day meal comes crowded onto a single
a breakfast tray. But, why not take it a step further and provide an
entire table? I used an ornate, antique frame (with the glass still
in) to create a flat, stable surface on the bed. Tip: If you have a
large, framed mirror, take it off the wall and use it. The idea is to
create a table area near the foot of the bed, which can be loaded up
with lots of delicious breakfast items. Using a frame or mirror adds a
quirky, pretty touch. But, don't forget the breakfast tray -- she'll
still need one to eat off of.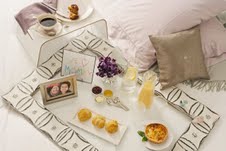 2) Ditch the Chef's Hat: If you love cooking, and know your way around a
kitchen, by all means, whip up a breakfast feast. But if you have a
tendency to burn toaster waffles, there's no rule that says you have
to cook the food. Consider hitting a gourmet bakery the night before
and buying a box of beautiful pastries. Placing baked goods on family
china or white ramekins will give everything that fancy room service
vibe (sans tip). Feel free to add a few easy, personal touches (think
freshly brewed coffee or sliced fruit) to round out the meal and --
voila -- a breakfast she'll savor.
3) Bring in a Baby Picasso: In the past, the Mother's Day meal was the
kid art (remember the cereal?). But since this year's theme is a bit
more glamorous, it's time to change it up a bit. Take a piece of your
child's art, pop it into a frame and add it to the table. It's both
sweet and sophisticated -- the perfect balance when it comes to moms.
Tip: Don't have a piece on hand that fits? Give your child a canvas
exactly the size of your frame and commission a special work of art
just for Mommy.
4) Set the Scene: Try to remember what her most decadent, laid-back
weekend mornings looked like (you know, before the kids came along).
Then, try to bring in all the necessary elements to recreate that. If
she's a newshound, make sure to have a copy of her favorite paper on
hand. If she loves guilty pleasure celeb-rags, buy a few. Is she a TV
junkie? Skip the print and give Mama the remote. The idea is to put
everything she could possibly need for a lazy morning in, at her
fingertips.
5) A Picture is Worth a Thousand... Brownie Points: Since you are already
running around collecting things that you know she loves, don't forget
to include a snapshot of her favorite little mugs. Bring a beloved
family picture, or one of just the wee ones into the mix (see why we
needed such a big surface?). That way she can look at it and feel the
love -- while enjoying the rare stretch of alone time.