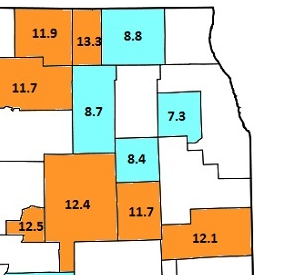 Illinois' unemployment rate in February was 8.7 percent, which was the second highest in the nation ahead of only Rhode Island. But when looking at the 102 counties in Illinois, only 18 counties actually had an unemployment rate lower than the state's rate of 8.7 percent. That means 84 counties had an unemployment rate of 8.7 or higher... and in some cases much higher. What gives?
According to the Illinois Department of Employment Security (IDES), the 8.7 percent figure put out by the Bureau of Labor Statistics is a seasonally adjusted rate, taking in to account season jobs. For the Illinois counties' unemployment rate, IDES uses the non-seasonally adjusted rate, which in February in Illinois was 9.4 percent.
At least the 25 counties with the lowest unemployment rates in Illinois were all below that. You can check those out below, along with the counties with the 25 highest unemployment rates.