MEET THE PRESS Gubernatorial candidate Bill Daley ripped his two probable competitors Monday for their failures in the state's crippling pension crisis. Gov. Pat Quinn, in his repeated failures to get action from the legislature, has led the state through a pension version of the movie "Groundhog Day." And Attorney General Lisa Madigan shouldn't be on the sidelines. "In my opinion, the attorney general should be asked to write an opinion on the constitutionality of both (pension) bills," Daley said in a Chicago press conference. The main force behind one of those bills, of course, is Madigan's father, House Speaker Michael Madigan. So any opinion issued by the attorney general's office would have tremendous political implications. Daley had plenty more to say about the state of things in Springfield, and we've got a full report here.

________________________________________
HIGHLIGHTS Daley made his remarks at a press conference at the Union League Club of Chicago. We've compressed the event into a handful of our favorite video highlights from Daley here. Watch them and you won't doubt Daley's enthusiasm.

________________________________________
ILLINOIS: PENSION REFORM LEADER? An article in the current Georgetown Public Policy Review says Illinois could be the country's shining example of pension reform if it moves away from defined benefit pensions and enacts a cash balance savings program for public employees. This is not a new idea, but political consultant Mark Rosenfeld puts it on a national stage, highlighting the lowlights of our pension crisis in the process. Read it here

________________________________________
MARKET WATCH Illinois' worst-in-the-nation credit rating means we pay millions more in interest than any other state. Ever wondered how the financial markets regard Illinois? How bad is it getting for Illinois and how do we change it? Here's your chance to find out. We've teamed with the Illinois Chamber of Commerce for a panel discussion next week featuring three front-line players in financial markets: Laura Porter of Fitch Ratings, Cadmus Hicks of Nuveen Asset Management and Richard Ciccarone of McDonnell Investments. The event is at 10 a.m. Thursday, June 27, at the Union League Club, 65 W. Jackson, Chicago. Admission is free but seating is limited. Get more information and register here. Reserve your spot today!

________________________________________
CAMPAIGN 2014 We've remarked several times that a lot of political dominoes will fall if Attorney General Lisa Madigan decides to run for governor. House Republican Leader Tom Cross, R-Oswego, likely will run for attorney general if Madigan doesn't. That will lead to a scramble for GOP leadership in the House. But despite rumors to the contrary, Cross isn't make any announcements this week. We explain on our running Campaign 2014 blog.

________________________________________
TWEET DU JOUR Kerry Lester, the new Springfield bureau chief for the Associated Press, has been on the job barely a month and already is seeing pension symbolism everywhere she looks.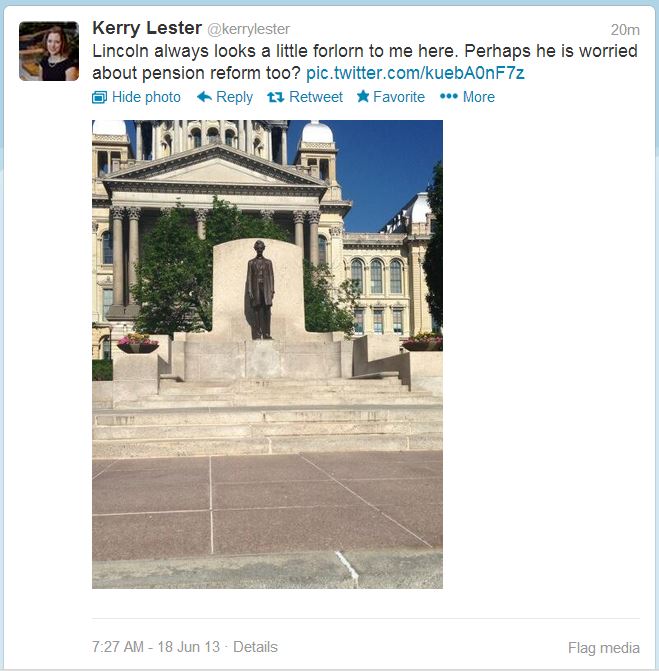 ________________________________________
DAILY TIP-OFF Here's a rundown of what's happening in Illinois news today. We've got a whole lot more links in the Daily Tip-Off section of our website.
• Jesse Jackson Jr.'s lawyers say if both Jackson and his wife Sandi are sentenced to prison, he wants to serve his time first (Chicago Tribune)
• Public employee unions are pushing for a vote in House to send their pension reform bill to Gov. Pat Quinn (State Journal-Register)
• A spokeswoman for Lisa Madigan says the Illinois attorney general is "doing her job" to advise state lawmakers and make sure the Legislature's final plan on pension reform "survives an inevitable court challenge" (Pantagraph)
• Former Chicago Ald. Ambrosio Medrano was convicted a second time on corruption-related charges when a federal jury found him guilty Monday of trying to win a contract in Los Angeles through bribery (Chicago Tribune)
• Bill Daley had some good ideas for moving pension reform in his press conference Monday (Chicago Tribune)
• Wednesday's special session of the Illinois General Assembly could make lawmakers' wallets and waistlines a little bigger (Southern Illinoisan)
• Illinois lawmakers return to Springfield Wednesday for the worst reality show around: Democrat Wars, starring House Speaker Michael Madigan vs. Senate President John Cullerton (Quad-City Times)
• Bruce Rauner answers 13 questions on his campaign for governor (Chicago Magazine)
• GOP candidates criticize Rauner (Alton Telegraph)
________________________________________
Visit our website and make a difference.
What are we all about? Find out in our video!