Are there two states of Illinois, Chicago and the rest of the state?
That was the theme of a discussion I attended last week at the University of Illinois Springfield. The panel featured former Gov. Jim Edgar, Capitol Fax publisher Rich Miller, UIS political science Prof. Chris Mooney and Randy Blankenhorn, executive director of the Chicago Metropolitan Agency for Planning.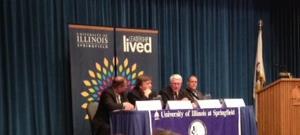 The event was a compelling, though hardly conclusive, public discussion of a subject that for years has been a topic of intense grumbling by downstate voters and lawmakers alike.
Miller, whose newsletter and blog are prime sources for insider political news, said the Chicago vs. downstate hostility largely is a product of Republicans who, after years of suffering losses in the legislature, have "purposely ginned it up" in campaign literature. By associating downstate Democratic opponents with their Chicago Democratic colleagues, Republicans have sought to exploit a perceived divide.
"It has been part of the House and Senate direct mail campaign for last at least 10 (years): ...'This guy, your opponent, is funded by Chicago, he's a Chicago Democrat, he's with the machine, those people, they just want to give welfare and blah, blah, blah and take away your guns. That's pretty much it," Miller said. "Hasn't worked all that well but they really ginned it up."
To Blankenhorn, it's just the Illinois version of a political dynamic played out in almost every state.
"It really is a metro vs. rural divide more than it is a downstate vs. Chicago divide. And I think that's true across this country. You have cities, you have suburbs, you have rural areas. Does that make it easy to govern? I don't think it does. But I don't think it's impossible to govern," Blankenhorn said. "Peoria's much more like Joliet than it is like Springfield. Rockford is more like Naperville than it is like Champaign-Urbana. I don't think that we're all that different from the rest of the country.
"The biggest thing that occurs to me is how do we create jobs in small metro areas."
Edgar had perhaps the best perspective on the issue. He was a Republican governor from downstate who, for two years, presided over a Republican-controlled General Assembly and, in his 1994 reelection, won Cook County.
He said he never believed the divided state theory throughout his own political career, and he considered it his duty to defuse it if it flared.
"The governor's got to be the equalizer. I defended Chicago when I had a Republican legislature for two years," Edgar said. "(Mayor Richard) Daley never gave me credit, but I did."
But Edgar's opinion changed when Rod Blagojevich became governor and implemented an administration that was blatantly Chicago-centric and often found it easy to cut from areas of little interest to Chicago lawmakers - like the Department of Natural Resources.
"When Blagojevich wanted to cut 4-H, that blew my mind," Edgar said.
In the end, though, Edgar said downstate's resentment largely is a product of perception more than reality. Downstate lawmakers haven't been influential in policy because they aren't in leadership circles.
"It's about not feeling like you have a seat at the table," Blankenhorn added.
So where does that lead us?
Well, it leads me to thinking about the 2014 race for governor and how it could either fuel or soothe this Chicago-downstate schism.
I'm with Edgar on the Blagojevich effect. Blagojevich had no respect for the office he held, and even less for anything that didn't directly further his political ambition. He came in as a reformer and soon became corruption - Chicago corruption -- incarnate. But unlike Pat Quinn in 2010, Blagojevich in 2006 didn't win reelection solely because of Cook County. His 10-point victory got a healthy boost from victories in more than two dozen downstate counties.
It wasn't until Pat Quinn's election in 2010 that the Chicago-downstate divide came into sharp relief. Quinn's 505,000-vote margin of victory in Cook County made possible his razor-thin, 32,000-vote victory over State Sen. Bill Brady. (The only downstate counties that went for Quinn were St. Clair, Jackson and Alexander.)
The events since then - the tax increase, the persistent backlog of unpaid bills, the explosion of the pension crisis and the resulting deadlock in the General Assembly - have only enflamed tempers of downstate voters who now feel that their government's problems have been foisted on them by a legislature led by Chicagoans and a governor Cook County elected.
This attitude is a formula for the cynicism that pervades public attitudes across the political and geographic spectrum toward Illinois government.
I don't believe there are "two states of Illinois." But when the perception is strong enough to attract a panel with the deep credentials of those who led the discussion a week ago at UIS, it's a problem.
Addressing this problem without alienating those north or south of I-80 should be a priority for everyone in the rapidly growing field of candidates for governor in 2014.