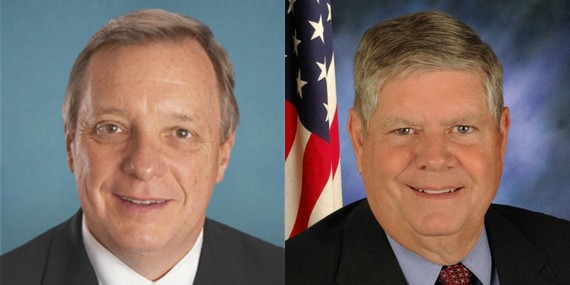 After unsuccessful tries to win the Republican Illinois U.S. Senate nomination in 2002 and 2004, State Sen. Jim Oberweis succeeded in March and faces Sen. Dick Durbin in November.
Durbin, of Springfield, is seeking his fourth term in the Senate, where he has served as majority whip since 2007.
Durbin has won convincing victories in all three of his previous Senate races, and is regarded as a heavy favorite over Oberweis, who has strong name recognition statewide both because of the dairy business that bears his name and because of his many unsuccessful political efforts over the years.
The first public poll of the Senate race, commissioned by Reboot Illinois and conducted by We Ask America on June 12, appears to affirm Durbin's strong position in the 2014 contest.
It's still early in the race but this poll provides a glimpse into which candidate is looking good so far and which candidate has some work to do to catch up.
The poll breaks down responses by party affiliation, gender and location in the state.
Check out the results of the poll here.
And if you missed the results of our poll of the race between Gov. Pat Quinn and Bruce Rauner for governor, you can check those out here.