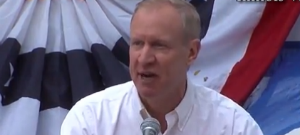 Last week I noted that Bruce Rauner had given $500,000 to his own campaign, nullifying the campaign contribution limits that went into effect in 2011.
CLICK HERE TO READ ABOUT RAUNER'S $500,000 DONATION TO HIS OWN CAMPAIGN
On Monday, Rauner became the first candidate in the four-way Republican gubernatorial primary race to benefit from his own generosity, logging a $250,000 donation. In a report filed with the Illinois Board of Elections, Rauner also had two individual donations for $10,600 - double the limit that applied until last week.
The quarter-million-dollar donation came from Glen Tullman of Wilmette, former CEO of Allscripts Healthcare Solutions, and now with the health information firm 7 Wire Ventures.
READ WHY BUSINESS OWNERS ARE UNDECIDED ABOUT THE GOVERNOR'S RACE
Illinois campaign finance law places no limit on the amount a candidate can put into his or her own campaign. But once a candidate donates $250,000, limits on individual, corporate and political committee donations - normally $5,300, $10,500 and $52,600, respectively - are lifted for all the candidates in that race.
The law is intended to maintain a level playing field for all the candidates. Without it, a wealthy candidate like Rauner could, in theory (or in Rauner's case, in reality), pour tens of millions of dollars into his campaign. His opponents, meanwhile, would be shackled to a system that severely limits their ability to keep up.
WHY IS THE ILLINOIS GOP CHAIRMAN DISHING OUT "TOUGH LOVE?"
A week ago, Rauner filed notice with the Illinois Board of Elections of his $500,000 donation, which followed a $249,000 donation when he announced his candidacy in March.