Did Gov. Pat Quinn or his Republican challenger Bruce Rauner have the better Illinois State Fair? That was the topic last Friday as Reboot Illinois and the Citizens Club of Springfield assembled a panel of seasoned journalists hot off the campaign trail (and hot off the state fair).
Reboot Illinois's Matthew Dietrich and Madeliene Doubek gathered with a group of Illinois political journalists who had attended the Illinois State Fair's Republican Day and and Governor's Day to discuss the upcoming election for governor and the campaign ahead.
Dave McKinney, Statehouse bureau chief of the Chicago Sun-Times; Amanda Vinicky, Statehouse bureau chief of Springfield public radio station WUIS-FM 91.9, and State Journal-Register political reporter and columnist Bernard Schoenburg joined us at the Hoogland Center for the Arts in Springfield for a terrific discussion about whether Republican Bruce Rauner will take control of the Executive Mansion, or if Democrats, led by Gov. Pat Quinn, are poised to maintain their leadership position. The event was co-sponsored by the Citizens Club of Springfield.
Check out the video at Reboot Illinois: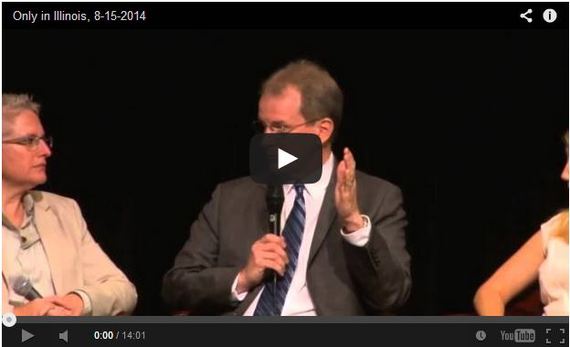 Even as the two gubernatorial candidates make cases for who can best fix the state's problems, Illinois news isn't all doom and gloom. Champaign County teenager Adam Munds organized the fourth RC Fest, a remote-control car event he started as a way to raise money for blood drives. Munds started the event as a way to give back after relying on blood transfusions himself as a baby. The Illinois State House of Representatives even recognized his important work with House Resolution 1227 and the Illinois State Senate passed a Senate Congratulatory Resolution.