This week Gov. Bruce Rauner turned his anti-public-union rhetoric into action.
In an executive order, Rauner called for a halt to withholding of "fair share" fees from the paychecks of non-union state employees who work under union-negotiated contracts. Whether that will actually happen is open to question, as state law requires Comptroller Leslie Munger -- whose office issues state paychecks -- to withhold the fees.
"After discussing this matter with all parties, Comptroller Munger will defer to the guidance of the Attorney General as it relates to what actions are within the scope of her legal authority," said Brad Hahn, spokesman for Munger. For now, Rauner's order will apply only to agencies under the control of the executive branch.
The more important part of Rauner's action Monday was a motion he filed in federal court that is intended to elicit a decision from the U.S. Supreme Court on Rauner's belief that forcing non-union employees to pay any fee to a public-sector union is a First Amendment violation. This despite the unions using those fees only for the cost of collective bargaining on the non-member's contract -- not as part of the union's political activities.
But Rauner argues that even negotiating employee salaries and benefits is political activity when a public-sector union is involved. Since all such negotiations are done with government entities, they're political, Rauner says.
A U.S. Supreme Court decision from last summer that originated in Illinois gave Rauner the opening for his federal court filing.
We explain the mechanics of this on this week's "Only in Illinois."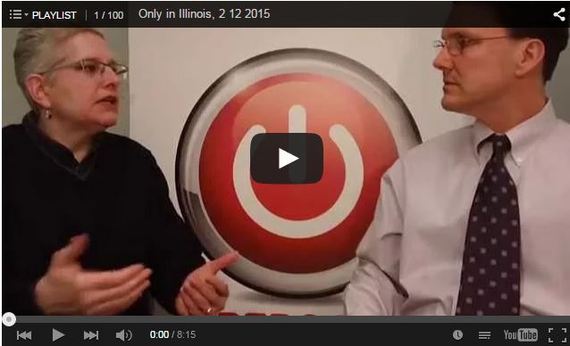 (Check out the video at Reboot Illinois.)
Rich Miller of Capitol wonders exactly what all this union talk means. What is his long-term plan when it comes to "his almost daily attacks on organized labor?" Miller asks.
Some top Democrats believe that Rauner may be setting them up for a grand bargain this spring. Democratic lawmakers are most certainly going to freak out when Rauner presents his draconian budget. Rank and file members will undoubtedly demand some sort of tax hike to prevent draconian cuts to their cherished programs. Rauner could eventually say that he'd agree to additional revenues in exchange for passage of his economic package.

But some top Republicans who have regular contact with the governor say they haven't yet discerned a rhyme or a reason. "I just don't see an end game here at all with them," confided one GOP operative. Another concurred, saying if there is an end game, it hasn't been shared with anyone else.
(Read the rest at Reboot Illinois to see more of Miller's thoughts on Rauner's union maneuvering.)