State Sen. Bill Brady, who lost to Gov. Pat Quinn in the 2010 race for governor by a razor-thin margin, is giving it another try.
Brady, R-Bloomington, will announce Wednesday in a statewide fly-around that he is entering the field for the Republican gubernatorial nomination in 2014. Brady joins Chicago businessman Bruce Rauner, Treasurer Dan Rutherford and State Sen. Kirk Dillard of Hinsdale in competing for the GOP nomination in the primary election on March 18, 2014.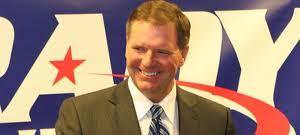 In 2010, it was widely assumed that Republicans had their strongest chance in years to retake the governor's office, which they held for 26 straight years before losing it to Rod Blagojevich in 2002. Blagojevich swept into office in the wake of the scandals that plagued his predecessor, George Ryan, who eventually would serve a six-year prison sentence for corruption as governor and secretary of state.
But the tables were turned in 2010, as Blagojevich had been impeached and removed from office in January 2009 and Quinn, his lieutenant governor, took over. The state was heavily in debt and its pension crisis building as the 2010 election got under way.
But a seven-way Republican primary race that included five candidates from DuPage County, including Dillard, split the suburban vote. Brady, who was well known downstate, won the nomination by 193 votes over Dillard.
Brady is more socially conservative than Dillard, who bills himself as a moderate, and his conservative stances on social issues and his anti-union statements during the campaign generally are accepted as the reasons for Brady's narrow loss in the general election.
While Brady won all but four counties in Illinois on Nov. 2, 2010, Quinn's 500,553-vote margin of victory in Cook County, where he won 64 percent of the vote, gave him a statewide victory by .8 percent - 31,834 votes total. (In the three southern Illinois counties Quinn won -- Jackson, Alexander and St. Clair -- his margin of victory was a combined 1,669 votes.)
Whether Brady intends to moderate his message this time around is sure to be among the questions he'll face as he kicks off his campaign Wednesday at events in Chicago, Springfield, Marion and Bloomington.
- See more at: http://rebootillinois.com/?eopinion=4281#sthash.0EWdVoKV.dpuf