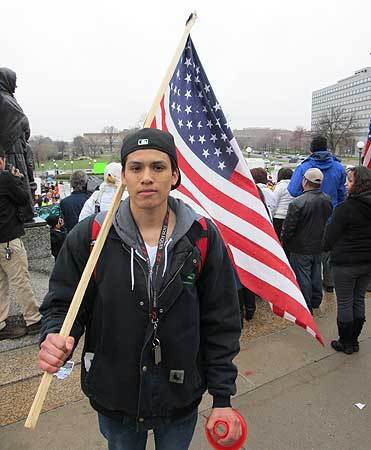 Nestor Gomez - MPR Photo/Matt Sepic
Originally from a small town in Nayarit, Mexcio, Nestor Gomez always had a passion for a career in Engineering that is deeply rooted in his love for the environment. As a teenager, Nestor started organizing for social, environmental and food justice with "Tamales y Bicicletas," a local Minneapolis nonprofit organization that supports young, immigrant Latino students in living in harmony with themselves, their families and community through cultural empowerment and preserving cultural traditions.
In most ways, Nestor is like any other college student. However, Nestor is a very ambitious individual. As an undergraduate student at the University of Minnesota-Twin Cities pursuing a Bachelor's Degree in Bioproducts Engineering, an active member of the campus community through The Society of Hispanic Engineers (SHPE), and a passionate community activist for immigrant rights.
Nestor Gomez is an undocumented immigrant.
Crossing the Border
Despite his academic success and student and community involvement, as an undocumented student, Nestor faces unique legal uncertainties and limitations within the United States educational system.
The classic image of undocumented immigrants entering our country is one of silhouetted figures sneaking across the Mexican border. One stereotype that is commonly associated with undocumented immigrants is the notion that they are here primarily to sponge off the nation. However, most undocumented immigrants are not looking for "freebies" -- the majority of migrates are in pursuit of work.
Nestor emigrated with his father at nine-years-old. His father, a local fisherman, ran into financial difficulties and was unable to pay off his debts. It was at that moment when Nestor's father decided to make the treacherous journey to the United States in pursuit of a better life for himself and Nestor.
Educational Experiences
After arriving in the United States, Nestor initially had difficulties adjusting to the different culture. On his first day of school, Nestor vividly remembers crying because he felt like he couldn't do anything -- spell, read, write or communicate. He felt helpless and vulnerable.
"I didn't know the language, and racially I just wasn't the same... After middle school towards high school, I started hanging out with the wrong group of people and I didn't care much about my education. Because I knew that even if I finished high school, I couldn't legally work in the United States. I could be deported any day. Like any person with ambition and a vision, if you can't grow, you lose purpose."
The Pew Hispanic Center estimates that 1.5 million undocumented students currently reside in the United States. Of those students, approximately 765,000 arrived in the United States before turning sixteen.
During his senior year at Robbinsdale Armstrong High School in Minneapolis, Nestor underwent a change in how he perceived his situation. He began Advanced Placement (AP) classes and decided that he was going to attend North Hennepin Community College in Minneapolis.
Community colleges in Minnesota do not require students to have a social security number, but they have to pay all tuition out of pocket, since there is no state or federal financial support.
In order to pay for his education, Nestor began working full-time at a local restaurant, while also being a full-time student.
Immigration Policy
On June 15, 2012, Nestor's situation drastically changed for the better.
President Obama created a new policy calling for deferred action for undocumented youth who came to the United States as children. Individuals who have deferred action status are provided with two years of protection from deportation for childhood arrivals, a work permit and a social security number.
Another obstacle that many undocumented students face is the cost of attendance to attend colleges and universities. Because undocumented students are not eligible for federal financial aid, they rely primarily on private scholarships to fund their schooling. This alone is enough to prevent students from applying and/or enrolling.
In order to alleviate some of the pressure, The Minnesota Dream Act (also known as The Prosperity Act) was signed into law by Governor Dayton of Minnesota on May 23, 2013.
The Minnesota Dream Act is especially important for Nestor. With this initiative, he is eligible for in-state resident tuition rates, state financial aid, and privately funded financial aid.
The Minnesota Dream Act provides benefits to undocumented students who attended a Minnesota high school for at least 3 years, graduated from high school or earned a GED in Minnesota, and registered with the U.S. Selective Service.
Advocacy for Minnesota Immigration Reform
Lessons can be learned through Nestor's story. He views the trials and tribulations faced as an undocumented immigrant as a personal development opportunity to become a role model for others and to continue fighting for equality amongst all people.
He is very passionate about giving back to the community through his advocacy for Minnesota Immigration Reform. During May 2013, Nestor was involved in a hunger strike for driver's licenses, urging Gov. Dayton to talk to his group. Nestor says they were promised a meeting with the governor that was postponed indefinitely.
Minnesota Mesa Latina, the community activist group that Nestor is involved with, pushed for a bill allowing undocumented immigrants to apply for driving-only licenses. "This is a public safety issue," Nestor said, "We should want people who are already driving here to be trained properly, tested and licensed."
Hopes for the Future
For now, National Immigration Reform is the hope that Nestor and thousands of other undocumented students hang on to. They hope that one day it will allow them to be more visible and start giving back to the society that raised them.
Despite his extenuating circumstances, Nestor continues to pursue his education as an investment for a better future for himself and his family. Although he may be going through struggles today, he is able to persevere through his belief that a college degree is the next step in becoming a role model for his community.
"I don't want to go back to Mexico. I have already adopted America as my country," said Nestor. "In a sense, I'm an American without documentation."