I'm always a little horrified by the excessive amount of calorie heavy, sugar loaded, garish food and décor you see everywhere before, during and after Halloween. I know there are style-obsessed people out there looking for a few great tips on hosting a chic, only slightly creepy party without all of the sugar and plastic! There are so many fantastic opportunities to design sophisticated details for this favorite autumnal holiday.
To start, consider working with non-traditional color palettes. Black is always great for Halloween but avoid the obvious orange and go for a moody plum or eggplant tone paired with a muted, foggy gray. These tones will take the standard jack-o-lantern style to the next level. There is some really great, creepy flora and fauna out there as well to create fantastic centerpieces or accents for your party. Here are a few examples of things I created with these tones and textures. These arrangements are filled with pods, succulents, hanging moss, vines and orchids. The pop of purple and plum brings a fresh twist of color to an otherwise muted palette.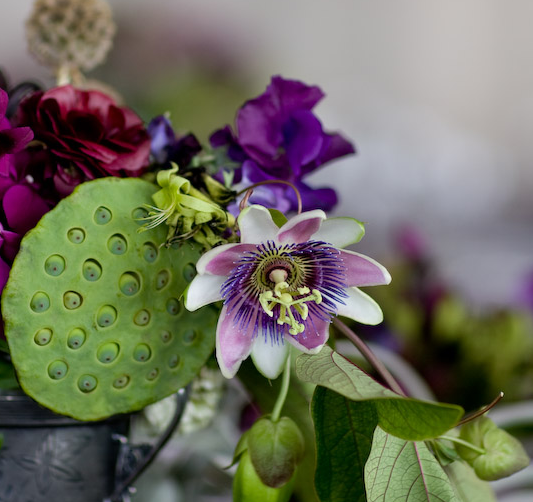 Photo by Dave Robbins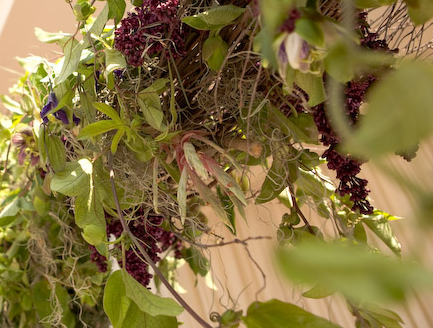 Photo by Dave Robbins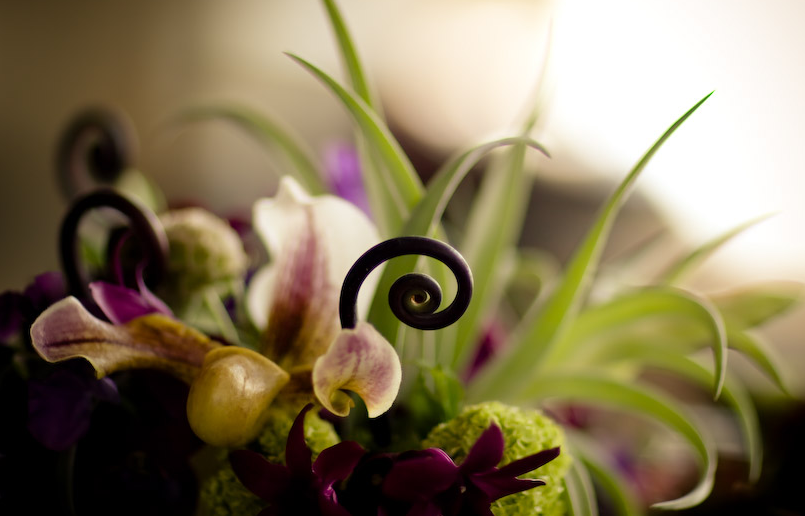 Photo by Dave Robbins
If you insist on featuring a classic Halloween color palette or theme take a cue from my friend Peter Callahan, who created these incredibly chic mini soups for a haunted cocktail party. The small shot glasses were filled with a seasonal soup and served on simple, clean black and orange acrylic trays. Check out Peter's new book for more inspired food ideas!
Photo by Rachel McGinn
Now that you have some inspiration for working with a great color palette I thought I would share a few basic tips for planning your own chic and elegant Halloween party.
• Make a very limited, well-edited guest list. Keep it on the smaller, intimate scale. You will have more fun and might actually enjoy mingling instead of managing details!
• Keep your color palette and design scheme limited. As I mentioned above, choose an unexpected palette and run with it but keep things limited (like your guest list) to two or three main colors.
• Serve small, bite size appetizers such as Peter Callahan's soup pictured above and avoid large displays of food. Think about the guest list. If you are inviting many vegetarian or vegan friends you need to be sure you have real food for everyone! Vegans enjoy more than carrot sticks & cherry tomatoes.
• Keep the bar options limited to a signature cocktail, in your color palette, of course, and offer only champagne and wine as the other options for alcoholic drinks. This will keep the cost down as well! You don't need a full bar to have a great party. Your guests will appreciate the attention to detail. I also suggest sticking to white wine if you need to protect your carpets and furniture!
• Think about a fun activity that works with your chic Halloween party, such as a photo booth area in your home or garden. Create a backdrop and have a box of props for guests to dress up... it is Halloween, after all! You can have guests leave images in a scrapbook or they can leave with their photos as a party favor.
• Send everyone off with a little something. It can be simple... two homemade cookies, a candied apple, popcorn packaged in a Halloween inspired box or bag. Attach a little card or note and your guests will leave feeling even more delighted.
Most importantly, have fun and enjoy! Remember, you don't have to go broke to entertain. When you keep things edited and simple you will not only make a great impression, but your design scheme will hold together effortlessly!