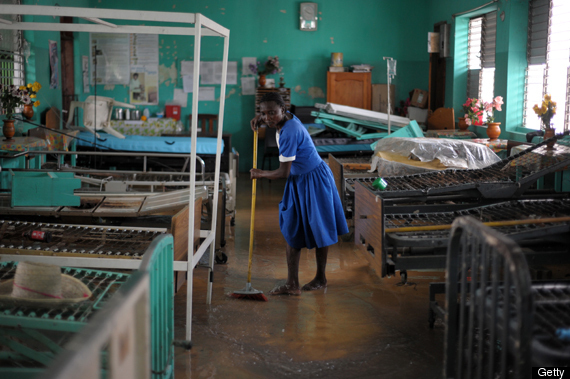 Last week, we spent the day assisting a team of doctors at a hospital in Payen. The hospital was started in the Seventies by a missionary group from Ohio. There is a clinic, an OB-GYN, an operating room, and about 40 rooms. Since the earthquake a team of doctors has been rotating in every week.
Dr. Rick, a pediatric emergency room doctor from Texas, said that in the weeks after the earthquake the hospital was overflowing with patients and they were working around the clock.
Many of the rooms are now empty, and the American medical teams are slowly tapering down the time they are here.
We were working with the orthopedic doctors, so there was not a lot we were able to offer besides extra hands and translation, which is something I guess. It's a very impressive operation. The doctors have a trove of stories, of miracles performed and lives saved.
However, now that the most severe cases from the earthquake have been cared for, the hospital will have to start charging for services again.
In Haiti, as in the United States, a large chunk of the population does not have access to primary medical care. The medical problems that poor people have, in both countries, get worse as they go for long periods of time untreated. When an emergency developes and a person does have to go to the hospital, they wind up deeply in debt and more often then not, their underlying medical problems still exist after the visit. As an EMT in New York City, I am very familiar with this viscious cycle, and it is very sad to see it here in such a poor country.
This is my first trip to Haiti so I can not say what Haiti's needs are large-scale. But what I can say from the time I have spent here is that medical professionals that are willing to volunteer some of their time, even low-level people like myself (EMT-B), will find that there is a lot that they can accomplish. There are a lot of hospitals and clinics that are working around the clock to treat people that desperately need help.
A lot of people say that they are concerned that when they donate to Haiti the money will not get to the people that really need it. That is a valid concern. What I would say to that is, spend a little bit of time doing research. Take a couple of extra steps. Find a hospital or clinic, like the one here in Pierre Payen, that is open every day, and donate directly. Or find a group like the Bed-Stuy Volunteer Ambulance Corps that is sending qualified medical personnel to work in hospitals and clinics, and donate to them.