My memory of the night of the Miss Renaissance Pageant is a patchwork of dreamlike images.
Around the hotel was empty as far as the eye could see, but inside the hotel was abuzz with queers and queens stomping around. The smaller conference rooms were booked up with a Southern Baptist conference, but they had pious bedtimes. The Holiday Inn ballroom was aflutter with queens and their fans, drag managers, owners of sister pageants systems, and a few lookie-loos filled out the tables and chairs. Bow-tied waiters marched in with order after order of shrimp baskets, catfish nuggets, and chicken Caeser salad (the only fare on offer). My brother called me and told me that Ria Pell died and I was very, very sad. The microphone kept crackling louder and louder until the pageant had to be put on hold for technical difficulties. Backstage, a fog of hairspray obscured the queens' faces; however, silhouettes of sparkles traipsed through the mist.
Pageants run as marathon-like events, and I only lasted three hours before I threw in the towel. I left just before midnight on Sunday and the crownings were still hours away. From swimwear to evening wear, talent to open-mic, everyone is put through a series of performative hurdles. By the end, only the corsets are keeping the queens upright in their gowns. Competitors come with troupes of handlers and backup performers. When a queen is fully tucked and sewed in, she needs help mounting all of the opulent looks in store for the evening; and the more backup dancers you have, the more you can impress the judges.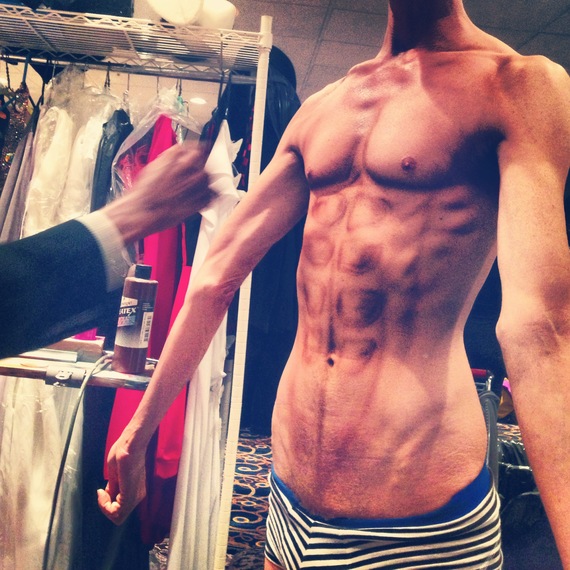 Always spray paint abs on backup dancers.
Savannah Leigh won the Miss Renaissance crown at the end of the evening. She was one of the few Latina competitors in this year's pageant. Savannah Leigh is a transsexual woman who performs in several bars and clubs in the Atlanta area, and she is known for her fierce Cher numbers. She did not have to rely on Cher impersonations to win this pageant -- her naturally elegant beauty sold the judges, and her professionalism also helped too.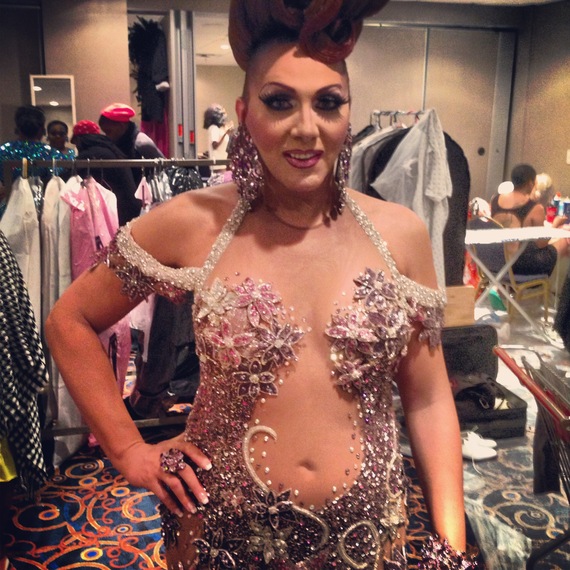 Savannah Leigh
By far the most intriguing performer of the night was Akasha Mazzaratie Steele Adonis, winner of Miss Renaissance Plus. Like Savannah Leigh, Akasha is also a transsexual woman and lives in Little Rock, Ark. She makes a living sewing and performing, and she uses pageants to gain professional experience and pad her resume. A year prior to winning Miss Renaissance Plus, Akasha had been in the headlines as the victim of assault on Black Friday 2012. While shopping with her mother at a Kohl's in Jackson, Tenn., Akasha was attacked and pummeled as a mob of people rushed to the door. She lost teeth and hair in the attack; however, security and law enforcement ignored her when they realized she was a trans woman.
Akasha
A year after the attack, Akasha was the clear winner in her division. When her time came up to perform, she worked every inch of the runway with more backup dancers than any of the other bitches in the competition. Everyone had on matching outfits sewn by the queen herself. Akasha marched her troupe downstage and in front of the judges' table and they vogued in perfect unison. More than anybody else at that Holiday Inn, Akasha was clearly in the flow of her music She stomped, twerked, and shook out all of her beautiful energy for the judges.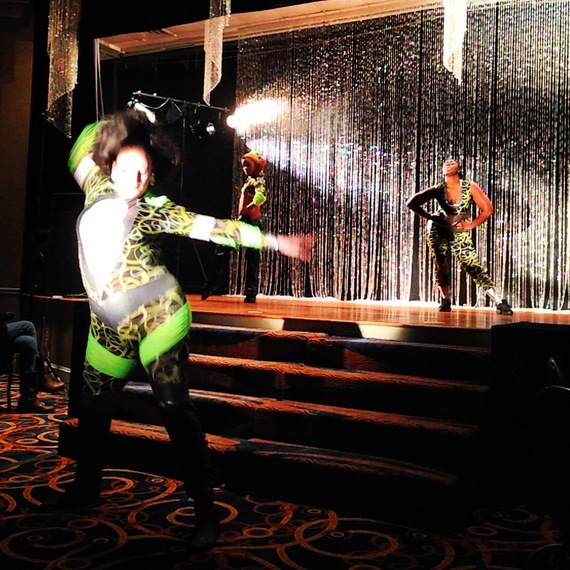 In the flow
Beauty has the power to transform regular people into something greater than themselves; however, we don't give beauty it's due credit. Too often, we associate beauty with arrogance, hubris and snide attitudes. Or, we assume the beautiful to be vacuous, uninspiring people. We often distrust the pursuit of beauty -- it's shallow, anti-feminist and reeks of capitalism. This is all such a shame, because beauty is an incredibly powerful tool in our world.
We all want to be beautiful (whether we fess up to it or not) and we prefer our public figures to be on the better side of attractive (despite some drooping political examples). There is no doubt that we value beauty -- now we need to be able to embrace it. The pursuit of beauty can be a part of a practice in leading a better life. To be more beautiful starts by taking care of oneself, and making sure we look our best for others. These simple activities are actually quite noble.
For pageant contestants, beauty is certainly taken to the extreme; however, they are all in the game in order to improve themselves, make friends, and represent their community. Who among us wouldn't want to be more poised, articulate, intelligent and bedazzled? For the folks in the pageant world, the pursuit of beauty is intertwined with building their community. We should all try to be as beautiful as these queens.