This blog post is part of a series of profiles of Atlanta-area drag queens and is funded by a grant from Idea Capital.
For Jason Livingston (boyface Jaye Lish née J'Licious), following drag has brought him both creative fulfillment and fantastic friendship. He moved to Athens from Alabama for college in 1994, poised to find an open and accepting queer community. The idyllic college town gave Livingston the Boybutante Ball, "The Wigstock of Athens," as he calls it. Michael Stipe was there. As were Coretta Scott Queen and Wild Cherry Sucret--longtime local drag idols for him.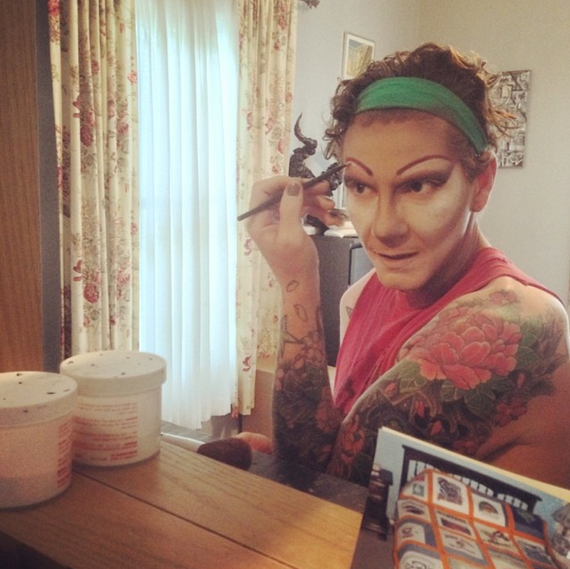 "I dressed up several times in drag for Boybutante Ball;" says Livingston, "my first time was in 1994 and I dressed as a haphazard transvestite. I borrowed a 1920s A-line dress, a cute little wig, and I made myself up like a sorority girl at formal. I was very fish. No camp. Pretty was all I could do."
Dressing in drag at Boybutante marked the beginnings of Jason Livingston's love affair with drag. It's been a wild ride with drag--Livingston broke a rib and ankle playing rugby, made perverted club kid costumes on the fly, and convinced his sister to impersonate a dead Whitney Houston (bathtub and all). All these were necessary achievements to become the queen he is today. The boy from Troup County High School in Alabama never could have imagined by 39 he'd be living his creative dream as Jaye Lish--camp queen in the Atlanta's most acclaimed drag show.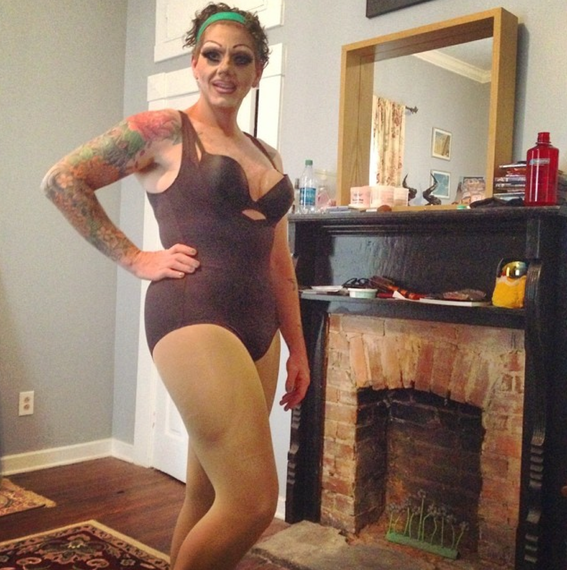 "The first time I performed in drag was in 2006 for Miss Ruck, a pageant put on by the gay rugby team I played on," says Livingston. "And I was named J'Licious."
Livingston looked forward to the yearly rugby drag ball when all the butch, bearded, tatted players donned too-tight skirts and cheap wigs for charity. Although he never won Miss Ruck (he got first runner-up twice though), rugby drag was essential to his spurring his drag career and finding lasting love.
"I broke a rib and an ankle--and almost lost an ear--to rugby. It was a lot of fun. And it's how I met Joel, my husband."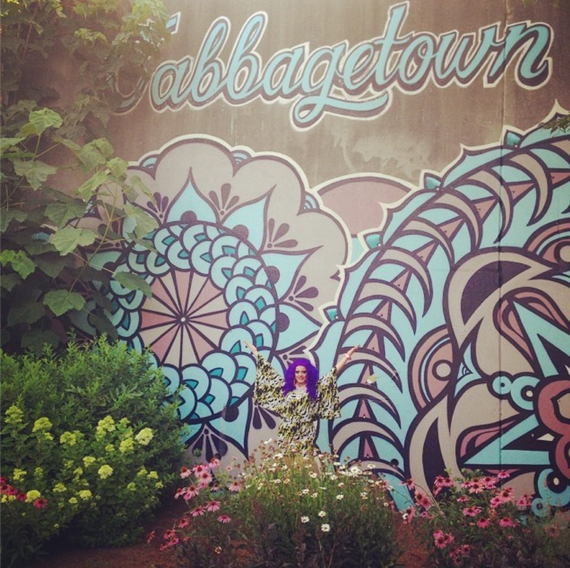 Livingston found himself doing drag more and more for rugby parties, and soon he yearned to perform. In 2008 he auditioned to join the Armorettes--Atlanta's long-running charity booger-drag revue. Wild Cherry Sucret, his idol from Athens, performed in the show. Livingston devoted many Sundays to the organization as a performer, show organizer, and interqueen ombudsman--he's always the organized, responsible person in group efforts.
"The organization has been around since the beginning of the AIDS epidemic, perpetually raising funds for charity. During my time there we passed the $2 million mark in money raised since the founding of the group."
While at the Armorettes, Livingston met Andrew Jones (boyface Edie Cheezburger) while Jones was a Sister of Perpetual Indulgence. They immediately became brand-new old friends, both in and out of drag. Even though the Armorettes brought Livingston great satisfaction for giving back to his community, the personal pricetag for his do-gooding took its toll.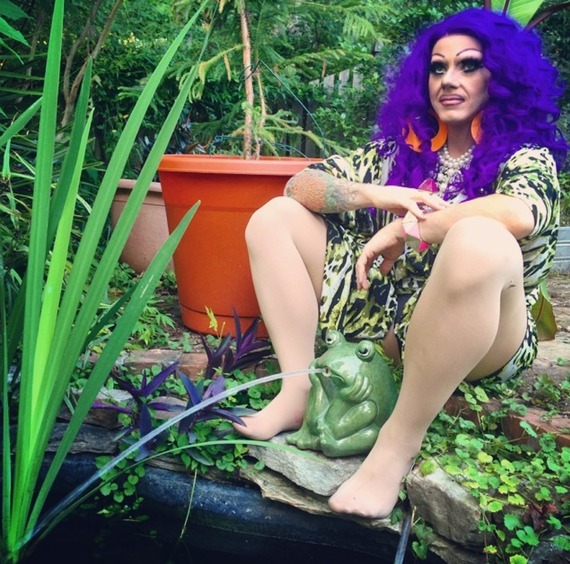 "Armorettes don't make money, and it became a huge time and expense drain. I was working every Sunday in a smokey bar and my asthmatic boyfriend Joel couldn't come to see me."
Livingston and Jones soon drifted away from their respective projects and struck out as a drag duo of destruction. (Then) J'Licious and Edie Cheezburger performed in a charity drag performance of Cabaret, which brought them to the Jungle Atlanta club several days a week. In 2011, Livingston signed up to compete in Dragnique--Jungle's fierce local drag competition--with Andrew Jones as a valuable assistant.
"We had to make a Facebook page and promote ourselves for Dragnique, and it would not accept J'Licious. So I changed my name to Jaye Lish."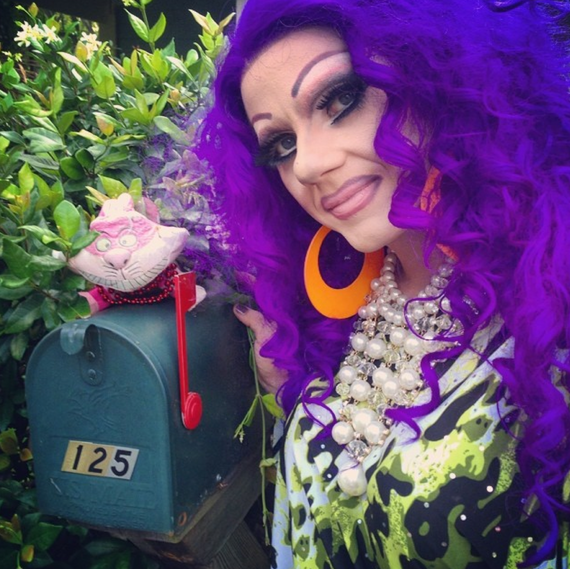 With Andrew Jones helping, the brand new Jaye Lish camped her way to third place in Dragnique. After Dragnique closed, The Jungle asked Jaye Lish and Edie Cheezburger to do a weekly dance party called PERV!.
"I got off work every Friday and went straight to Edie's house and spent the few hours before the party throwing together crazy club kid costumes."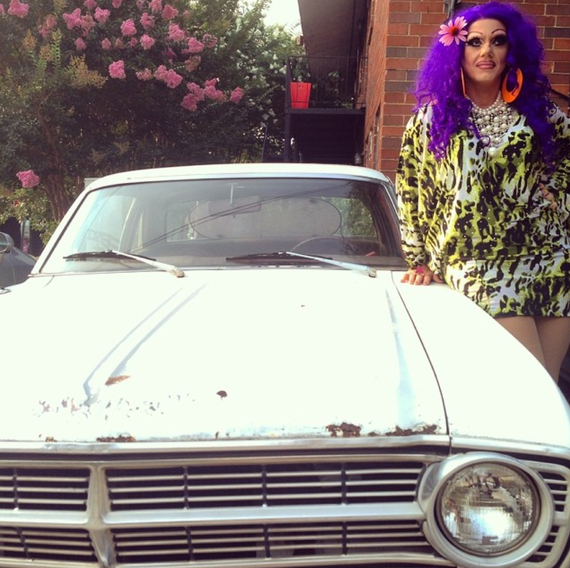 The looks were often abstract ideas like "anything but clothes," "prom from hell," "beach party massacre," and "USA is A-OK." PERV! only lasted a few months, but it gave them great costuming skills they use today. In 2012 Edie competed in Dragnique, and this year Jaye Lish was on her team throughout the competition. It seemed they had just learned all the skills to serve sickening drag. The PERV! dance party taught them how to make extravagant looks on the fly; they pulled off outrageous outfits like Edie's dipped-in-glitter bodysuit. Cabaret taught them how to own a stage, and the two conducted elaborate numbers--replete with pig-boys on leashes, Mayan sacrifices, and tap dancing Helen Keller. Possibly the most outrageous number was Edie as a dead Whitney Houston; it was all Jaye Lish's idea.
"I never sold anybody so hard on a number as I sold Edie on that one. I got her a bathtub, and told her she could do it."
This was Edie's only time on stage alone (every week she'd had other performers, including Jaye, as backup), and Jaye convinced her she was strong enough to pull off such a shocking concept. Somehow they struck just the right balance of outrageousness and art; Edie won every week but for the Whitney impersonation. When Edie won the finale, it was a relief for the team; Jaye knew Edie could win, and now they could move on to another project.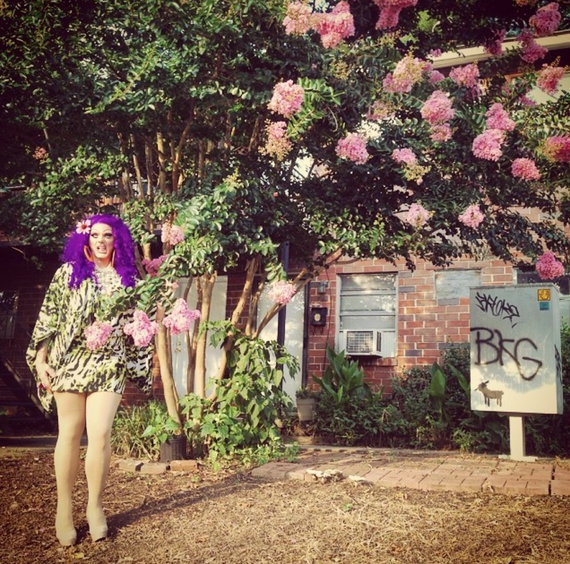 Soon after Edie slaughtered at Dragnique, The Jungle offered Jaye and Edie carte blanche to create a drag show of their own. It was to be in the new black-box performance space the club owners had carved out of the expansive front end. This would be a much more intimate drag show than any other in town--the performers right up next to the audience and waitstaff to fetch drinks while you watch the show. It was also nonsmoking because Jaye and Edie were tired of cleaning the cigarette stink from their wigs. They called it The Other Show.
They assembled a cast of queens who were very "Other" -- girls who do something beyond pretty pageant standards they saw at too many shows in Atlanta. Exotic dancer Miami Royale, burlesque beauty Violet Chachki, outrageous mouthpiece Jasmine Atoinette, ample diva Justice Tyana Taylor, and suburban it-girl Evah Destruction all joined their cast. These queens wanted to explore drag as true art form--the beautiful, the ugly, the offensive, and every fabulous idea in between.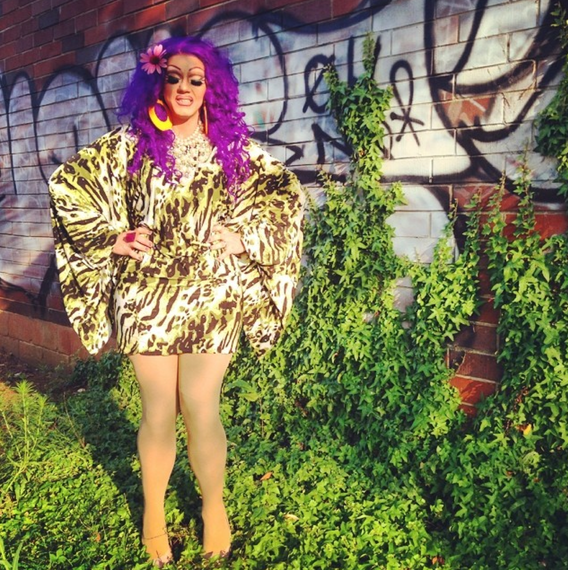 "I had the most doubts in my creative career, but it took off." says Jaye Lish. "People liked it; I was shocked and amazed. It took a few months before I embraced the power of the show. The Other Show is a real dream--it's the show Edie and I were looking for."
The Other Show queens serve exquisite Asian fan dances, Anne Frank realness, filthy learn Spanish by-tape numbers, and even the occasional pretty-pop standard. Jason Livingston provides Andrew Jones a lot of technical and managerial help in this drag venture. Jones is the the creative visionary, and Livingston (just like his time as J'Licious in the Armorettes) is the responsible, organized person behind the scenes making everything happen. Although Jason livingston lives his creative dream as Jaye Lish at The Other Show, there could be many more stops in his drag career. As The Other Show and his friendship with Andrew Jones grow, there's no telling where this drag life will take him.