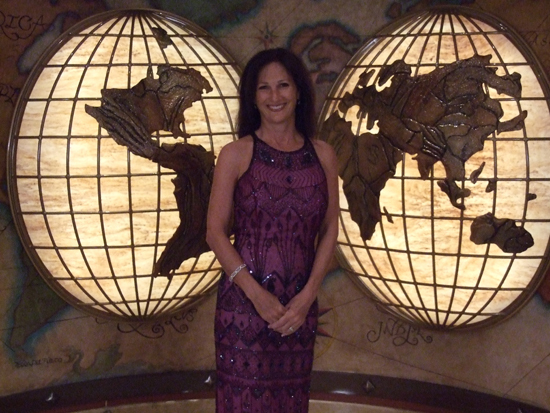 Call me an optimist, an idealist, or even a seer. As far back as I can remember, I have been an admirer of talents and secretly believed in a better world. Obvious or subtle, the uniqueness of people's talents would cause me to marvel. Regardless of age, economics, education or training, watching others blossom into their full individuality has always made me happy.
Talents come in all forms, from the concrete and tangible to the abstract and conceptual. So whether it's a student displaying his smarts, an artist developing her craft, a cook preparing a culinary surprise or an entrepreneur creating a new business venture, seeing others display their gifts brightens my world.
Are you displaying talents or hiding them from others?
Progress begins with a single person stepping out.
Many conceive of ideas, but few are willing to put themselves on the line for them. Doing so exposes us to all kinds of perils: risk of failure, rejection from peers and ridicule from those bound to conformity.
Yet, failure to move forward with hidden dreams, finer expectations and higher beliefs can leave us -- and others -- frequently without benefit and wandering in the dust. Consider, for example, how outlandish the Wright Brothers appeared before fashioning the first "flying machine" -- how blasphemous the Founding Fathers sounded when declaring a new form of government, how uncivilized Big Band music was to a populace bent on protocol, and how threatening integration first felt to those whose idea of society was built on race.
Not all of us will create the next telephone, electric car or Apple computer. We won't all usher in social revolutions like equal rights or child labor laws. Yet never underestimate the next innovative teacher, breakthrough baker, fashion-forward designer or creative backyard gardener.
Don't overlook the value of the neighborhood organizer, community baseball coach or the volunteer who helps elderly parents, high-risk youth or vets returning from service, either. Expressing and expanding their talents, these individuals contribute to their own sense of self while providing benefit to others.
Every culture and generation claims its own norms and values and we needn't look far to see them. PBS' Downton Abby series reveals the constricting rules of Britain's class structure during the early 20th century. Vintage TV shows like Father Knows Best and The Brady Bunch reflect America's narrowly defined gender roles of the '50s and '60s. And movies like Maid in Manhattan display gravitational pull of cultural identities borne out of generations of familiarity.
Every one of us can present a gift to the world. We all possess inherent interests and passions and can choose our respective thresholds for risk, exposure and adventure. We can restrict ourselves to old, limited patterns or express newness in life when change is needed or circumstances have moved on. Size and scope do not matter, but genuineness of spirit and passion certainly do!
What will it take to make your personal mark?
Will it be the passing of time? A life-changing curve ball or sudden change in status? How about facing an eroding sense of self or a date with destiny that brings your inner talents and latent passions into full view?
In my case, coming to the forefront has involved all the above. An unorthodox thinker who feared being disliked or disapproved, I often hid myself while channeling energies into helping others come to full bloom.
As a young executive recruiter, I presented innovative candidates with proven mettle to our Fortune 500 clients and used my role as a national newsletter editor to feature inspiring business leaders. During a decade in the telecom industry, I reveled in developing sales, support and management personnel into bigger versions of themselves.
While a home schooling parent, I introduced thought-provoking literature and field studies that brought learning to life. I loved helping my child grow academically and socially as she discovered her own sense of self.
As a 30-something wife, I inspired my husband to start his own firm when his employer required a change of territory and demanded he sign a non-compete clause. My spare time was spent aiding missionaries and incarcerated youth. It all contributed to my enjoyment.
At 40-something, with a daughter outgrowing my tutoring and a husband growing dispassionate about his work, I was lucky to launch out in a new direction.
We closed our computer business and opened a new firm developing entertainment properties to positively impact culture. In one of our first projects, I helped bring a preschool teacher's creative idea to market. Publishing a series of books, audios and original music, I watched a local teacher attain national exposure and was warmed by the children who fell in love with her character.
Eventually -- if not ironically -- one of our creative properties became mine. Known as Maura4u, my videos, blogs and ebooks share my emergence into the world while inspiring others to do the same.
Where are you living today? Are you hiding your talents and dreams or are you bringing them into view?
There will never be another you.
And no one can better express your talents than you can.
The world is waiting for you... and I am, too!