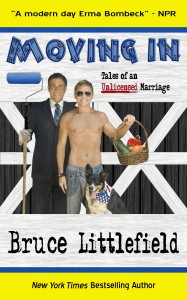 You know that grandson who loves setting your table for Sunday brunch? He might just grow up to be America's Favorite Housewife.
That's one way Bruce Littlefield jokingly refers to himself. He joined us on The Career Clinic recently to share how he sets himself apart in a sea of so-called lifestyle experts. I think he's a good career management case study. Here are a few tips you might find helpful...
1. Chronicle what you love.
Bruce keeps a notebook of not only what's brought him joy around the house, but also the funny and interesting things people have said. He's a journalist in the purest sense of that word.
2. Major in what you love.
Bruce got his undergraduate degree in journalism from the University of South Carolina -- and a master's in journalism from NYU. His master's thesis -- which aired as a public affairs program at WNYC thanks to a connection one of his professors had -- was named Best News/Public Affairs Program by the Academy of Television Arts & Sciences.
3. Remember there's more to life than work.
When Bruce graduated to so much acclaim from NYU, he thought his career in broadcasting was ordained. Which it would've been, had he been willing to move to smaller markets. He wasn't. He loved Manhattan too much to leave -- and he kept working as a waiter to pay his bills while he plotted his next move.
4. Only work enough hours at a survival job to pay the rent. Do without luxuries, for now.
Bruce waited tables three days a week to cover his expenses, and spent the other four days of the week looking for something more meaningful.
He knew the reason they call them the trappings of success. If you succeed at trading your time for things you want, you'll find it difficult to stop.
5. The more you fail, the more you'll learn.
Bruce keeps a collection of more than 300 rejection letters in a cabinet behind his desk. He pulls that out and flips through it sometimes, to remind himself how many people told him he didn't have what it takes to do... what he's doing now.
6. Be curious.
I was struck by how many times Bruce referred to an NYU professor when he was talking about this break or that one, and he admitted he was memorable if only because he asked so many questions.
One of his professors knew the writer Gail Sheehy needed help researching a Vanity Fair article on Hillary Clinton. Bruce stepped up. The article led to a book deal. "Guess who Gail called for help with the book?" Yep. Bruce. It was working on that first major biography of Hillary when he realized, "I can write."
7. Ask yourself, "Why not me?"
Bruce decided to be a writer. Why not?
Every morning Bruce asks himself, "Why not me?" Why shouldn't his house be as inviting as those featured in magazines? How can he make his surroundings more beautiful? How could he be happier?
"Focus on what makes you feel good," Bruce suggests, "and figure out how to get more of it." The trick, he adds, is the focus: "I was recently stuck in traffic on my way to what was supposed to be a relaxing weekend. Instead of cursing the situation, which is sort of the default reaction, I made a point of thinking about the fun I was going to have."
8. Find work you love, and be nice.
When Bruce was researching the book about Hillary Clinton, he became acquainted with Barbara Corcoran -- who at the time headed up a big real estate firm in Manhattan. Barbara kept Bruce's name in her Rolodex with "nice writer guy" next to it. "Guess who Barbara called for help when it was time for her to write a book?" Right again.
9. Keep in touch with people.
I've always hated the word networking. It sounds sleazy to me -- or at least, manipulative. But when Bruce told me he reaches out to at least one person he knows, every day -- by snail mail -- it didn't sound manipulative at all. You just get the feeling Bruce enjoys staying in touch with people. You can almost imagine him scuttling you into his kitchen, figuratively speaking, for a slice of Bundt cake and a big mug of coffee. He'd keep you in refills, too -- because he'd be in no hurry to dispense with such interesting conversation. He's that welcoming.
Being deliberate about staying in touch has worked magic for Bruce. "I can trace almost every one of my career chess moves to it," he admits. "It keeps the truck running on down the road."
Bruce is so hospitable he once invited a fugitive into his house for a beer. I can guess what you're thinking: "Hospitable, but crazy." It wasn't, necessarily -- but I don't want to spoil the story for you. You can learn more in his book, Moving In: Tales of an Unlicensed Marriage.
"Please buy my book," Bruce says. "I need to pay my housekeeper."