I couldn't understand it. I was driving home after taking our first grader to school, and everyone seemed to be going about his day as if it was a normal one.
It wasn't.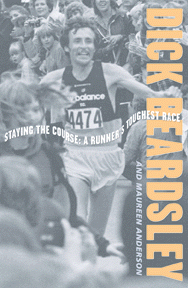 My first book was on its way!
I tried to work, but it was useless. I kept wandering out to the kitchen to check for the FedEx truck, gazing out the window like a little kid. An hour went by. Then two. Then it was time for my telephone interview, but I got the guy's machine. Good thing. The FedEx truck pulled in a minute later.
"University of Minnesota Press," the driver remarked as I signed for the package. "Yeah," I said, almost too excited to breathe.
My husband was waiting for me in our dining room, and he was smiling. He hugged me as I slit open the box. As I did, I remembered the nightmare I'd had -- that I'd opened the book and immediately spotted a typo.
The phone rang. My interview. The opening ceremony would have to wait.
Then, finally, it was time. I've never been one to skip the birthday card in favor of digging into the present, so I read the letter from my editor first. "I am very pleased to enclose an advance copy of Staying the Course," he'd written, "which just arrived from the printer..." There was more, lots more, and I read every word.
Now I could look at the book.
I picked it up as gingerly as I once did my newborn when I met her for the first time. I turned it over. Even seeing the bar code thrilled me. What a feeling, to have in my hands what I'd been dreaming about for as long as I could remember.
I'd told Darrell nothing was going to top the writing, that's how much fun it had been. "Wait until you see it," he said. He was right. This feeling! I didn't have anything to compare it with. It's a book!
Not only that, but what I'd created on the screen was in front of me -- on paper -- the way I'd written it. That thrilled me, too. It's what I wanted more than anything, to have my work intact.
I started looking through the book, remembering this passage or that one and how much fun it had been to write. I got to the point where Dick Beardsley, the subject of the memoir and in whose voice the story is told, is about to take the lead in the New York City Marathon. He and the others were running across a bridge at that point: "All you could hear was the wind blowing through steel and the footsteps of a dozen runners. Slap, slap, slap."
I started crying. "That's beautiful," I thought. "I wrote that!"
I had been in labor for more than four years. Now the baby was finally born, it had all ten fingers and toes, and all I wanted to do was look at it.
This is what it felt like, to have a dream come true.