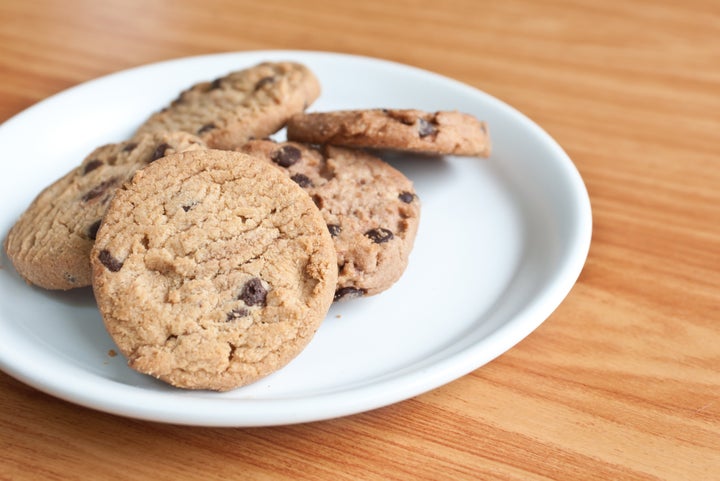 I make the best sugar cookies you have ever tasted. You don't have to take my word for it. Talk to one of my childhood friends, who wouldn't share them with her grandchildren because they don't appreciate the work that goes into them. Or talk to one of my daughter's teachers, who hid them in the freezer in a bag marked "for the dog" so her kids didn't eat them.
Between Halloween and Christmas my husband and I used to bake 200 dozen cutout sugar cookies. You read that right. Every one was painstakingly rolled out, cut, transferred, baked, cooled, frosted, wrapped individually, packed with bubble wrap -- and shipped all over the country to family, friends, and people we did business with.
Every year I used to lose the same 10 or 15 pounds every summer, only to gain them back by Thanksgiving.
One year I wondered if it was the cookies.
On a whim I made him a bet -- that I could make it through an entire baking season without partaking, without so much as licking a dab of frosting off my finger. I would only bake the cookies, not wear them on my hips.
The prize? Besides slimmer hips? Aqua massages for my daughter and me.
"You're on," Darrell said.
And you know what? It wasn't that difficult. Some 51 cups of sugar and 102 cups of flour later, it was really no big deal. I'm an all or nothing kind of gal. Stopping at a wad or two of dough would have been excruciating. Not getting started was the secret. I was never even really tempted because the first bite -- or lick -- meant telling Katie there would be no celebrating. I couldn't disappoint her. I had to do this. In doing right by my daughter I did even better by myself.
Not that I didn't fantasize about the cookies. I did. Daily. For two months they were everywhere, and the aroma was overpowering. Every night before I fell asleep there were visions of sugar cookies dancing in my head. I imagined sitting down at the table after I'd won the bet -- on New Year's Day -- with a few of them and a tall glass of ice cold milk. I'd sink my teeth into that first one... and all my troubles would go away.
That was the fantasy. The reality? We got the aqua massages. I had a cookie on the first day of the new year. I made a little ceremony out of it. I sat down in front of Darrell and Katie and took that first bite.
But that was it. It was good. And, well, so what?
That surprised me. In one instant I knew what had escaped me until then. Which is, it's just a cookie.
I rolled that around in my head for a long time. It's just a cookie. It's just a donut. It's just another slice of pizza.
I wish that was all there was to it, but being slender is a decision I make moment by moment. Saying no to a cookie takes as much out of me as running four miles. I have to do a sales pitch on myself every time. Because I still want the cookie.
I just don't want it as much. It doesn't have the same power. About 2,400 times I brought a sugar cookie into the world... and 2,400 times I sent it on its way. That's momentum.
I've lost 30 pounds since this experiment several years ago, and I've kept them off. I'm so devoted to my new tradition I spit out my husband's kiss if the sweetness I taste is frosting from a cookie.
Darrell and I used to be known for these cookies. They've made the rounds. Gourmet cooks beg for the recipe, and colleagues promise to keep me in business if I swap "baker" for "radio talk show host." I have thank-you notes for them from the late Helen Gurley Brown, and the great Dave Barry.
The souvenir I treasure the most is the memory of Katie's face when I told her what I'd learned from the experiment: "Food is not the boss of me. I am the boss of food." That's sweet.
For more on weight loss, click here.
For more by Maureen Anderson, click here.