Racking your brain for ways to get the attention of a hero in your field? Desperate to get your resume past a vigilant gatekeeper? Hoping to get published? Try creating an irresistible story through social media--and then enlist some help from your friends.
It's what 16-year-old Virginia student Hannah Delmonte did, when she decided to think big in her social media outreach. Her goal was a pretty typical one for a high school junior--she wanted to line up a date for prom. Her methods, however, were anything but typical.
After all, Hannah didn't want just any date. She wanted to go to prom with a player from her favorite NFL football team--the Philadelphia Eagles. And that, she recognized, would require some ambitious social media feats.
One Instagram invitation (Go to prom with me if I get 2,000 retweets of this conversation?); one counter-offer (Get five times that many, and I'll go.); and 15,000 retweets (just three hours) later, Hannah got her date to prom--Eagles linebacker Emmanuel Acho. And, along the way, she found an unlikely new friend and supporter. She worked from good instincts and a sense of fun and adventure, not a marketing strategy. But the steps she followed are principles anyone with big outreach goals could imitate--especially if you're looking to find a mentor in your field or connect with your dream-job employer.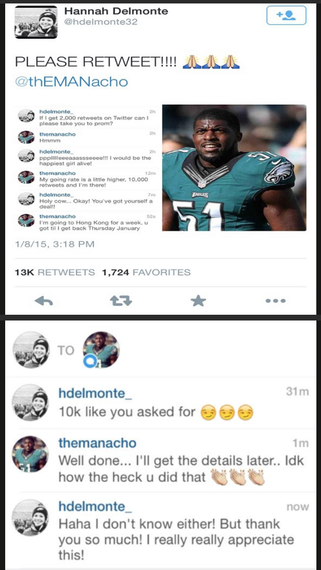 Here's Hannah's story, in her own words--along with some simple takeaways any job seeker or networker with a LinkedIn and a Twitter account can apply.
1. Think bigger than the trends. (And use more than one social channel.)
I got the idea to ask Emmanuel Acho to prom from a Twitter trend that was going on at the time. There were others doing prom invitations [with retweet challenges]--just with less famous people. I figured since I was an Eagles fanatic it would make sense to ask an Eagle. He wasn't following me on Twitter at the time, so I couldn't direct message him there. So, I turned to Instagram, where I could. Once Emmanuel accepted my challenge, I immediately went back to Twitter, posted our conversation, and asked for the retweets.
Go find your heroes or favorite influencers online, consider where you have the most direct access, engage them, and make an invitation. No, not to prom--but why not research what professional conferences they attend and invite them (via LinkedIn) to have coffee or lunch at the next one? Once you've got a yes, take the conversation to Twitter, give your hero a big thank you (injecting some personality and enthusiasm into your tweet), and appeal to your following to retweet.
By giving your invitation some publicity and social media mojo, you'll become more than just another calendar commitment.
2. Be spontaneous. Be bold....And then be ready.
Honestly, I never planned on doing this, it was just a spur-of-the-moment thing. I normally use social media to follow my friends, as well as some celebrities I'm interested in. I have never actually reached out to a celebrity before--and from this experience I have realized the power of social media. I wasn't expecting to get an answer back. I knew this was a stretch, but looking back now I think I should've prepared myself better for what would happen if I was successful.
No matter how many books or articles you read about "how to network on social media," the best ideas will probably always be the really imaginative, original ones that pop into your head while you're daydreaming. The same kind of fun brainstorming that led to "What if I invited an Eagles player to prom?" could become, for a freelance writer, "What if I invited a magazine editor out to lunch when I visit New York? Just to ask for advice on crafting a great article?"
3. Tell everyone you know about your campaign--and be persistent.
I didn't have a strategy when attempting to get the retweets. I just asked everyone I knew to retweet it; and eventually, after I got about 1,000 retweets, other Eagles players caught wind of it and they retweeted. Once other professional athletes got involved, it was a snowball effect--and the retweets kept climbing. Athletes have thousands of followers, so with their help I quickly got the 10,000 I needed.

I am in no way an expert on social media but my advice to someone who wants to go viral is, be persistent. If someone says you can't do something, don't listen. Just do it anyway. I told a few people I had messaged Emmanuel, and they all doubted me; but I didn't give up on the challenge. Don't be scared to reach out, because you never know what might happen.
You don't have to be an expert in order to connect, engage, or go viral. You just need to have a set of outreach goals--and work at them. If you don't yet have a following at all on Twitter or LinkedIn, then the best place to begin is to just jump in and start connecting, tweeting, inviting, posting, and sharing.
4. Seek real connections with people, not just short-term, self-serving goals.
I think right now a friendship between Emmanuel and me is blossoming. The first conversation we had after I got the retweets was the basic how old, when, and where. Now the conversations have moved on to more personal things. He likes to know how school is going for me, since he is in grad school himself. We've also talked about my mom and me going to Austin, Texas, and Nigeria, to help with his charity. (He's from Texas, and his parents are from Nigeria.)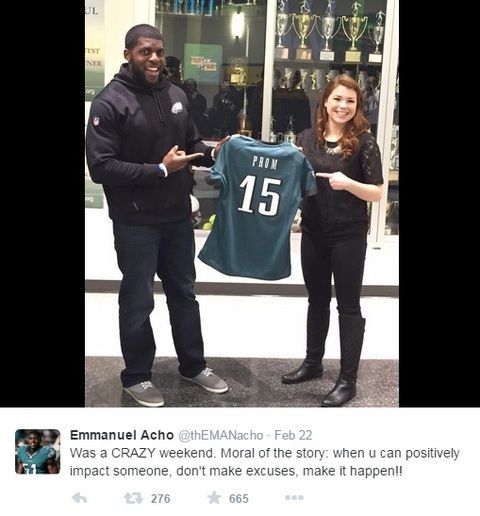 The advice I would give to others for following up with those who help them on social media is, don't be afraid to try and develop a friendship. At first I was afraid because I didn't want to come on too strong; but Emmanuel is a genuinely nice person, and I'm excited about the growing friendship.
Remember, the people you're trying to reach out to have their own goals, causes, and pet projects--along with their own desires for genuine human interaction in the (often dull) social media landscape. Not everyone you want to network with will want to carry on a conversation or start a friendship. But, if they are attempting something great (which, after all, is why you think they're so cool in the first place), they'll welcome your genuine interest and support on social media.
5. Keep engaging, keep listening. (And pay no attention to haters.)
Nothing's changed in terms of how I expect others to treat me on social media. I use it to connect with others, not to try to persuade them to listen to me. If someone reaches out to me on social media with a question I will do my best to answer them or reach out to them; but my goal wasn't to gain fans or followers or persuade anyone to listen to me... well except Emmanuel, I wanted him to listen to me. The main change I have found since getting news coverage about my prom invitation is that now I'm constantly getting "blown up." I always have 20 or more new notifications when I get on.

Of course, there are the few people who do nothing but criticize me, but that's to be expected. I guess when people see you with a celebrity or a professional athlete they start to care more about what you do--in positive and negative ways. But in the end, nothing's really changed. Except the number of followers I have.
And a larger following is not, after all, such a bad starting point for that next big, ambitious invitation.