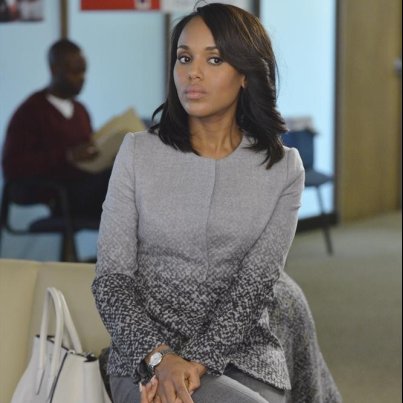 I posted my year-end Top 10 list the other day, and followed that up with a list of 25 of the best new shows of 2013. Today's roster focuses on returning scripted shows, many of which outdid themselves this year.
Veteran programs like "Mad Men," "Breaking Bad," "Enlightened," "Game of Thrones" and "Borgen" were already mentioned on my Top 10 list; they're the cream of a very competitive crop. But there were a lot of other returning shows that I greatly enjoyed in the last year. Some had patchy episodes, made strange decisions or endured wobbly runs, but overall these shows brought something exciting, interesting, fun or challenging to the party.
One final general observation about this year's TV crop: By my count, my three lists mention 60 different shows (don't judge me, I have a lot of love to give). One of the most encouraging things about writing about TV right now is that so many different outlets are putting out worthwhile scripted, episodic fare. The thing I'm happiest about is that 25 different entities released those 60 shows:
BBC America, FX, Cinemax, PBS, Syfy, Netflix, Comedy Central, Showtime, NBC, Sundance Channel, Fox, ABC, History, Ovation, Hulu, AMC, Link TV, CBS, Starz, USA, TBS, Cartoon Network, HBO, ABC Family and the CW.
A round of applause, please, for these makers, importers and curators of TV. They have different agendas and varied budgets, but all of them managed to present scripted fare that was well worth viewers' valuable time. TV critics are always gently and not-so-gently encouraging the medium to get better, and when I've got five dozen shows from two dozen outlets and half a dozen countries crowding my year-end best-of lists, I don't feel the need to do all that much nudging. Things are looking very promising.
All right then, in addition to the shows already mentioned in my year-end Top 10 list, these very special snowflakes are the returning programs I thought most highly of in 2013. The first 10 are 2013's Runners Up, and the next 20 are the best of the rest.
"Arrow," CW: I said my piece about "Arrow" recently, but then the show went and raised its game with its Dec. 11 episode, "Three Ghosts." As a superhero chronicle and as a well-crafted piece of escapist entertainment, "Arrow" was good in its first season, but it's just crushing it in Season 2.
"American Horror Story," FX: This is a bit of an amalgam award for the fabulous last four episodes of "AHS: Asylum," which aired in January, and the first third or so of "AHS: Coven," which doesn't have the depth or emotional pull of "Asylum" but has provided many actresses with quite a few entertaining, diva-worthy scenes. I haven't been writing much about the current season because I'm in perfect agreement with Tom and Lorenzo's assessments of the ups and downs of "Coven." As for "Asylum," that season was a dreamy, sad, shocking, weird, disturbing, compassionate buffet of oddly humane strangeness, which is basically what you want "AHS" to be, right?
"Girls," HBO: Love it or hate it -- and sometimes I have both reactions within the same episode -- when this show is working, it does something vital, necessary, discombobulating and singular. I give it side-eye sometimes, but the great "Girls" episodes (including "One Man's Trash") are really something. Damn, the media should pay a little attention to this cruelly overlooked show, am I right?
"The Good Wife," CBS: Regarding the revitalized fifth season, what everybody else said: It's been great fun and has shaken up the status quo in any number of entertaining ways. That said, there are a few supporting characters I would get rid of if I was the Goddess of "The Good Wife" -- and if it were up to me, I'd also make Jason O'Mara a series regular. Someone make my dream come true for Christmas, pretty please.
"Justified," FX: Let us never take this deeply satisfying show for granted: The dialogue is a continual delight, the superlative cast has never met a challenge it couldn't master, and the laconic, detailed world "Justified" has built up in Lexington and Harlan feels as solid and real as a hardcover edition of an Elmore Leonard novel. Add to that Season 4's terrific guest turns from Jim Beaver, Mike O'Malley and Patton Oswalt, and it's nearly an embarrassment of riches.
"Key & Peele," Comedy Central: The great thing about "Key & Peele's" most memorable sketches is that they go to unexpected places. This duo can do straight-up funny very well, but when they do funny-surreal, the show just hits another level.
"New Girl," Fox: Oh Lord, that Thanksgiving episode was terrible, and a few others this year have been sketchy, I'll admit that. In general, however, I still deeply adore the weird verbal rhythms of the loft crew and their sloppily realistic relationships, and this comedy -- which remains one of my favorite half-hour shows -- still makes me laugh a lot.
"Parks and Recreation," NBC: If you didn't get a lump in your throat at the sight of Ron Swanson reciting Burns' poetry while sipping Lagavulin in the Scottish countryside, then get away from me, soulless android! The crew's trip to London was only one of many high points from a very good year for one of TV's finest comedies. I heart Pawnee, always.
"Scandal," ABC: Why don't I write about "Scandal"? Because how do you expand "What the what?!" into a coherent blog post? One of these days, I may figure that out. Until then, I'll just appreciate the careening, bonkersawesome vibe of this insatiably energetic show, which the entire cast delivers with gonzo commitment (and delicacy when called for). Oh, and I'll continue to pine for Olivia's coats and handbags.
"Suits," USA: My fellow critics, can we all try to stop slinging around backhanded put-downs like "It's pretty good for a USA show" or "It's a decent show, sort of on the level of something on USA?" "Monk" ended years ago, and has nobody noticed the dark elements in "Burn Notice" and "Covert Affairs"? They're glossy entertainment, to be sure, but after a while, it starts to feel like people are holding the competence of its shows against USA. Nobody disputes that the network is aiming at the mainstream, but its best shows have meat and heft to them, and the point of all this is, "Suits" is an excellent drama by any standard. Ask anyone. It's classy, sharp, extremely entertaining soap opera about high-level New York lawyers, it's directed with a great deal of panache, and the cast was exceptional before the show began adding "Game of Thrones" veterans. Truth be told, I'm a bit grumpy that I have to wait until March 6 to see Louis Litt again, to see more machinations involving Harvey and Donna and Mike and the rest of the firm, and to resume pining for Jessica's clothes and handbags.
The best of the rest (and if I've written about a particular show somewhat recently, I've included a link here): "Archer," "Bob's Burgers," "Burn Notice," "Call the Midwife," "Cougar Town," "Covert Affairs," "Doctor Who," "Downton Abbey," "Go On" (RIP), "Justified," "Happy Endings" (RIP), "Lost Girl," "Parenthood," "Regular Show," "Spartacus," "Strike Back," "Suburgatory," "Supernatural," "Switched at Birth," "Veep" and "The Walking Dead."
For my year-end Top 10, look here. For my Best New Shows list, look here. Many more critics' Best of 2013 lists can be found here, and discussions of many of these shows can be found on the Talking TV podcast. And this is the handbag I loved most all year.