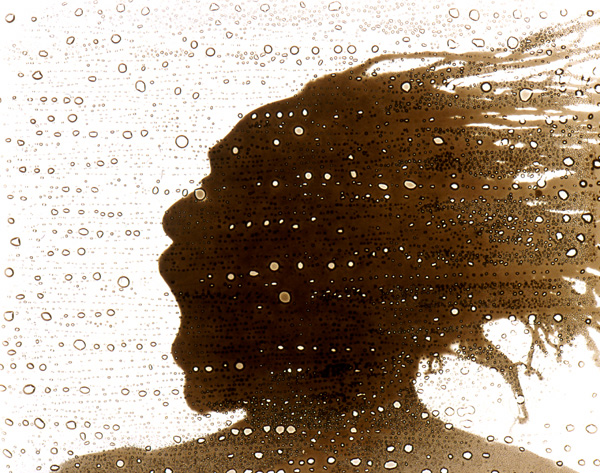 "Middle Passage II" by Ron Saunders (Image: Krowswork Gallery)
"Those who do not remember the past are condemned to repeat it" is an oft-recited quote attributed to George Satayana -- philosopher, poet, essayist and novelist. It's a somewhat cliché statement that nevertheless clearly recognizes the importance of historical erudition. As it is self-evident that there are many things, especially war, colonization, chattel slavery, genocide and holocausts of all sorts, which should never be repeated.
"Storytelling is a way to make sense of the world" says Jasmine Moorhead. Though for as critical as it is, historical study tends not to be the most exciting subject matter in the world. And yet, who disputes its vital relevancy to society, the progression of civilization, and the recognition of shared values?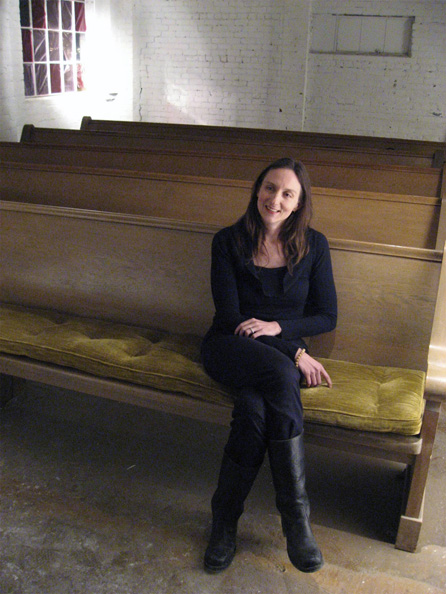 Jasmine Moorehead sits in the gallery pews (Image: Krowswork Gallery)
History must be presented as catalyzing food-for-thought if it is to be passed down through the ages, resonating generation after generation. And what better way to do this than with art and storytelling?
Curated by Jasmine Moorhead for her gallery in San Francisco's East Bay, Ron Moultrie Saunders and Karen Seneferu have conjured a meritorious two-person exhibition, which offers up a responsive helping of sensory manna that tells both the historical Middle Passage story of Africans taken forcibly from their homeland and brought to America, while also telling the story of a personal and collective, contemporary evolutionary process that infuses the prescient technological advancement of humankind and the individual growth processes of Seneferu and Saunders.
Employing photography, sculpture and video within the 3 rooms of Krowswork Gallery -- located in Downtown Oakland -- anthropology and technology are wed in the show, bearing the title Passage.
Moorhead, an art advocate and art historian who at one time lived in a small village in the West African nation of Cote d'Ivoire, says she's a lover of birds. This alludes to the nomenclature of her gallery, Krowswork, whose name is a palindrome -- a word which is spelled the same backwards and forth. The space was founded in 2009 by Moorhead, a Yale graduate and former employee to New York's Dia Center for the Arts and Museum of Modern Art (MOMA), and she spoke about the mission of the gallery and the Passage exhibit in a series of recent conversations.
Max Eternity (ME): I understand both your parents are artists? What's that been like and how does it influence your life -- your career decisions?
Jasmine Moorhead (JM): (laughs) I grew up thinking about art, this is something I feel very familiar with and comfortable with. The creative process has always been part of who I am. It's jut there. There wasn't a separation between people who were creating and my life. I remember as a kid thinking, "who would be crazy enough to do this?" I was very aware that the parents of my friends went off to jobs and weren't there. But, my parents were always around.
The apple doesn't fall that far from the tree. And so, it's something I feel I have something to say about, because I've been thinking about it for a long time. And of course, it's something I value -- it's personal and emotional, on that level. It's never been an intellectual exercise.

ME: Krowswork is your first gallery. Tell me about the name?
JM: I'm a bird person, I really like birds. Like many people, I'm drawn to hawks and raptures. Thinking about more of who I am as a person, I was like: You know, I'm more like a crow. They are very protective and social. They're smart, they're everywhere. The name Krowswork is a palindrome, it reads the same backwards and forwards.
It alludes to Alfred Stieglitz's first magazine, to treat photography as a fine art. His magazine was called Camerawork. So, that was purposeful as well. Plus, it's work.
ME: In the mission statement of the gallery you say "My wish for Krowswork is that it provides an instinctual, intellectual, and poetic framework within which to examine the mediums of photography and video in a larger art/historical context." How so, and why photography and video?
JM: Photography and video, I think, these are the mediums of our time. Everybody has a camera. We take it for granted that you can go to Facebook and look at images and Youtube to look at video. This is the past 8 years. We're not looking at a very long time this phenomenon has happened. There is so much of it. It is so successful. I think it's important to try to wade through that and pull things out, and ask this is interesting, and why?
People who work in those mediums have more opportunity, but also more responsibility.
For me, this is also a creative venture and therefore I'm interested in shaping something. It's instinctual, so it's coming out of that reaction to itself, but also speaking to other work; the continuum of the shows at the gallery responding to one another.
That's the most important job of a curator, to have a great eye, to select great work, but to really be able to see the forest for the trees. To say, this is why this is important right now.
ME: Currently exhibiting at Krowswork is the works of two artists--Ron Saunders and Karen Seneferu --in a show called Passage. Why these artists, and what's it about?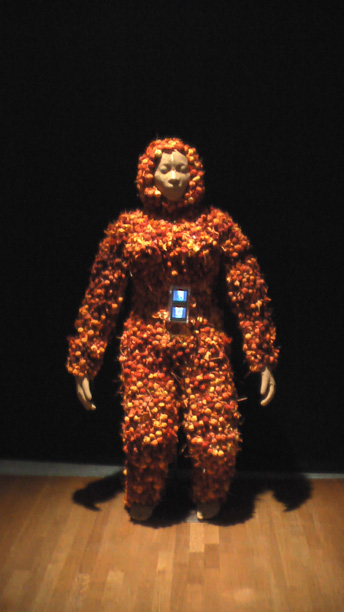 Techno Kisi by Karen Seneferu (Image: Krowswork Gallery)
JM: The show is called Passage, and for me it's very much about each of these artists and their own personal journey. So that within the body of work they are presenting they are showing the viewers about an emotional personal journey of their own, but at the same time they are referencing a larger work of art in a historical passage. They are both African American so they are both referencing a passage from Africa to the United States. What it means for an artist to look at that passage and bring meaning to it in 2011.
ME: History lessons can often be droll and unimaginative. But art and storytelling provide an engaging way to inform of life-changing cultural heritage. I see this in the Passage exhibition; a visual display of aesthetically attractive work that is so much more than eye candy. I think it's easy to see that storytelling has this power, but visual art has this power too?
JM: I think that the art that's the most relevant speaks to the history of the time. So that it's picking up on some of the energy that people are thinking about and dealing with.
Storytelling is a way of making sense of the world. So in the case of an artist that's looking at this history, that's bringing in a current evidence of what that story looks like now. Stories are always being updated to being relevant, and people tell stories until something is resolved.
This show -- about Middle Passage -- shows that this story is very present... very much alive. And, I think that's a wonderful thing.
I think it's present for American society right now, because this is a country whose history that includes the Middle Passage.
This visual storytelling is saying: This is the relevance.
It's very telling because it's outside of time in some ways. That's what's great about stories, and great art too. It incorporates visual narratives that exist in the presents.
ME: Oakland has seen much dramatic change in the last 5 years, including its growing art scene. What's your take on this?
JM: Well Oakland is unique in the United States, I believe in terms of its population, the makeup of the people here, and the potential for interesting things to come out of the interaction between different ethnicities and points of view. Because it's an urban center in the bay area, but not sf, it doesn't have the same pressure as sf. It's been allowed to really to start come into its own. And all these things are fomenting.
It's been off the radar enough so that all the parts are being allowed to come together in a truly organic way. There's such pride in place here, and that's remarkable.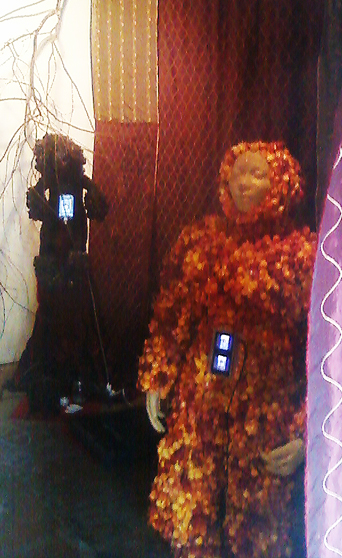 Installation by Karen Seneferu (Image: Max Eternity)
Passage runs through March 11th, 2011, and standard gallery Hours at Krowswork are Fridays 3-6 and Saturdays 1-5. Other gallery visits are available by appointment, including Sundays. For additional information, click here to visit the Krowswork website.