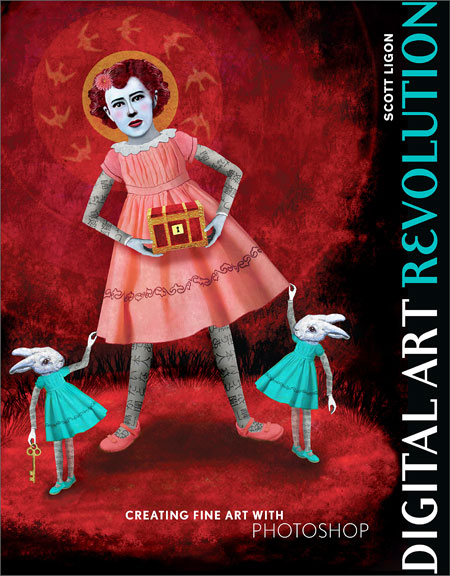 "Everything is changing and artists are leading the way" says Scott Ligon, author of Digital Art Revolution. Published earlier this year by Random House, Digital Art Revolution approaches the digital art discussion not just from the technology angle, but from a "fine art" perspective as well; an aspect to the overall dialog that is much needed.
Ligon is the coordinator for the digital foundation curriculum at the Cleveland Institute of Art, and says he's "fascinated by the potential of digital art" because the digital experience is "a historically world changing thing." And his book, which is as much about the enjoyment of digital art -- celebrating an accomplished roster of visual art creatives that feature within its pages -- as it is about educating artists and gallerists about particular fundamentals of creating art.
Ligon is himself an artist and filmmaker. But what's most intriguing about his process is his lucid grasp on the synthesis of converging ideas, philosophies and phenomena surrounding visual art and new media modalities for personal creativity, educational forums and the marketplace.
In a Skype chat a few weeks back, Ligon articulated three "main things that have changed [the art world] significantly," which are aspects he observes in the transformative quality of digital art.
Synthesis: The ability to draw from different sources and different mediums, combining them in new ways to make something new and unprecedented.
Abundance: Digital art is about abundance, not scarcity. Because, instead of a one-of-a-kind commodity based on commercial scarcity, with digital art it's a modality of abundance rather than scarcity. That's the natural model. The web is infinitely duplicable, unless we artificially limit things. And on the internet there are no artistic "gatekeepers."
Hybridization: The ability to put things together -- different interests that people might have. Economically, for instance, people are now able to do anything from anyplace in the world. If you are original and creative that's the thing that creates value. It turns the whole paradigm around. So that the very things that make you have integrity as an artist or aesthetic value, now lines up with the practical side also. And that's exactly the opposite of what we're used to, especially in our school system.
Digital technology is blurring the boundaries between mediums, to extent that already many former, long-standing boundaries have completely lost their meaning. Whether something is a still image, moves, interacts with the viewer, has sound, or is only sound, comes down to the various choices in one's digital toolbox, rather than examples of different mediums. This blurring of boundaries changes the approach to creative endeavors.
Statements like these are typical of his ingenious mind; constantly at work breaking down complex concepts into bit-sized, intellectual, art morsels that actually make sense. And exclusively for HuffPost Arts, Ligon created the following "Top Ten List," a video speaking to the top 10 ways that digital technology is changing the world.