I had the recent pleasure of attending TEDYouth, the first-ever TED event for young people. Coinciding with more than 100 self-organized TEDxYouthDay events happening worldwide over a 48-hour period, the theme for the day was "Play, Learn, Build, and Share". For those who don't know, I happen to be a huge fan of the TED Conference and their knack for packaging big ideas in a way that is both artful and approachable on a wide scale. It's a concept that I think has increasing relevance in part due to today's rather disorganized info-glut; the role of the idea jockey in sifting through -- and making sense -- of it all.
Enter TEDYouth. Albert Einstein once said "If you can't explain [an idea] simply, you don't understand it well enough". Perhaps, then, a fine litmus test for any speaker worth their salt would be the reaction from an audience of high-schoolers. At the New York event, Chris Anderson and Kelly Stoetzel (TED's Director of Content) brought it, so-to-speak, to a packed house of knowledge-hungry teenagers with a rundown of brilliant scientists, authors, spoken-word poets, and philosophers. David Gallo, oceanographer, shared with the audience the astounding fact that we've only explored about 5% of the ocean. MIT Media Lab's Leah Buechley demonstrated a new way of conducting electricity with circuitry that can be hand-drawn, with a pen--truly bridging the art and science divide in real-time. Carvens Lissaint gave one of the most powerful spoken word performances I've ever seen on the fallacy of "financial aid." Mathematician Garth Sundem demonstrated how algebra can improve ones dating life (I'm still trying to remember the equation), and Adam Savage, host of Mythbusters, offered a succinct nugget of self-empowerment that is poignant if not very glamorous: "We are all bags of meat and water. We all start with the same tools." Delightful.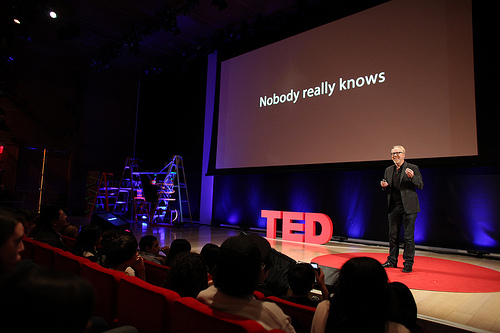 Mythbusters' Adam Savage
Perhaps more thrilling than the speakers themselves, though, was the energy from the audience. Who knew PowerPoint presentations about chip design and oceanography could get howls and woos in a theater packed with kids? In an era of doom-and-gloom, if it bleeds it leads media strategies and viral mediocrity manufactured daily on the Internet, the optimism and unselfconscious willingness with which the students engaged their sense of wonder at TEDYouth was inspiring, to say the least. The hyper-enthused boys and girls even helped co-host the event, lining up to offer their own wonderful truths on what it means to be happy, engaged, and virtuous. It was a reminder that, despite the public's occasional sense of the contrary, things are indeed getting better.
TEDYouth is a fantastic initiative and I hope TED brings it back year after year. After all, what good is the worlds greatest idea if it fails to excite a child?